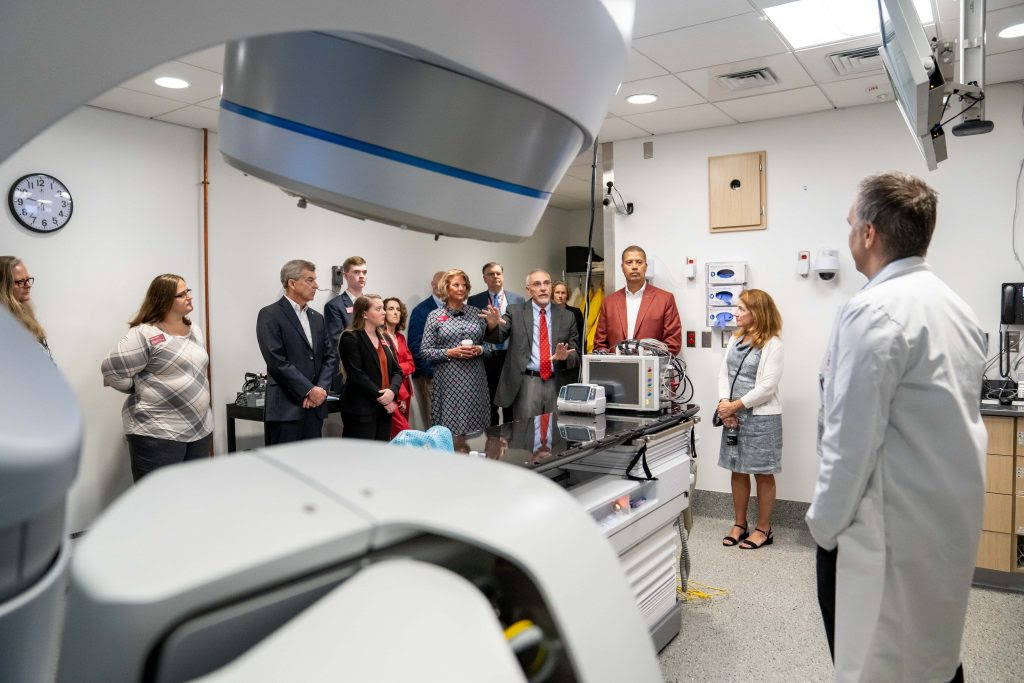 BLACKSBURG – Reducing the hardship caused by cancer requires the alignment of many skilled people.
At Virginia Tech, the talent is lining up with precision and purpose.
The university is mustering its scientists and engineers behind a new strategy to help families struggling with a disease that occurs in almost two million people and claims more than 600,000 lives annually in the United States. Moreover, the incidence and death rates from cancer in dogs is similar to that in humans. According to studies in the journal Nature, cancer will cost the world $25 trillion over the next 30 years.
The Virginia Tech Board of Visitors on Monday was briefed on the faculty, university leaders, and strategic planning to elevate the university in the cancer research world – and as a top 100 global research university.
Ultimately, the goal is to slow cancer's toll on the people of Virginia and of the world.
"We are defining the opportunity space for Virginia Tech to have a major, global impact," said Michael Friedlander, vice president for health sciences and technology.  "The key will be for the university to differentiate its contributions by building on several areas of strength in cancer research from many established, longstanding cancer research programs.  
In addition to accelerating innovative preventions, diagnostics, and therapeutics for a variety of cancers, the emphasis on cancer research will better position Virginia Tech as a top 100 global research university, according to Dan Sui, senior vice president of the Office of Research and Innovation. 
"As we aspire to continue to improve public health, it's imperative that we recognize opportunities for growth of National Institutes of Health funding for research and amplify the impacts of faculty research through publications in high-impact journals," Sui said. "These investments can also further fuel innovation and ensure that our university remains at the forefront of medical progress, impacting lives on a global scale."
In terms of cancer research, Friedlander said Virginia Tech has differentiators that, when taken together, set it apart from other universities – it's the Virginia Tech difference.
Virginia Tech has an abundance of engineering expertise that can be applied to cancer research across various fields, including biomedical, chemical, computer, materials, and mechanical engineering. This expertise uniquely positions the university to make transformative contributions to develop new devices, technologies, and therapeutic delivery systems to enhance diagnostics, treatments, and prevent unwanted side effects, such as radiation therapy injuries and chemotherapy-related complications.
The university boasts a robust veterinary medicine program, featuring a cutting-edge Animal Cancer Care and Research Center at the Health Sciences and Technology campus in Roanoke. This fortunate and rarely found positioning of veterinary medicine alongside human biomedical research creates a fertile ground for exploring synergies between human and companion animal health.
The university has considerable expertise in behavioral science research with a growing emphasis on health behaviors research with a focus on how to prevent cancer and how to prevent relapse in cancer in patients who have already received treatment.
Virginia Tech created the Cancer Research Alliance to inventory its existing cancer research strengths across campus and to energize collaborations among scientists and engineers from across its colleges as well as with multiple universities and health centers, such as Carilion Clinic, Children's National Hospital, and Wake Forest University.
What's next?
In order to advance to the next level, Friedlander said Virginia Tech must recruit additional researchers primarily focused on cancer and further refine an organizational structure that highlights and elevates cancer as a major hub of health sciences research.
Further definition of opportunity areas is essential.
"Virginia Tech will no doubt differentiate itself from established cancer research universities and programs with honor in service of tomorrow's health for humankind as well as for our animal companions," said Friedlander, who is also the executive director of the Fralin Biomedical Research Institute at VTC. "Together with our internal and external partners, we'll carve our unique path to excellence in service of improved and accessible health care and freedom from cancer for all."
John Pastor for Virginia Tech