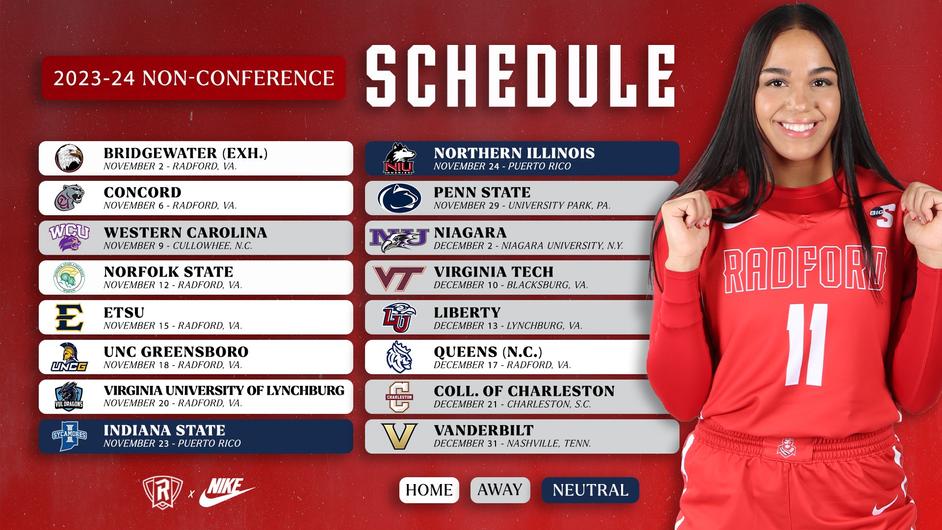 Radford University women's basketball head coach Mike McGuire announced on Wednesday, Aug. 16 the program's 2023-24 schedule, which includes an exciting slate of first-time opponents and first-time locations.
"We have an exciting and challenging non-conference schedule this season," said McGuire. "Including our exhibition game, we have seven contests in the Dedmon Center against some high quality mid-major opponents. This is the most home games we have had in quite some time. We are excited to continue our Education Day game with the local school systems on November 15. We also have some challenging yet exciting road trips to Puerto Rico and Niagara Falls this season. This non-conference schedule will prepare us for a wide open Big South Conference race this season."
After an exhibition against Bridgewater on Nov. 2, the 52nd season of Radford Women's Basketball officially gets started on November 6th in a bout with Concord in the Dedmon Center. The Highlanders will then travel to Cullowhee, N.C. on Nov. 9 before returning home to finish the week with a home battle against Norfolk State on November 12.
The Highlanders will utilize the home court throughout November, as the next three games will be played inside the Dedmon Center. On Nov. 15 Radford hosts ETSU for the team's annual Education Day game. Radford will then host UNC Greensboro on November 18 in a rematch of a 2022 meeting. The final home game of the month, and until mid-December, comes against Virginia University of Lynchburg on Nov. 20.
The Highlanders will catch a plane south for their first unique road trip of the season as the program travels over 1,500 miles to Puerto Rico to compete in a Thanksgiving Tournament against two opponents. Radford is currently scheduled for a Thanksgiving battle with Indiana State, a first-time opponent, and will face another program-first on November 24 in Northern Illinois.
"During Thanksgiving week, we have the opportunity to travel to Puerto Rico to compete in a two game MTE against Indiana State and Northern Illinois," commented McGuire about the trip. "This is a once in a lifetime trip for our program and we are grateful to the Big South Conference and our athletic administration for helping to make this possible. Not only will we compete against two excellent institutions, this will provide an outstanding educational experience for our ladies."
The road trip flips from south to north as the Highlanders will make two visits in the American Northeast. Closing out November, Radford and Penn State will meet for the first time since a Highlander victory in overtime of the first round in the 2018 WNIT tournament.
"We are returning to Penn State for the first time since 2018," said McGuire about the return to University Park. "The last time we were in State College, we competed in the post season WNIT and were able to come away with an overtime win. Returning to Penn State will bring back a lot of great memories with our 2017-18 team – which is a special one to me."
From there, Radford travels all the way to the United States-Canadian border to face Niagara on Dec. 2. To close out the six-straight road games, the Highlanders will play a pair of games much closer to home. Radford and Virginia Tech renew an NRV rivalry facing off on December 10. Radford also reignites another rivalry with a former conference rival in Liberty on December 13.
"We are also returning to Virginia Tech this season. What Coach Brooks has done to lead his program is remarkable," said McGuire about Radford's scheduled contest against Virginia Tech. "It will be a great opportunity to compete against a program that competed in the Final Four and was very close to playing for the national championship last season. I want our ladies to know what it feels like to play a high-level NCAA tournament team and helps us value high level preparation heading into Big South Conference play."
Radford finally returns home on December 17 for their final home game of the nonconference slate. In a return visit, Queens (NC) makes their first-ever visit to the Dedmon Center. From there the Highlanders close out the first half of their season with contests against College of Charleston (December 21) and ring in the new year with Vanderbilt (Dec. 31).

Radford University Athletics