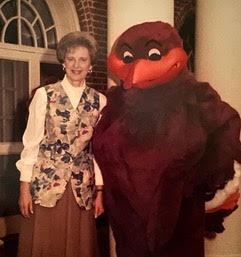 Nancy Wolfe, a cherished wife, devoted mother, and adoring grandmother, passed away peacefully at the age of 86 on Saturday, Aug. 12, 2023. 
Her departure leaves a void that can never be filled, but her legacy of love and care will forever remain in the hearts of those who were fortunate enough to know her.
Nancy's life was a testament to selflessness and compassion. As a mother, grandmother, friend, and registered nurse, she radiated warmth and kindness in every role she undertook. With a heart that knew no bounds, Nancy gave tirelessly, always going above and beyond to ensure the well-being and happiness of those around her. Her thoughtfulness, empathy, and unwavering love were the cornerstones of her character.
Hailing from central Pennsylvania, Nancy's journey of caregiving began when she discovered her passion for nursing during her college years. It was there that she cultivated the skills and compassion that would define her life's work. Fate brought her together with James Wolfe, her high school sweetheart, and their love story blossomed into a beautiful 64-year marriage. Together, they created a bond that was a testament to commitment and enduring love.
In 1965, Nancy and James embarked on a new chapter, moving to Blacksburg where they carved out a fulfilling life. Nancy's dedication to her nursing profession continued to shine as she worked at Virginia Tech Student Health, where she cared for countless college students with a nurturing spirit that made a lasting impact on their lives. The couple's passion for their community extended to their love for Virginia Tech athletics, becoming devoted Hokies and enthusiastically supporting their teams for over five decades.
Nancy's legacy of caring and nurturing will live on through her daughter, Carolyn; her son, John; and her five beloved grandchildren: Sawyer, Thomas, Niklas, Hayden, and Carson. Her memory will forever remind them of the profound impact a loving heart can have on those who are fortunate to experience its embrace.
A memorial service to celebrate Nancy's life will be held at a later date, allowing her family and friends to gather and remember the incredible woman who touched their lives. For those who wish to honor Nancy's memory, contributions can be made online at https://www.vcom.edu/in-memory-james-f-wolfe or sent to the James and Nancy Wolfe Memorial Scholarship at 2265 Kraft Drive, Blacksburg, VA 24060.
Nancy Wolfe's legacy is one of love, compassion, and care—an inspiration to all who were blessed to know her. As we say farewell to this remarkable woman, we carry her spirit forward by continuing to spread the kindness and empathy she embodied throughout her life.