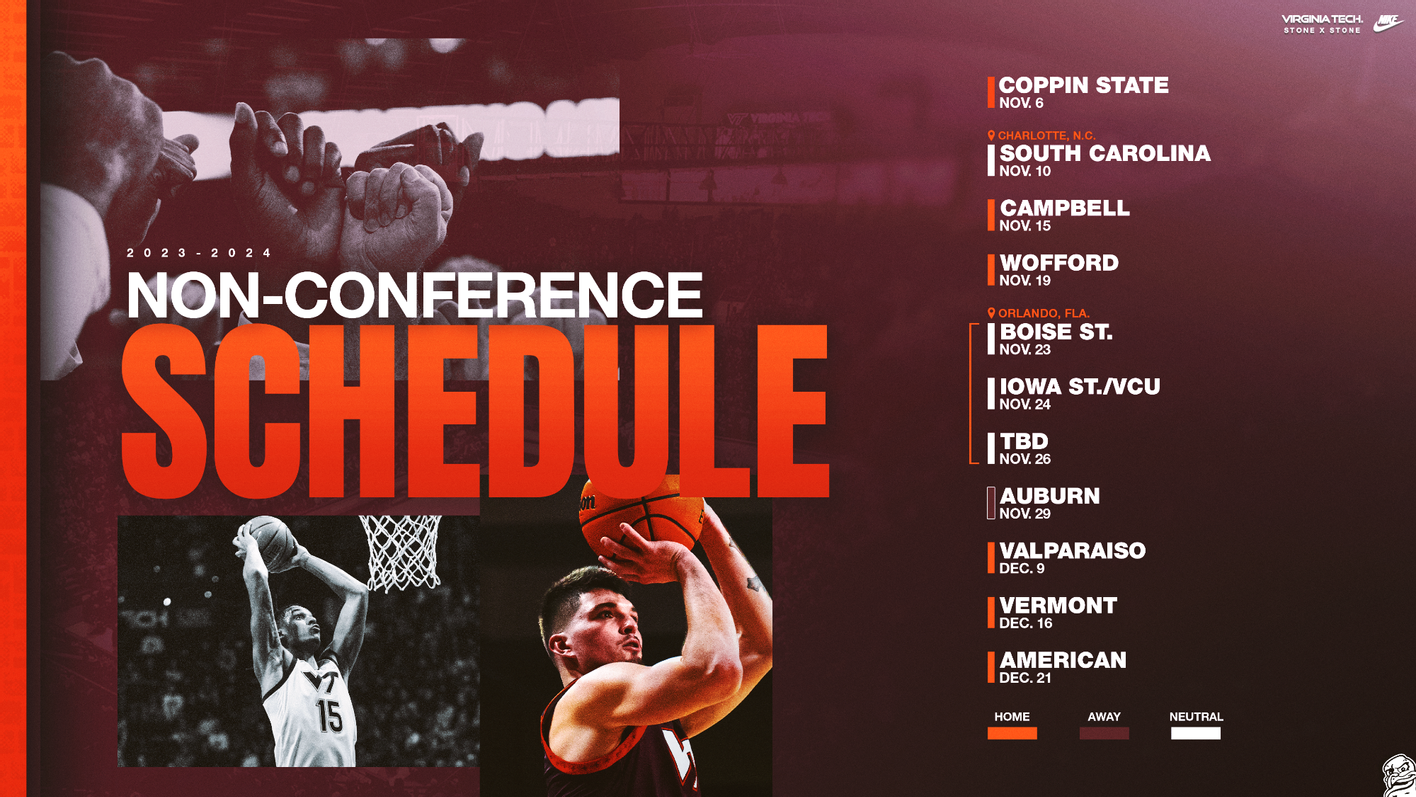 Virginia Tech men's basketball revealed its 2023-24 non-conference slate Tuesday, featuring 11 matchups over the first two months of the season.
Season tickets are now sold out. 
Interested people can sing up for a list be the first to know when additional ticket options become available, including non-conference single game tickets going on sale in September.
The Hokies will tip-off head coach Mike Young's fifth season in Blacksburg on Nov. 6 vs. Coppin State in a season-opening doubleheader with women's basketball. 
As previously announced, Tech will compete in the Hall of Fame Series vs. South Carolina on Nov. 10 at the Spectrum Center in Charlotte, N.C. The Hokies return home for a pair of games against Campbell (Nov. 15) and Wofford (Nov. 19), the latter marks the first time Young will face his previous squad as Tech's head coach. Young spent 17 seasons in Spartanburg, S.C., leading the Terriers to five NCAA tournaments and five Southern Conference tournament titles. 
Tech then makes its return to Orlando, Fla., for the ESPN Events Invitational (Nov. 23-26) inside State Farm Field House. The tournament will serve as a homecoming for Orlando native Hunter Cattoor, who has a knack for playing well in his home state. Matchups for the Thanksgiving event were announced last week, with the Hokies opening against Boise State, which has qualified for back-to-back NCAA tournaments.
From there, VT will swing up to Auburn, Ala., to square off with the Tigers in the inaugural ACC/SEC Challenge on Nov. 29. Tech closes out its non-conference slate with three home games against Valparaiso (Dec. 9), Vermont (Dec. 16) and American (Dec. 21).
The ACC schedule has yet to be announced, but the Hokies will welcome Boston College, Clemson, Duke, Florida State, Georgia Tech, Louisville, Miami, Notre Dame, Virginia and Wake Forest to Cassell Coliseum. On the road, Tech will clash with Florida State, Louisville, Miami, North Carolina, NC State, Notre Dame, Pitt, Syracuse, Virginia and Wake Forest. 
Game times and television designations for non-conference games will be revealed at a later date.
Virginia Tech Athletics