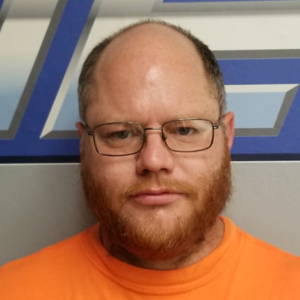 The Truckload Carriers Association (TCA) has named truck driver Keith Rahn, of Radford, a TCA Highway Angel for stopping a drunk and belligerent driver from leaving the scene of the accident, and helping police contain him. 
Rahn drives for WEL Companies out of De Pere, Wisc.
It's an incredible story: On Aug. 29, 2023 around 10:15 p.m., Rahn was in the Everett, Pa. service plaza on the Pennsylvania Turnpike when an intoxicated motorist entered the facility. The motorist hit a parked Landair truck, and his car engine stopped.
"He slams into the front of another semi—just slams into him," Rahn said, so he called 911 and then exited his truck to check on the driver of the car. He and another trucker walked over to the crashed car and discovered the driver was extremely intoxicated.
"We could smell the alcohol," Rahn said, "so I called 911 back."
The driver of the car became belligerent and was trying to start his car and kept repeating "I have to get out of here." Rahn reached into his car and removed the keys from the ignition, determined that this driver was not going to leave and hurt himself or others.
The driver of the car was agitated, the police were contacted and were enroute.
While Rahn was waiting for the police to arrive, the driver of the car attempted to leave (but couldn't) and get away from Rahn. The Pennsylvania State Police arrived, and the driver of the car was not cooperating. Repeatedly the State Trooper told the driver to get out of the car, but he ignored the order. The Trooper decided to remove him by force. Keith and another driver assisted, and while they were pulling him out of his car, they discovered his pants and underwear were falling off, and that he had a cup of wine in his lap.
"We got him down, got him handcuffed, and literally carried him to the back of the police SUV—he passed out," Rahn said. Eventually an ambulance arrived and Rahn and the other trucker assisted EMTs getting him into the ambulance. The driver was to be taken to the ER to check for alcohol poisoning.
Why did Rahn offer so much assistance?
"I had a daughter who was killed by a drunk driver," Rahn said, adding that he has alcoholism in his family.
"I really don't have any tolerance for drunk drivers, but I also respect the law," he said. "I know how dangerous drunks can be—there was no way in the world I was gonna let that guy get back on the road."
Since the TCA Highway Angels program's inception in August 1997, nearly 1,300 professional truck drivers have been recognized as Highway Angels for exemplary kindness, courtesy, and courage displayed while on the job. Thanks to the program's presenting sponsor, EpicVue, and supporting sponsor, DriverFacts, TCA is able to showcase outstanding drivers like Rahn.
Truckload Carriers Association