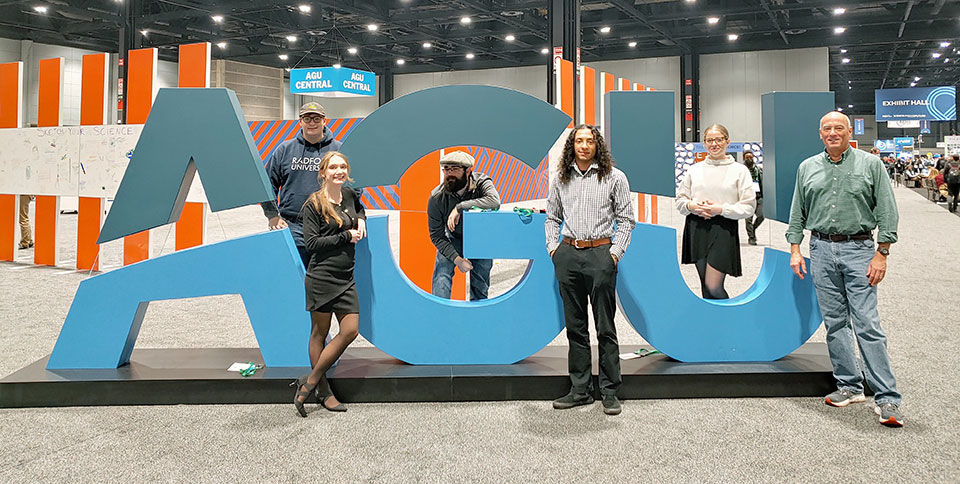 Nick Terehoff (left) explains his research at the American Geophysical Union fall meeting in Chicago.
As Nick Terehoff walked through Chicago's McCormick Place Convention Center, through a sea of scientists, many just like him, he was bombarded with one constant reminder.
"I'm in the big leagues," he recalled, "and I'm quickly approaching my professional career."
At one of the world's largest gatherings of "big league" scientists on the planet, Terehoff and a small group of Radford University students participated in the American Geophysical Union (AGU) fall meeting, "the most influential event in the world," AGU says, "dedicated to the advancement of Earth and space sciences."
Each year, more than 25,000 scientists representing 100-plus countries – and all seven continents – attend the meeting to share their research and network, both of which proved valuable for Terehoff.
Four Radford University students and one recent graduate were accepted to present at the prestigious AGU conference. "They're in pretty rare company," said Radford University Professor of Physics Rhett Herman, Ph.D., who accompanied the group to Chicago.
It was an excellent time for the Radford students to show off their hard work over the past year or so, and also a chance to make valuable connections throughout the science universe.
"I was able to connect with a few organizations, and I spoke with a liaison from Los Alamos National Laboratory," said Terehoff, a senior physics major from Big Stone Gap, Virginia. "As this is a prestigious place I hope to work in the future, I was honored."
Terehoff participated in the conference's "MacGyver" sessions, where he presented his work on "The Effect of Sea Ice Terrain on Local Air Speed and Temperature," for which he constructed "an alternative to increasingly expensive weather- and air-probing equipment," he explained. Terehoff noted that his "setup makes scientific research possible for many more individual researchers."
Joining Terehoff in the MacGyver session was fellow student Julia Buccola of Roanoke, who presented findings from her research project, "Analyzing the Presence and Concentration of Airborne Microplastics Using Python and Photo Analysis Techniques."
The MacGyver sessions, Herman explained, "recognize that people do now have the ability – with things such as Arduinos and Raspberry Pis – to make their own equipment to do real scientific research."
Physics major Sam Williams of Virginia Beach, Virginia, and geology alumna Jasmine Rollins '22 also made presentations at AGU. The Radford group of five was selected to present their findings from the 2022 Artic Geophysics Research Expedition in Utqiagvik, Alaska.
They found many people at the conference to be interested in their work among the contingent of scientists, researchers, educators, students, policymakers, enthusiasts, journalists and communicators.
A man approached Williams at the conference asking to hear about the student's research findings. Following Williams' explanation, the man asked Williams a few questions. "As it turned out, the man I was speaking with had actually been the author on the very paper I was referencing," Williams recalled. "As an undergraduate who has only participated in minimal research, it was awe-inspiring to find out that I was speaking with the author."
Jonathon Halferty had a similar experience. Initially, he felt out of place presenting at AGU, particularly as an undergraduate student. "I felt almost as if I were an impostor because of my lack of experience," he explained, comparing his background and training to those of graduate students and established scientists present at the event.
However, as Halferty walked around the poster session hall, he found "like-minded researchers," he said, who "gave me valuable advice toward my area of research."
During his presentation, Halferty learned the presenter beside him authored a paper the Radford physics major cited in his presentation. The two talked, and "my anxiety eased," he said. Afterward, Halferty spoke with people who helped him "better understand what it means to be a researcher, either by their questioning or from the helpful advice I gained through the presentation."
Making connections was also an important component of the conference, Halferty noted. He met with representatives from Purdue University, who gave him information about the Indiana institution's excellent graduate programs in science.
"By going to the AGU meeting, I was able to further extend my connections, which ultimately will help me in my pursuit of higher education," Halferty said.
The AGU experience "from start to finish, has definitely given me the ability to test the waters, so to speak," Williams said. "I have now demonstrated that I have taken research to the ultimate conclusion, in a scientific sense, by presenting my findings to a larger body of people. Being able to have this experience is crucial to being a successful scientist."
The experience helped Terehoff better understand "more about the scientific community," he said, "and revealed topics that I had not considered learning about. Not only is presenting at the conference a good thing to put on my resume, but it was also a wonderful learning experience.
"Having the ability to explain one's research in-depth but concisely," Terehoff continued, "is pretty difficult."
Welcome to the big leagues, Nick.

Chad Osborne
Radford University