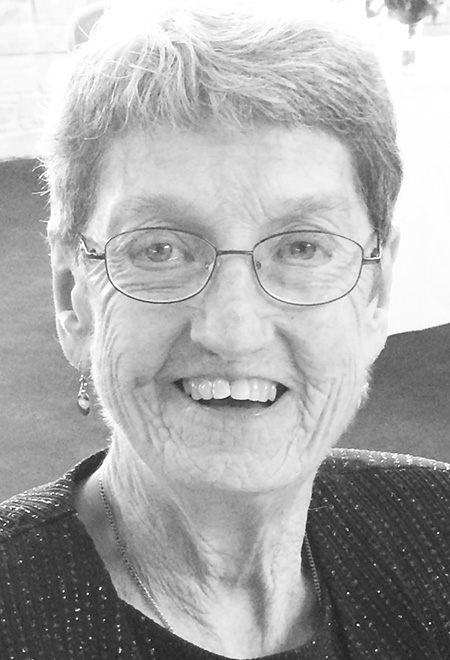 Anthea Jean Goodridge Pugh, 88, passed away at her home in Radford on July 13, 2023, with her family attending to her care in her final days. 
The Pugh family is grateful to Intrepid Hospice and Dr. Charles Judy whose attentive care allowed Anthea to stay in her home for her last months. 
Anthea was born in Plainfield, Vt., and attended Johnson State College before marrying Albert Pugh and moving to New Mexico in 1954. The couple lived in several places in the U.S. as Al pursued his Ed.D. and held various teaching jobs. Along the way they raised their family of three children. The couple settled in Radford in 1968 where Al was a professor at Radford University. Al preceded Anthea in death in 1997, after 44 years of marriage. 
Anthea was active in Grace Episcopal Church in Radford where she served on the Altar Guild for 35 years. Anthea was a member of the Ruritan Road Ruritan Club and was a Tom Downing Fellow. She was honored to be a Ruritan Forever recipient.
Anthea was a fan of crossword puzzles, Jeopardy, and reading all types of books. In the last year she read David Copperfield by Charles Dickens and then Demon Copperhead by Barbara Kingsolver. 
Anthea was deeply interested in current events and local and national news. She took pleasure in everyone she met, quickly learning about their lives and engaging them in conversation. As a result, she enjoyed many special friendships over the years and she appreciated spending time with the people she loved, whether they were family or friends. 
Anthea was an avid sports fan. She played basketball in high school and college. She especially liked following the Virginia Tech Hokies and PGA golf. 
Anthea was a meticulous seamstress and knitter. Each of her children, grandchildren, and great-grandchildren have an afghan Anthea made for them. Cooking for her family brought Anthea joy and she was known as the "Pie Lady" – famous for her beautiful pies.  Anthea was devoted to her pets over the years, particularly her springer spaniel, Toby, and most recently her terrier, Phinneas, both of whom have crossed the Rainbow Bridge.
In addition to her husband, Anthea was preceded in death by her parents Beatrice Spencer Goodridge and Euri Gilbert Goodridge. She was also preceded in death by all her siblings and their spouses: Donly Goodridge (Avis), Barbara Goodridge King (Ernest), Basil Goodridge (Ruth), and Carroll Goodridge (Donna), and a niece Carol Goodridge Grondin. 
She is survived by her three children: Christy Pugh, Radford; Spencer Pugh (Beverly), West Chester, Ohio; and Leslie Pugh McNiece, Clemmons, N.C. 
She is survived by six grandchildren: Amanda Newberry Clausen (Marcus), Laura Pugh Wallace (Blair), Gavin Pugh (Elizabeth), Jennifer Pugh Howell (Joshua), Matthew McNiece, and Hannah McNiece. Five great-grandchildren survive her: Gabriella Clausen, Russell Wallace, Penelope Wallace, Ryan Pugh, and Raymond Howell.
Anthea is survived by treasured nieces and nephews: Jean Bezio (Charlie), Susan Richardson (Jim), Donly Goodridge, Gilbert Goodridge (Kay), Kathy Matthews (Donald), Kevin Goodridge (Rosemary), Lonna White (Bob), Steven Goodridge (Linda), Barbara Calvert, Mari Miller (Scott), Julee Sealor (Don), and Alice Goodridge-Schramm (David), and a nephew-in-law Michael Grondin. Many cherished great nieces and nephews and great-great nieces and great-great nephews also survive her including her namesake Anthea. 
A memorial service will be held Saturday, July 29 at 11 a.m. at Grace Episcopal Church, 210 Fourth Street, Radford, with the Rev. William Yagel officiating. He will be assisted by the Rev. Jamie L'Enfant Edwards from St. Clements Episcopal Church (N.C.). Visitation will be at the church on Friday, July 28, 6 – 8 p.m. Interment will take place later in Eaton Cemetery in Marshfield, Vt.
In lieu of flowers, gifts can be made to Grace Episcopal Church, 210 Fourth Street, Radford, VA 24141 earmarked for the Altar Guild; to the Ruritan Road Club Educational Fund c/o Ruritan National Foundation, P.O. Box 487, Dublin, VA 24084; or to an animal rescue charity of the donor's choice. 
The Pugh family is in the care of Mullins Funeral Home & Crematory in Radford.