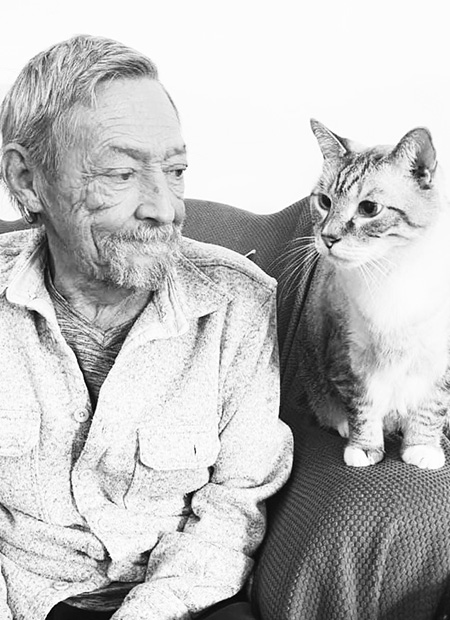 James Sheridan "Sherry" Jackson was a cowboy from the wild of Indian Creek, Chesapeake. 
With the fire of his father, Papa Don Vernon, and the heart of his mother, Mama Jeanne McCrary, he lived his life with intention. Stubborn as hell but just as soft, he was a force holding so much strength and wielding so much love. 
He was the best Dad to his six children and Papa to his five grandchildren. For 40 years, he had his best friend, wife, and love of his life by his side. Whether sitting by the water together or making each other laugh, Jackie and Sherry had the kind of love that never faltered and will continue to be felt for generations to come. 
He was a man of many talents and accomplishments, but if you asked him, his strength was his pride and joy. Jim placed second in the 1989 AAU Hampton Roads Master 40 Division and second in the 1989 Virginia Beach Open Bodybuilding Champions Masters Over 35 Short Class. It's said at one point in his life he was as wide as he was short from powerlifting. His strength would carry over to his eldest sons who would become Great Bridge wrestling state champions in 1986, 1987, and 1988, and a generation later, his grandson would earn the same honor in 2015. 
When he wasn't lifting weights, he would exercise his mind. Jim was an inventor with a creative flair who worked with what he had, whether it was old tools, rocks, or driftwood. He inspired his children and grandchildren to pursue careers and talents involving art, music, writing, gardening, and product development. He taught his family that minds are powerful tools and that you can do anything with determination and willpower. 
For those who had the pleasure to really know Sherry, his humor was dry, quick, and effortless. He could tango with words at any time but could also dance just as light on his feet if the music was right. He was gentle and remained an animal lover his entire life. You could always find a dog or cat by his side… other days it might be a rabbit or chicken. He loved them all, but he'll be missed most by his beloved 15-year old cat, Lex. To him, pets are always family.
Sherry is survived by his wife, Jackie (with Lex, Giles, Billy Bones, Whiskey, Sylvie Roo); his children: Jon, Jody (Wags), Jarred (Mogget, Gwen), Jilli Mac (Walnut, Porter), Jazz & her wife, Issy (Finn, Ruby, Sasquatch, Velvet Jack); his grandchildren: Jordan (Alfred), Jamie, Joby, Stryder (Sadie), Kolby; his great granddaughter, Melanie; his sisters: Carolee, Buttons, and Tinker; his brothers, Mark and Don; his nephews: Kenneth, Jacob, Benjamin, Matt, Josh, Mark Jr., Robbie, Don Jr., and Ben; and his nieces: Kathryn, Ashley, Kelly, Alexandra, Jenny, Nicole, and Carrie. He loved them all dearly, but now is the time to be reunited with his son, Joe Mac. 
Sherry had been so many titles – husband, son, dad, papa, brother, uncle, coach, teacher, rock. He accepted everyone for who they were but wasn't afraid to pass on his own clever and quirky wisdoms. A light for his family that never went out and a strength that never wavered, he dared to be soft to the ones he loved. His family is full of love and gratitude for a life well lived. Sherry will be missed, but like a true cowboy, he's on to his next big adventure.
Celebrations of his life will be held at later dates.
In lieu of flowers, donations can be made in care to Radford Animal Shelter: Adele Katrovitz, Radford Animal Shelter, 20 Robertson Street, Radford, VA 24141. Adopt a dog, cat, or rabbit while you're at it — it's what Sherry would have wanted.
The Jackson family is in the care of Mullins Funeral Home & Crematory in Radford.