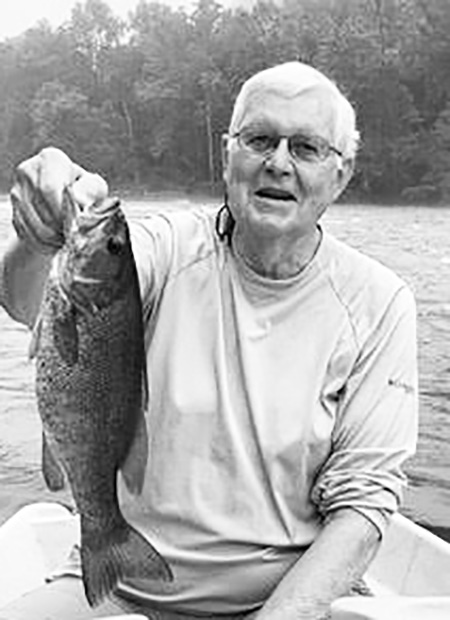 John Wallace Grant, Ph.D., known to his friends and colleagues as "Wally," was born in Weston, W.Va., in May of 1942 and died in the New River Valley on Wednesday, July 12, 2023 at 81 years of age after a battle with cancer.  He is survived by his widow, Joy Grant; his brother Richard Grant; his adult sons, Stephen, David, and John; his daughters-in-law, Alicia Kratzer, Sara Poorsattar, and Stephanie Thornton- Grant; and his grandchildren, Mathilda, Walker, Angus, and Azadeh Grant.
The oldest son of John Grant, a chemist with the American Water Company, and Grace Grant, an administrator with the Columbia Gas Company, Wally Grant grew up in Charleston, W.Va., on the banks of the Kanawha River as the oldest of two brothers. When his father passed away suddenly while Wally was in high school he shouldered the additional responsibility with strength, working at the Union Carbide process plant as an engineer as he took his undergraduate coursework at the West Virginia Institute of Technology in Montgomery. The opportunity to help build a state-of-the-art amines production facility for Union Carbide led him to Louisiana, where he met the woman who would be his wife for over 50 years, Joy Starring Grant.
He had a lifetime love of science and never stopped learning or researching. Wally graduated with his Ph.D. in Biomedical Engineering from Tulane University in 1973 and then worked as a research scientist for the Dupont Corporation until he joined the faculty of Virginia Tech's Department of Engineering Science and Mechanics in 1981 where he taught for over 30 years. Grant was instrumental in founding the School of Biomedical Engineering at Virginia Tech, serving in the roles of director and later department head until 2009. Grant was a dedicated educator, his teaching ranging from freshmen fundamentals in engineering up to a generation of PhDs conducting research that pushed the boundaries of science. He was twice awarded a Certificate of Teaching Excellence from the college as well as the Frank J. Maher Award for Excellence in Engineering Education and was appointed the first Kevin P. Granata Faculty Fellow in 2010.
Wally Grant had a lifetime commitment to the scouting movement, working with the Boy Scouts of America as the Scoutmaster of Troop 152 at United Methodist in Blacksburg for twenty years. He was a member of the Order of the Arrow and was awarded the Wood Badge, one of the highest awards for an adult leader in Scouts. His selfless work in the Scouts developed leadership skills and a love of the outdoors in an entire generation of young men in Blacksburg. 
To the very core of his being, Wally Grant was an engineer. There was no machine he could not fix, no system he could not understand, from cars to blood centrifuges, to radio astronomy. His intellectual curiosity was never satisfied.  He had an innate understanding of the physical world and its dynamics, which was cultivated in a lifetime of scientific research. His early work was in the fluid dynamics of human blood flow. He led a US Navy research program into pilot disorientation at the Naval Air Station in Pensacola, Florida. His lab at Virginia Tech drove groundbreaking research into the function of the vestibular system, the world expert on the mechanical operation of the gravity-sensing part of the inner ear that allows all animals, including humans, to balance in space.
He was a loving husband, a dedicated father, and a patient, doting, delighted grandfather. He was a world-class small water fly fisherman of the dry fly, the highest art of the craft he practiced his entire life. A quiet man, he expressed his love through acts of service. He was good to have with you in a tough spot, an optimist, a problem solver, and a source of strength to those around him. His love of life, his intellect, and his quiet dignity will be profoundly missed. 
In lieu of flowers, please make a donation in his name to the Blue Ridge Council of the Boys Scouts of America. A memorial service in his name will be announced and held in a few weeks.