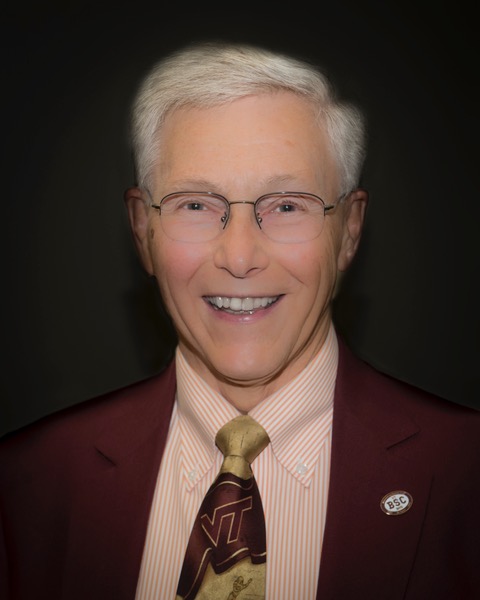 Ronnie Marcum peacefully passed away at the age 74 on July 24, 2023 in Blacksburg, with his loving wife of over 52 years by his side. 
He was born in Pardee, Va. on September 6, 1948 to Doyle and Carrie Mae Marcum. He is survived by his wife Faye; sons Monte and Casey; their wives Anna and LeAnna; his grandchildren Wyatt, Helena and Cayleigh; sister Hilma (Til) Collier and her husband, Gene; his favorite nieces Carrie and Martha; and brother Harry Marcum and his wife, Tanua. 
He was predeceased by his parents, sisters Margaret Dehart and Juanita Smith, and brothers Earl, Lenard and James (Johnny) Marcum. As close as family, Ronnie's lifelong best friend Benny Mason of over 60 years survives him. 
Ronnie was an exceptionally proud Hokie who started at Virginia Tech in 1966. He met the love of his life, Alice Faye Marcum on September 22,1967 at a Radford University mixer. He then went on to graduate from Virginia Tech in 1970 with a Bachelor of Science in Mining Engineering. He later served as an officer in the US Navy and graduated from the Executive Management Program at Penn State. Ronnie had a distinguished 35-year career with Consolidation Coal Company (Consol) serving the coal mining industry. While with Consol he held many executive positions with extensive underground and surface mining expertise that also included reclamation, land management and transportation. 
Ronnie retired from Consol in October 1999 and then went on to become an independent consultant which eventually led him into the role of Executive Vice President of Engineering for PinnOak Resources. Ronnie was a loyal Hokie to his core and demonstrated the Ut Prosim values to their fullest extent. Being the first and only in his family to earn a college degree, education was very important to him. He and Faye recognized its significance in making positive abilities in life by establishing numerous academic scholarships at Virginia Tech and Radford University, Faye's alma mater. Virginia Tech honored Ronnie's academic and professional capstone on September 30, 2021 by inducting him into its elite Academy of Engineering Excellence. He was a strong supporter of all Virginia Tech athletic sports both as an avid fan cheering and through creating athletic scholarships. As hard as Ronnie worked through his professional career, it was the effort and joy he put into his retirement years that defined what living life to the fullest. His long list of life passions included family time and travel, golfing, fishing, going on waterfall adventures with his youngest son Casey, long walks with Faye and their pets over the decades and even being her faithful step class aerobics partner. He was on call and ready to dance with Faye anytime on a cruise ship. He particularly enjoyed experiencing all these celebrations at his personal playground in Rarity Bay on Tellico Lake in east Tennessee. Storytelling with his grandchildren, fishing with them and the dog and sipping wine with Faye and friends on his boat dock brought him true happiness. Ronnie was the go-to guy to solve problems and fix things with a unique care for the details to do it correctly – because the precision was both a challenge and a game for him. 
With tremendous lifelong support from Faye, Ronnie built a legacy based on honest hard work and giving back because that is what brought him humble joy. Faye was with him every step of his journey for over 55 years in an exemplary partnership of taking care of each other. He practiced living every day with positivity through his warm smile and signature thumbs up. In lieu of flowers, please consider a contribution to Eagles Nest Regeneration Inc. in Ronnie's memory and desire to help others. A private family service will be held followed by a Celebration of Life at Blacksburg Country Club on a future date. Eagles Nest Regeneration: 10 Hickok St. Suite 200, Christiansburg, VA 24073.