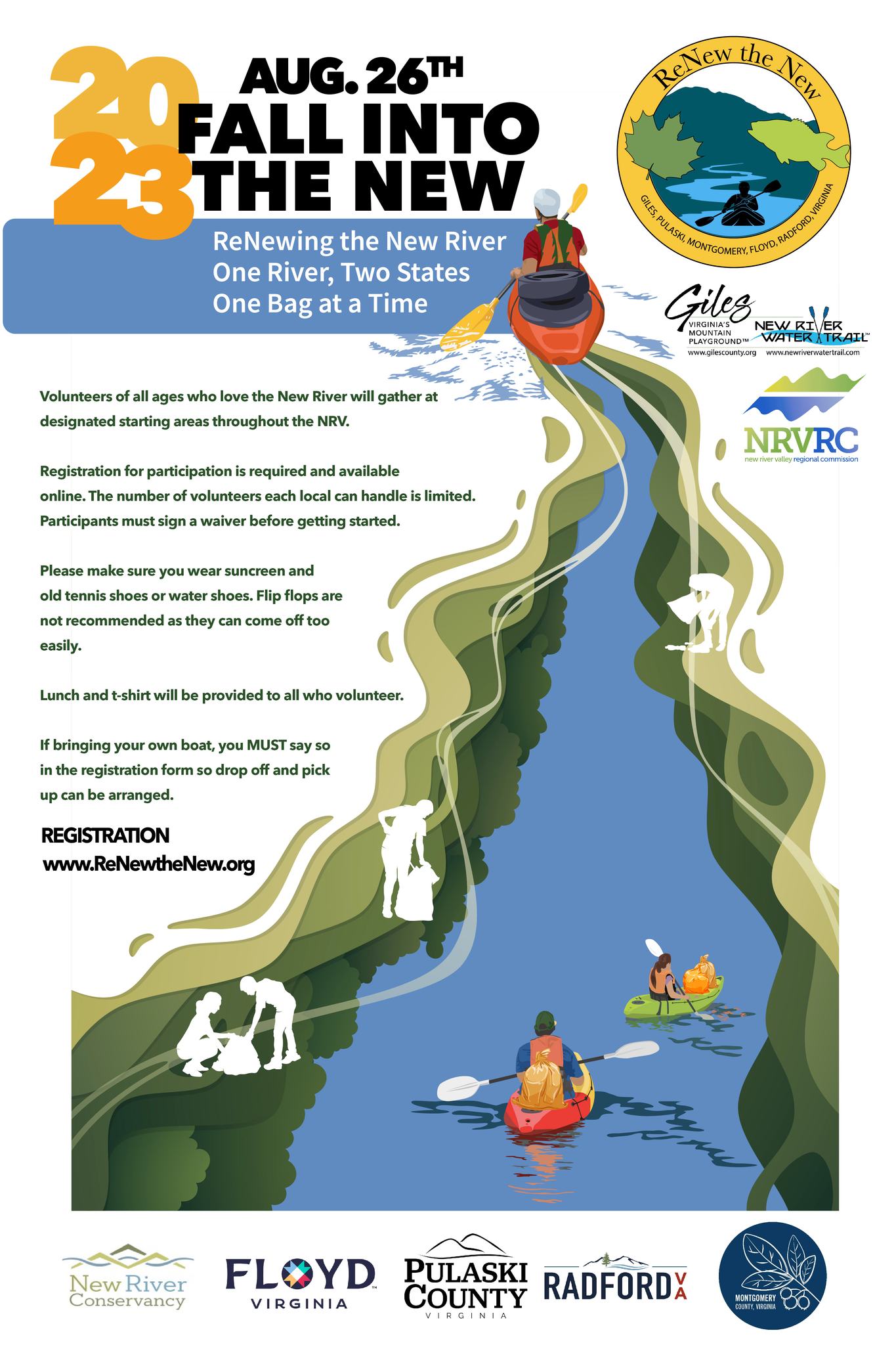 Lori Graham
Contributing Writer
ReNew the New brings community members together to clean up and beautify the area's natural water resources. 
The event originated in Giles County but has since spread to neighboring towns and counties, including the City of Radford, and Pulaski, Montgomery and Floyd counties.
This year, event coordinators are adding something new. 
"We got a team together that wants to join in on the event out of West Virginia. We are expanding to clean up past the Giles County line into West Virginia," said Kathleen Armstrong, Regional Planner and Community Designer for the New River Valley Regional Commission. "There are three counties that share the border of Virginia: Monroe, Summer's and Mercer County. Citizens will be involved on the same day as well and Giles County will be supporting them with water vessels." 
Armstrong also helps to coordinate the region-wide event. 
"Last year, we had 600 participants, and picked up 20+ tons of trash," said Armstrong. "It's amazing the amount of debris and material being pulled out of our waterways and around our boat launches." 
This year the event will happen on August 26 and is coordinated by individual localities, but there are also different people that lend their support to the event. For example, Floyd County utilizes their Boy Scout troops to clean up the tributaries and waterways in their region.
According to Armstrong, registration is required, and bringing your own boat is always good; allowing more people on the water. If participants want to be in a boat and do not have one, registration will be capped so sign up as soon as possible. Shuttles will be provided for all those helping with the clean-up. 
If someone wants to volunteer but prefers to be solid ground, there are land crews that work close to the river. 
"It is fun, and you can interact with the water. There is always opportunity, and we do not usually turn anyone away," Armstrong said. 
Specific questions in the registration process will help organizers determine your preferences in how you wish to donate volunteer time. 
Getting together before and after as a big group and enjoying each other's company is also a big part of the event. Some localities will be providing a lunch to volunteers and others may choose to bring a lunch or snacks to enjoy with other participants. Community members are encouraged to check with their local organization that is hosting the event on the schedule of events. Registration of volunteers is also vital in helping coordinators best utilize the placement of teams on land and water to make the biggest impact on renewing our natural resources. 
The hope is that one day, they will not need as many volunteers because people have become more aware of how damaging garbage can be to the environment. 
"When we have less and less trash pickup, that means we have more success in our mission," Armstrong said. 
In addition to the water clean-up, the ReNew the New Committee has a school-based education program. Ollie Otter is their loveable mascot for the program and serves as a representative for the otters that abundantly reside in the New River and other waterways in the region. The catchy 'Be a Litter Quitter' song geared for children along with an art contest are some of the ways the organization is spreading the word on nature preservation to children. The art contest winners, along with their pictures, are posted on the ReNew the New website at www.renewthenew.org. 
"That early intervention with kids about littering and water quality is important," Armstrong said. "The Litter-Quitter Critter, hard to say, easy to do."
More information about the event, along with the registration form for each individual ReNew the New event, can be found at www.renewthenew.org and through the organization's Facebook page at the New River Valley Regional Commission. The registration page will guide volunteers through selecting the clean-up location of their choosing.