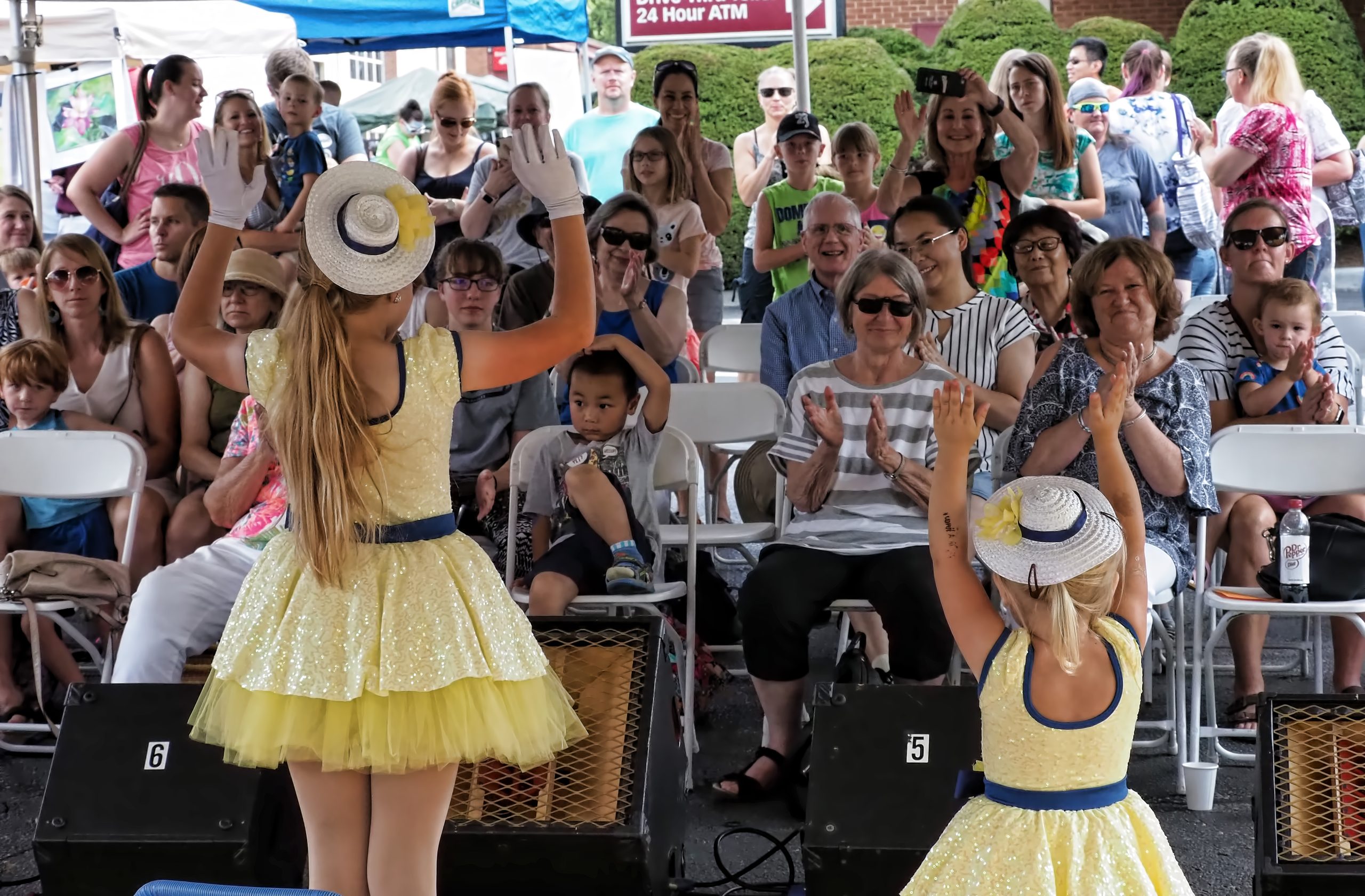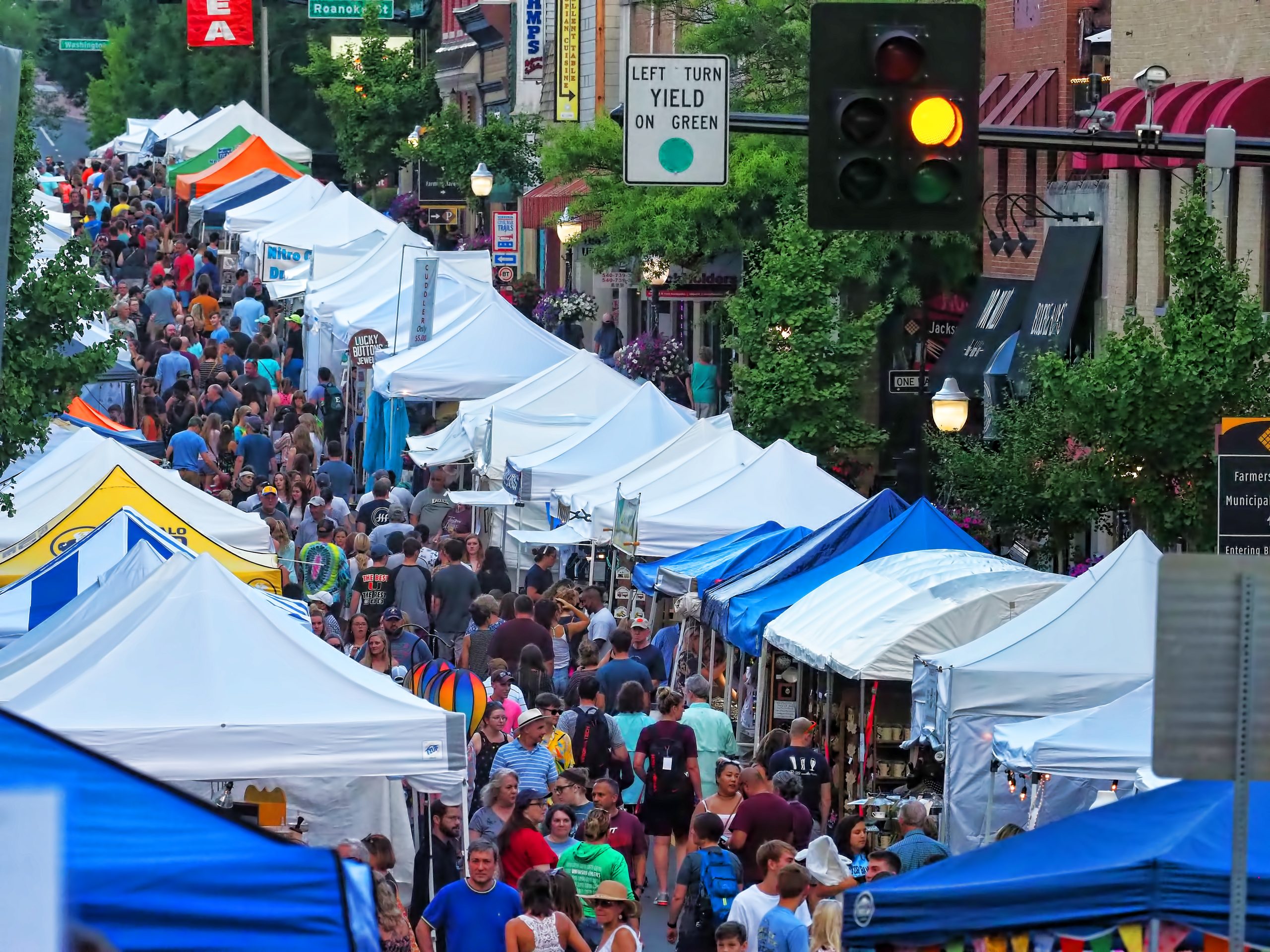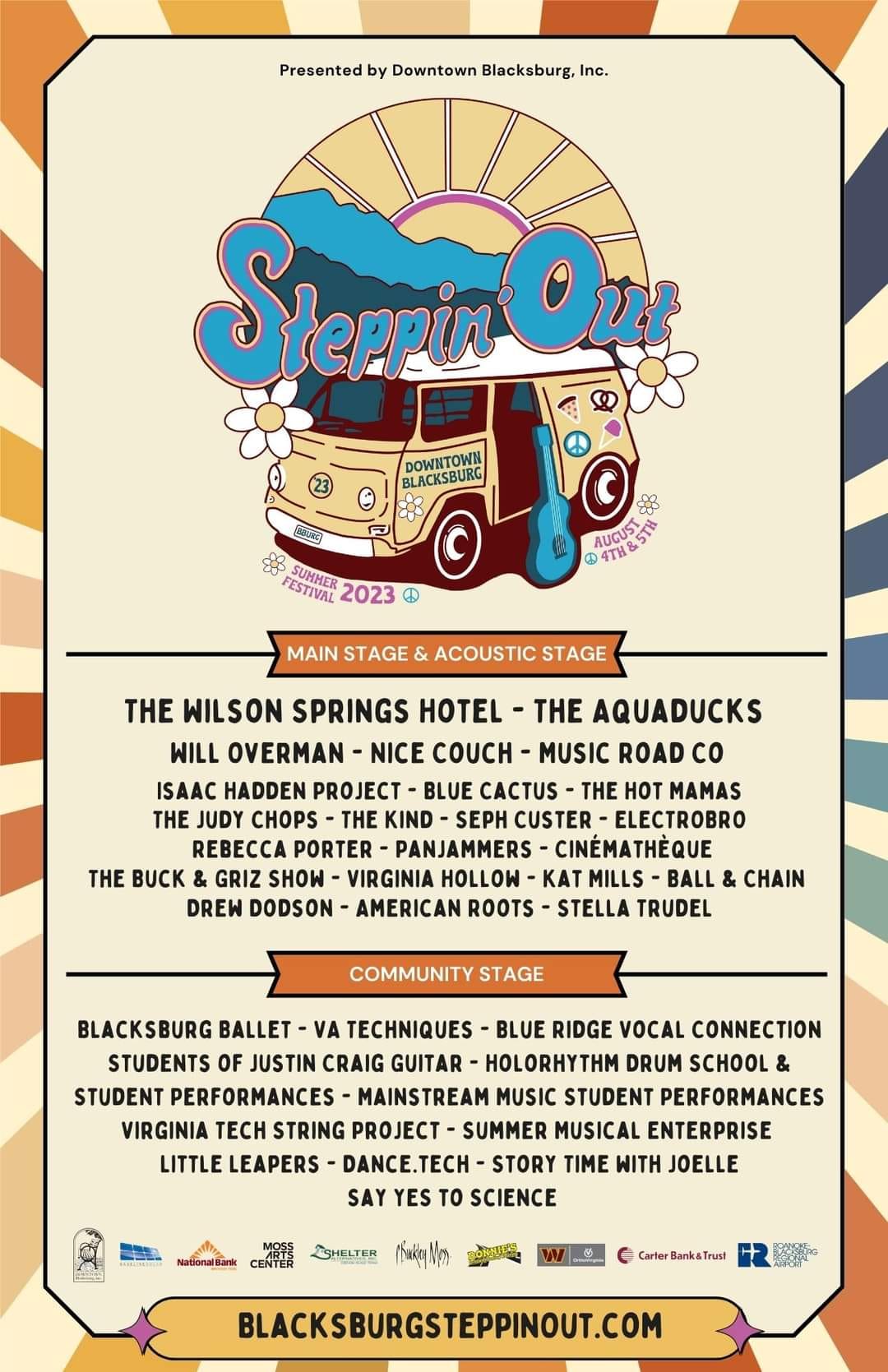 BLACKSBURG – Steppin' Out, Blacksburg's summer festival, will celebrate its 42nd Anniversary on Friday and Saturday, August 4 and 5.  
From 10 a.m. to 10 p.m. on both days, streets in the core of downtown Blacksburg will be lined with crafts, sidewalk sales, food, and entertainment.  Since it began in 1981, Steppin' Out has more than doubled in size and now hosts three stages of free entertainment and over 250 vendors including art, craft, nonprofit organizations, and Downtown Blacksburg merchant restaurants.  The family fun zone is sponsored by Carter Bank and Trust will be in the Kent Square parking lot.  Steppin' Out also features the running of the Draper Mile on Friday at 6:30 p.m. New this year, stop by the Y Comfort Station sponsored by the YMCA at VT which will include a hydration station, kid's activities, nursing mother and diaper changing sites. 
The Wilson Springs Hotel band from Richmond, Va. takes the Moss Arts Center Main Stage on Friday night. They take you through a variety of genre and influences from crooner country, to rippin' honky tonk, to hard hitting folk influenced rock.  Saturday night closes with The Aquaducks of Nashville, a high-energy soul band with a nostalgic brand of modern funk music.  
The Acoustic Stage, sponsored by Baseline Solar and Shelter Alternatives, kicks off at noon on Friday with Stella Trudel, a Texas and SWVA native, and wraps up Saturday at 6p.m. with North Carolina duo, Blue Cactus. Rock the Blocks has organized a wide range of new sounds and Steppin' Out favorites from near and far. The Community Stage, sponsored by National Bank of Blacksburg, showcases local organizations and entertainers from the Virginia Tech String Project to Say Yes to Science Demonstrations to the Virginia Techniques gymnasts. 
A festival tradition, visitors will want to stop by the information tent on College Avenue to purchase the 2023 Steppin' Out t-shirt, designed by Blacksburg High School student, Natalie Green, and available in a variety of colors. 
As always, admission to Steppin' Out is free and on-street parking is free during the festival. Blacksburg Transit is providing a free shuttle from the Chicken Hill Lot on Virginia Tech's campus. The shuttle will drop off and pick up at the corner of Washington Street and Draper Road and will run every 15 minutes from 9:30 a.m. to 10:30 p.m. Steppin' Out is sponsored by Downtown Blacksburg, Inc. a group of businesses dedicated to the enhancement of the downtown area. Proceeds from Steppin' Out have contributed to community projects including improvements to the Farmers' Market; operational support of the Lyric Theatre; purchase of trees, benches, and holiday lights for downtown streets; and sponsorship of annual community events. Bring your friends! Bring your family! For more information, see the Steppin' Out website: www.blacksburgsteppinout.com.