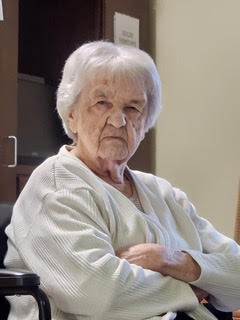 Onita May (Puddin) Lytton Bugg passed away July 29, 2023. She was a resident of Pilot. Onita lived in Pilot until medical issues worsened and then resided in Heritage Hall.
She was born October 21, 1930, to the late Fred Harmon and Lena Kesterson Lytton. She was preceded in death by Robert W. Bugg (Bobby), her late husband; and by her brothers and sisters Arnold, Brownie, Howard, Ed, Paul Lytton, Ruth Leslie, Kathleen Plaster, and Alma Scaggs.
Her surviving children are Janet Mathis, Susie Roop, Vicky Gillespie, Robert Bugg, and son-in-law Bradley Goad. She left behind grandchildren, Quinton Self, Jr., Amanda Roop, Laura Beth Howell, Deseray Bugg and seven great-grandchildren.
Onita (Puddin) was a wonderful cook who opened her home to everyone, famous for German chocolate cake, butterscotch pie, pinto beans, and corn bread. She loved to crack walnuts, pick blackberries, and garden. She was a true country girl and a proud Lytton. She would find Indian arrowheads every time she went to the garden and had a huge collection.
Funeral services were conducted Tuesday, Aug. 1, 2023 in the McCoy Funeral Home Chapel with the Pastor Ray McDaniels officiating. The family received friends prior to the service at the McCoy Funeral Home, 150 Country Club Drive S.W., Blacksburg.