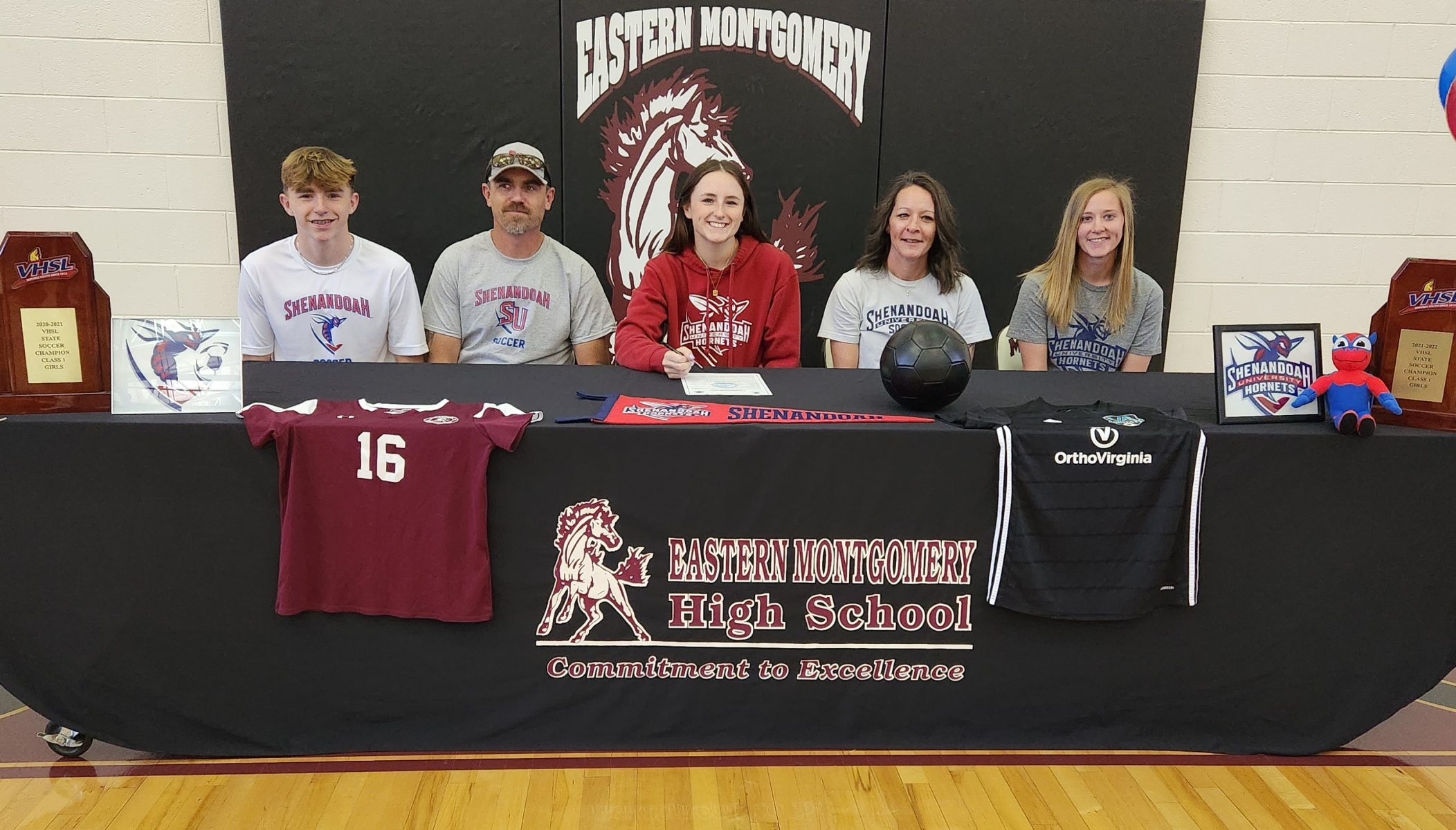 By Marty Gordon
One of the cornerstones of the Eastern Montgomery High School girls' soccer program has announced plans to continue her playing career at Shenandoah University in Winchester. 
Senior Maddie Bruce signed a letter of intent Tuesday in front of family, friends, coaches and fellow players.
Bruce was the state's Class 1 player of year after leading the Mustangs in two straight state soccer titles in 2021 and 2022.  The Eastern Montgomery program is still in its infancy after just six seasons, and Bruce has been a big part of its success.
She capped her junior season with two goals in the Mustangs' 4-0 win over Auburn in the state championship game. She finished 2022 with 27 goals and 36 assists and has 61 career goals and 59
career assists in just two seasons (COVID canceled her freshman season in 2020). Also, in basketball, Bruce was named second team all Class 1 in basketball, First team in all-region and all Pioneer District.
Mustangs' two-year dominance on the soccer field included not allowing a goal in the semifinals (2-0 vs. West Point) and finals (4-0 vs. Auburn). 18-0 last spring, the Mustangs have now won 32 straight games.
Shenandoah University is a private university and has an enrollment of approximately 4,000 students. The university is a member of the Division III of the National Collegiate Athletic Association (NCAA), primarily competing in the Old Dominion Athletic Conference (ODAC) since the 2012–13 academic year. The Hornets previously competed in the USA South Athletic Conference (USA South) from 1992–93 to 2011–12.
This past season, the Shenandoah University women's soccer team saw its season come to an end with a 1-0 loss to the University of Lynchburg in the ODAC Tournament semi-finals. Shenandoah finished 11-7-3.
In 16 seasons as the Hornets head coach, Elizabeth Pike has led the Hornets to 157 overall victories and has one league title, the 2011 USA South crown, to her credit. In 11 seasons of Old Dominion Athletics Conference play, SU has won 89 matches and has qualified for the ODAC Tournament in every season.
At Shenandoah, Bruce hopes to work toward a degree in physical therapy.