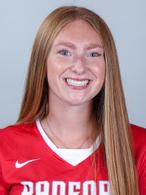 Photos courtesy of RU Athletics
The best part of college is being able to experience new opportunities and getting out of your comfort zone. 
The nerves of starting something new, the unknown of what to expect, and the excitement making your heart feel like it is going to beat out of your chest. These were all feelings Evie Gee and Ashlyn Grogan felt when they were selected to play lacrosse in Europe this past summer. 
Gee and Grogan found themselves traveling to Prague to play the game they love, but this time would be different. This time, they would be representing the United States of America.
Their adventure started when Grogan received a text from her previous coach reaching out to put together a team of female college players to play in Europe. He also shared he needed one more midfielder, resulting in Grogan sharing Gee's name. The duo saw this as an opportunity to "gain confidence and a different experience," according to Grogan. Not only was Grogan traveling solo, but her story also started rockier. Immediately, she found herself challenged with flight troubles. She stated this trip "forced [her] to be independent."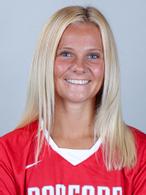 In the beginning, they did not know anybody else on the team except each other. However, much to their surprise, their teammate, Cameron Counts, was traveling to be a manager with the U.S. Men's Lacrosse team. This allowed the three women to have some comfort in knowing they had each other when traveling so far from home. Not only were they surprised to see Counts, Radford's men's basketball player, David Vidor, a Hungary native, drove to watch them play. Additionally, they met another Radford men's basketball player's close family friend. 
The team's first day together was also their first day of practice and the first four days of their trip was dominated by lacrosse. The other teams involved in the tournament were the Czech Republic National team, Honk Kong, Netherlands National team, Croatia, and Germany.
The championship game consisted of the United States vs. the Czech Republic. Unfortunately, the U.S. fell to the Czech Republic. They noted how different the culture and style of play was compared to America. There were multiple languages spoken during the games, resulting in referees having to translate for teams. 
The following six days the team spent their time in Munich having fun and simply enjoying what the country had to offer. "When we weren't playing lacrosse, we got to see the little towns which I thought was really cool," noted Gee. This gave the women some time to bond off the field. These bonds were so impactful both Gee and Grogan remain in contact with the girls they met and have plans to visit each other. Gee also shared, "It was so cool because we made a lot of connections… girls you would never meet any other way." 
The excitement beamed from Gee and Grogan when discussing their experience across the pond. They noted Prague is the only original city not burned down during World War II. They shared photos of numerous churches, the Charles Bridge, and photos from the lacrosse tournament (Grogan #0, Gee #27). While in Europe, the team attended various tours whether it be by bike or on foot then, as long as they had no practice, and had the rest of the day to themselves. 
When asked what their favorite part of the experience was, Grogan said, "My goal was so be put out of my comfort zone." Gee referred to it as a "truly life changing experience," noting, "Seriously when else can you say you just played against the best team in Honk Kong." This was a once-in-a-lifetime experience the duo with cherish forever. You can see the duo hit the field in the upcoming 2024 lacrosse season.
Radford University Athletics