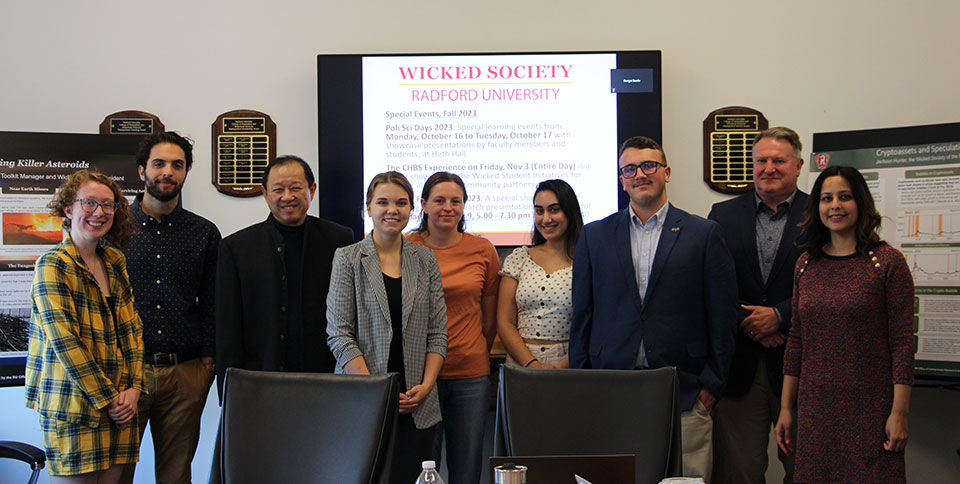 Getting the opportunity to work toward solutions to some of the world's most complex problems is not new to Radford University students, but having the chance to present their work before an international audience is.
In late September, three Radford undergraduate students, along with two graduate students, will speak about their research into wicked problems – issues that are difficult or seemingly impossible to solve – at the 10th annual Responsible Management and Education conference in Lisbon, Portugal. The conference is intended to engage multiple stakeholders in discussions aimed toward advancing the United Nations' sustainable development goals.
"It's deeply humbling, and it makes me very proud to represent Radford at the conference," said Rachel Sharrett '19, a graduate teaching fellow in the Department of English and president of the university's Wicked Society. "It's also going to be exciting to go to the conference and listen to all the scholars from all over the world and hear their takes on a variety of wicked problems. It's going to be amazing."
Members of the Radford University Wicked Society.
One of the "neat things about it," chimed in Luke Quesenberry, a senior political science major from Richlands, Virginia, "is Radford has the only undergraduate students presenting at the conference."
In late 2022, Professor Tay Keong Tan encouraged Sharrett, a graduate of the political science program, to help establish what soon would be known as the Wicked Society of Radford University to rally students interested in focusing on wicked problems. It began with the creation of a toolkit, a website that holds "many artifacts and resources for understanding various wicked problems," said Sharrett, who manages the toolkit. "It's a place for scholars, at Radford and elsewhere, to access peer-reviewed and vetted sources in order to better understand wicked problems and potential solutions."
In addition to the Wicked Problems Toolkit, the society's responsibilities include a Wicked Student Podcast, a journal focusing on wicked problems and solutions, a consultancy project on solving problems for a local town council and the biennial Wicked Festival showcasing hundreds of projects concentrating on solving wicked problems. The next one is scheduled for Nov. 9.
Students in the Wicked Society have been working for months on individual projects to present at the Lisbon conference. It is an arduous task fraught with challenges, explained Sharrett, a Bristol, Virginia, native. "Things in the world are always changing, and one of the challenges in this kind of work is it requires a lot of adaptability and being able to change course on a dime."
Quesenberry, who is working on a project titled "Proliferation of Autonomous Weapons," has learned pretty quickly to adapt his project due to how quickly artificial intelligence is advancing into warfare technologies.
"It can be daunting, and the workload is a challenge," Quesenberry said. "It's meaningful work, and that makes the challenges worth the effort."
Student projects include Sharrett's exploration into "Cataclysmic Events," while others are looking into "Threats to Democracy," "Climate and Pandemics," "Economic and Financial Crises" and "Websites and Lessons Learned."
On Aug. 18, the Friday before fall semester began, the Wicked students, along with Tan and a small group of Radford University faculty, gathered in Hemphill Hall for the Wicked Society Annual Retreat to discuss the group's vision. They also were treated to a talk about the design thinking approach to wicked problems by Associate Professor of Design Margaret Konkel and a discussion concerning the disciplines of the Wicked student, led virtually by Paul Hanstedt, vice chancellor at the University of Minnesota Rochester. Professor of Philosophy Heather Keith facilitated a discussion about expanding the society's membership.
"We talked about how we are going to grow the Wicked Society," Sharrett explained, "and how we are going to make more students aware of the society and get them interested in joining us."
Their pitch to students?
"We are the Wicked Society; we are doing research to help find solutions to real-world problems," said Quesenberry, an Honors College student. "We are unlike anything else on campus."
Quesenberry has a personal message about the society that he may want to share as an inspiration to potential new students of wicked problems.
"Before joining the wicked team and getting into the research, I felt lost and was actively trying to find my place at Radford," he said. "The wicked initiative allowed me to find my place through doing meaningful research, and it allowed me opportunities that I never thought I would achieve. After all, the goal of wicked at Radford University is to get every student involved in meaningful research to help them find a place in academia."
Sharrett agreed.
"I think students are looking to be a part of something bigger than themselves, something they know, that at the end of their time at Radford, they made a difference and that they expanded themselves in ways that they may not have ever thought of," she said. "The possibilities for making an impact on the world are really endless."

Chad Osborne for Radford University