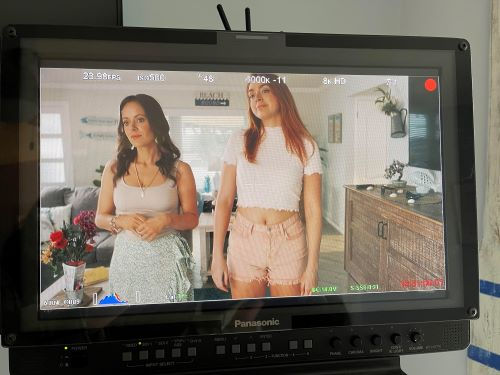 Sun, surf and sand, darkened by betrayal and deception.
A fun-filled vacation gone horribly awry.
An extraordinarily driven mother, determined to save her daughter, Kayla, from the clutches of brutal kidnappers.
Those are the broad strokes of "Spring Break Nightmare," a feature film that debuted on the Lifetime Movie Network in March and which is periodically available on Hulu.
Right in the middle of it all is Lauren Faulkner '15, a Radford University theater graduate and an actor on the rise who has a key role in "Nightmare."
She plays Becky, Kayla's sensible best friend and the center of the movie's first big dramatic twist.
"I loved the balance of work and fun," Faulkner recently said of making the movie, which was shot across two weeks in Florida locations that included Clearwater and St. Pete Beach. "It's hard not to have fun when you're in a place where there are so many creative people, all working at once."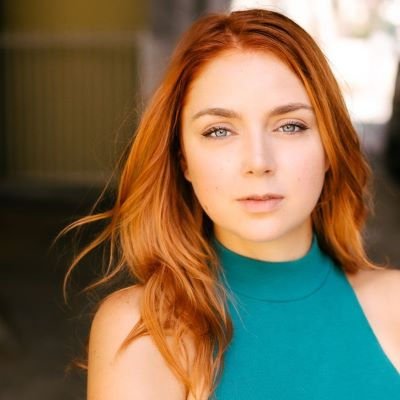 "Nightmare" is actually her second turn in a recent Lifetime melodrama – she was also in 2021's "Party Gone Wrong," which was partially filmed at The Hotel Roanoke – and those roles mark a steady progression for the former Bland County resident.
Early on, Faulkner performed on Southwest Virginia stages in Pulaski and Wytheville, and while studying at Radford, she starred in the Pulitzer Prize-winning play "Clybourne Park" and the legendary musical "Cabaret," among other productions.
Not long after she got her degree, the Rocky Gap, Virginia, native headed to Los Angeles to find a place in the entertainment industry, and she quickly turned up in such short films as "The Bizarre Act of Samantha" in 2017, and 2019's "Caroline."
"I think anyone would tell you it's a difficult city to thrive in," Faulkner recently said of LA. "The cost of living is high, and there are so many people trying to do the exact same thing that you are.
"You just have to have this mentality of 'I'm going to stick with it in order to make things work.'"
Her tenacity succeeded. She will soon mark her eighth anniversary of living and working there.
"It never really gets any easier, I would say, but I now have a community. I've met so many wonderful people who are in my corner, and I have people I can rely on who are going through the same things as me," she said. "That definitely makes it all the more worthwhile."
Faulkner's primary focus remains film work – she estimates she goes on as many as five auditions each week – but she said she's still interested in the theater and the challenges and excitement of performing in front of an audience. Just over a year ago, she began trying her hand at comedy as well.
"I'm doing stand-up as kind of a means to scratch the live theater itch," she said. "I've performed at a handful of places, but I would love to keep branching out. At some point, I'm hopefully going to come back to Southwest Virginia to do a comedy set. I want to bring my comedy back to where I came from."
And, speaking of her roots, Faulkner said she has fond memories of her work and her time at Radford.
"A lot of people will tell you that because acting is subjective, you don't need training. And I don't know if you do or not; I can't speak for everybody, but I enjoyed mine. I feel well-equipped to tackle various roles and understand scenes and find a character's arc … based on my theater training."
"I'm very thankful for all the training I received from my professors at Radford," she added. "They really, really do want everyone that they educate to succeed, and you feel that, and I'm very grateful for that." 
Neil Harvey for Radford University