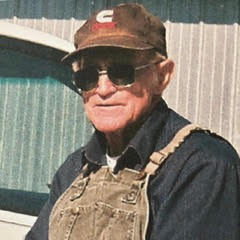 Malcum Harvey Woolwine, 86, of Blacksburg, died Monday, May 29, 2023, at his home. 
He was born in Merrimac on August 22, 1936, to the late Charlie and Hazel Linkous Woolwine.
During his life, he worked first in the Merrimac coal mines, then moved to the VPI Sanitation Authority. After 33 years of service, Malcum retired to pursue his love of farming. Malcum loved to cut wood, put up hay and gather chicken eggs from his beloved flock. Malcum also had a great passion for making apple butter at his church, Merrimac Pentecostal Holiness, where he and Lois were crowned the apple butter king and queen. Malcum served his church as a faithful deacon and remained on the church council until his passing.
Malcum leaves behind to cherish his memory his wife of 63 years, Lois; daughter Myra Cox (Phillip); sons, Kevin Woolwine (Donna) and Phillip Woolwine (Kim); grandchildren, Brandon Woolwine, Kyndra Merrix, Jared Cox, and Zachary Cox; great-grandchildren, Levi Davis, Aubrey Davis, Shalana Woolwine, Bradon Woolwine, Mattie Cox, Kolby Cox, Gavin Cox, Layni Cox; and his faithful four-legged friend Brownie.
Funeral services were conducted Thursday, June 1, 2023 in the Merrimac Pentecostal Holiness Church with the Rev. Todd Porter, Rev. Phillip Cox, and Rev. Richard Hall officiating. Interment followed in the Roselawn Memorial Gardens. The family received friends Wednesday evening at McCoy Funeral Home 150 Country Club Dr. SW, Blacksburg.