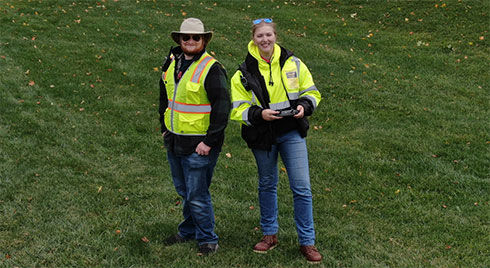 Once upon a time, not so long ago, the only tools an engineering geologist needed to collect cliffside data were a rock hammer, a compass, a rugged pair of boots, and sometimes a climbing rope.
"In my career, I spent a lot of time rappelling and rock climbing in order to get the data," said Skip Watts, professor emeritus in the Radford University Department of Geology. "I would use those tools, and in the old days, we would process a lot of this data by hand."
One morning, about 25 years ago, Watts was on such a mission when National Public Radio phoned him at Yosemite National Park where he was investigating discontinuities or cracks in the rocks that could lead to more landslides like the slide that happened at the park a year earlier.
"Right now, I'm about 1,800 feet above the valley floor, sitting on a rock eating an apple," Watts said, answering NPR's Scott Simon's question, "Where are you right now?" during the live radio interview. "I'm looking up Tenaya Canyon, and directly in front of me is the Merced River and two beautiful waterfalls."
But in addition to the possible perils, collecting data "the old way," as Watts said, can take a lot of time. "You might be able to get 100 to 200 data points in a day the way we used to do it," he said.
Times and tools have changed.
These days, students and faculty in Radford's Department of Geology are using unmanned aerial vehicles, more commonly known as drones to collect geological data.
"In the old days, it would take all day just to get a couple of hundred data points while hanging off a cliff, but now we can fly a drone over and around a site and gets thousands of data points in 40 to 60 minutes," said Radford University senior geology major Garrett O'Hara. "And we can do it all safely from the ground."
This is certainly not your parents' geology program.
A walk into Radford University's Geohazards and Unmanned Systems Research Center first reveals a fleet of drones stationed around the room.
There are small drones, like the DJI Mavic 2 Mini, that can sit in a hand, and there is one large drone, the Matrice M600, which looks like it could have arrived from another planet. These drones are used by Radford students and faculty for flight protocol development, photography, mapping, and research into battery life extension, to name a few operations.
O'Hara and senior geology major Kendra Bolen are the center's student managers. Bolen's responsibilities as the center's overall manager include drone procurement, maintenance, and inventory. O'Hara manages spatial data processing for the center, a position that makes him light up like a Christmas tree when he talks about his work.
The same goes for Bolen. "It is pure joy coming to work here," she said. "I love walking into the center and seeing people who are wanting to learn and are excited about drones and also knowing I get to fly today. Being able to come to work smiling every day is a cool thing."
"And we give the students and the faculty – anybody who's on campus – some time to fly around the lawn in front of Reed and Curie Halls," said Bolen, who is FAA Part 107 certified. "Anyone can come into the center and learn to fly."
Teaching others is just one aspect of the students' work at the center. They're also heavily involved with faculty on research projects and community outreach, just as many geology majors before them, like studying rockslides on West Virginia roadsides, consulting on a mountainside hotel project in Maryland and helping Watts with studies on the disappearance of Mountain Lake and research on the structural integrity of Natural Bridge.
There at the bridge, in Virginia's Rockbridge County, the field tool of choice is a drone.
Safety is a key component to students' and faculty's work at the center, and that sometimes means watching over Radford students, as they did on Highlander Float Day in August when many students drifted in boats and inner tubes along the New River.
Bolen and O'Hara were part of a team that day that piloted drones up and down the river and livestreamed video back to the Radford Emergency Services Center.  
"We want to do our part to make sure everyone is safe," Bolen said, "whether it be on campus or out in various communities. That's what we are about."
"Everyone can benefit "from an eye in the sky," Watts said while sitting in his office explaining the interdisciplinary nature of unmanned aerial flight research. "It can be aiding police by flying over schools to create campus maps for incident planning, but it can also be geophysics and anthropology and archaeology."
In addition to her geology major, Bolen is minoring in anthropology. Last summer, she worked as a representative of Radford's Department of Geology with Paleo Prospectors to help excavate a triceratops skull. Then she went a step further, constructing 3D models of the skull using drones from the UAS Center.  
Bolen first learned about the center when she transferred to Radford University. She had meetings with faculty, who showed her around the UAS Center, let her sit in on a geology class with Watts and encouraged her to explore the department's maker space, the Museum of the Earth Sciences and all the tools and resources available to students.
O'Hara transferred to Radford partly because of the UAS Center. He wanted to study at the university because he knew the educational experiences would lead him to a career field "involving structural analysis research and slope stability," he said, and to working in a field where he can "help prevent hazards and make a difference in communities like our professors do."

Chad Osborne
Radford University