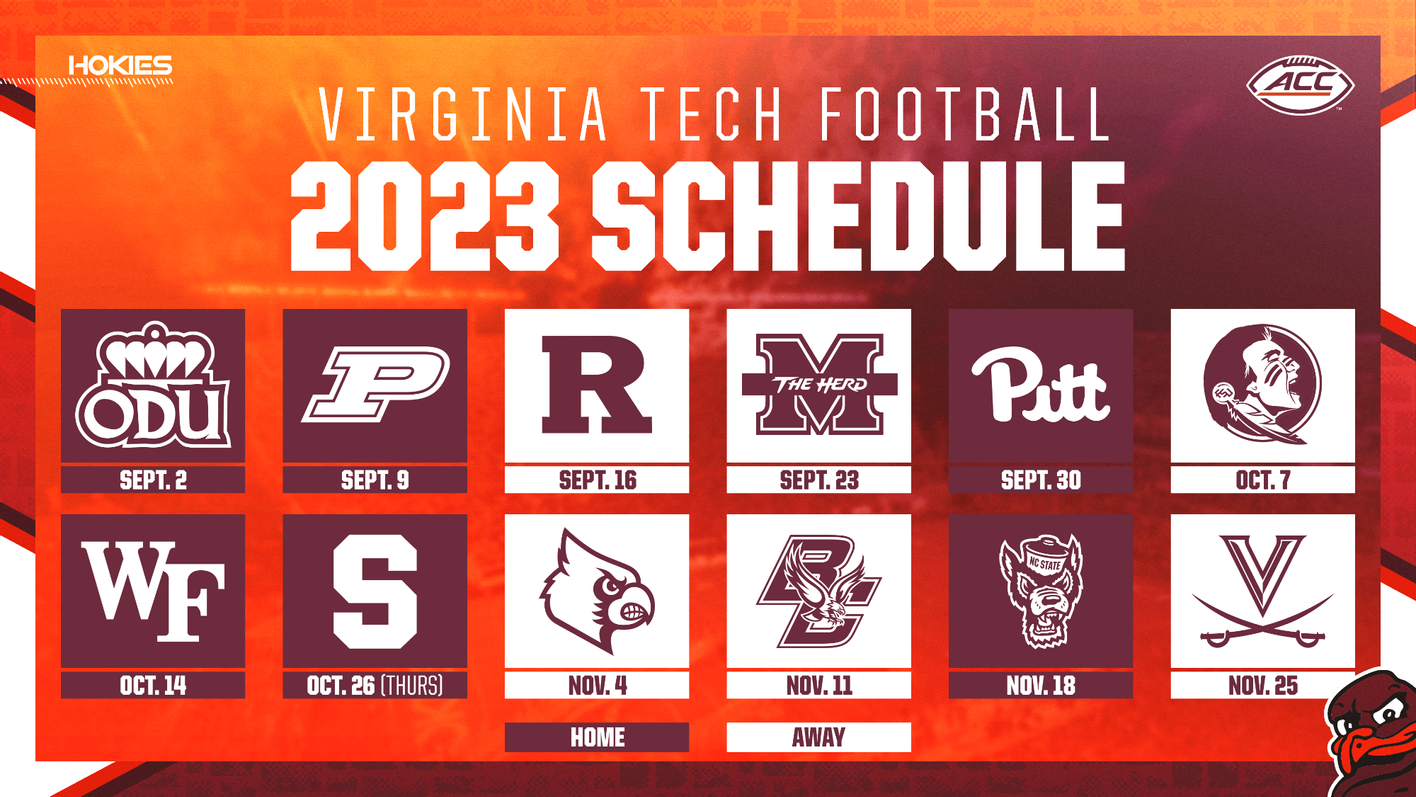 Virginia Tech football's 2023 schedule was officially announced Monday night on ACC Network, and there is plenty of momentum buzzing in Blacksburg heading into Year 2 of the Brent Pry era.
A recently signed top-five recruiting class in the ACC, according to 247Sports, seven new mid-year transfers have been added to the roster and six home games await Lane Stadium, including a classic Thursday night contest, are just to name a few.
HOME
Tech's home slate features five teams that made a bowl game last fall, the 2022 Big Ten West divisional winner, and a fan-favorite Thursday night contest.
The Hokies will have three games in Lane Stadium in September, beginning their season playing host to Old Dominion (Sept. 2) and then playing Purdue (Sept. 9) the following weekend. To close the month, Tech will host Pitt (Sept. 30). 
Wake Forest (Oct. 14) will be the first contest in Lane in October, which will be followed by an open week, and then the Hokies will face Syracuse on Thursday, Oct. 26. It marks Tech's second straight season with a Thursday night game in Blacksburg.
Tech's final home game of the season will come against NC State (Nov. 18), which will be Senior Day.
AWAY
Playing on the road in back-to-back weeks in September, Tech will face Big Ten foe Rutgers (Sept. 16) and then head to Marshall (Sept. 23).
A trip to Tallahassee awaits the Hokies to begin October to face Florida State (Oct. 7). Then three of their last four games will be on the road, including Louisville (Nov. 4), Boston College (Nov. 11) and Virginia (Nov. 25).
SPRING GAME
Late last week, Tech announced that its spring game will be held on Saturday, April 15, at 3 p.m. on ACC Network Extra.
2023 Schedule
Date Opponent Location
Sept. 2 Old Dominion Lane Stadium
Sept. 9 Purdue Lane Stadium
Sept. 16 at Rutgers Piscataway, N.J.
Sept. 23 at Marshall Huntington, W.Va.
Sept. 30 Pitt Lane Stadium
Oct. 7 at Florida State Tallahassee, Fla.
Oct. 14 Wake Forest Lane Stadium
Oct. 26 Syracuse Lane Stadium
Nov. 4 at Louisville Louisville, Ky.
Nov. 11 at Boston College Chestnut Hill, Mass.
Nov. 18 NC State Lane Stadium
Nov. 25 at Virginia Charlottesville, Va.