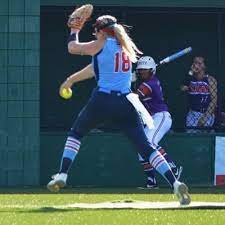 By Marty Gordon
Earlier this week, Christiansburg High School's junior softball star Kadyn Camper announced her commitment to continue her playing career at Purdue University.
Last year as a sophomore, she put together a season at the plate that finished with 43 hits, including 36 runs batted in and nine home runs. On the mound, she had 13 wins with 103 innings pitched and 173 strikeouts. Opponents' batting average was .130, and her earned run average was 1.43 at season's end. She also tossed a one-hitter.
She was named to the all-state Class 3 first-team and was named the River Ridge District Player of the Year.
She made her announcement on Twitter and admitted she chose Purdue because it felt like home the first time she stepped on campus.
"The coaches felt like a second family to me," she said. "I also chose Purdue because they have a high-level academic field. I am a very huge competitor, and it felt awesome to know that they have skilled competition in the Big 10. I look forward to being able to compete with the top teams in the country. It was always my dream to be able to play in a Power 5 Conference."
She still has two years remaining at Christiansburg High School and is optimistic about what she and the team can accomplish, including a possible state title and maybe being named the Virginia Gatorade Player of the Year.. 
Two years ago, Camper helped the Virginia Unity Johnson 14U win a championship at the Premier Girls Fastpitch Nationals.
Purdue University is a public land-grant research university in West Lafayette, Indiana, and has a current enrollment of 35,517 students.
The university is home to 18 Division I/I-A NCAA teams including football, basketball, cross country, tennis, wrestling, golf, volleyball, and ice hockey. Purdue is a founding member of the Big Ten Conference and played a central role in its creation,
In softball this past season, the Purdue Boilermakers finished 24-31 overall, 7-15 in the Big Ten. The team's current roster includes four players from the commonwealth.
At Purdue, Camper hopes to be a starting pitcher as a freshman and contribute to the team's winning a Big 10 championship and getting back to the College World Series.
Camper plans to major in sociology and minor in psychology.