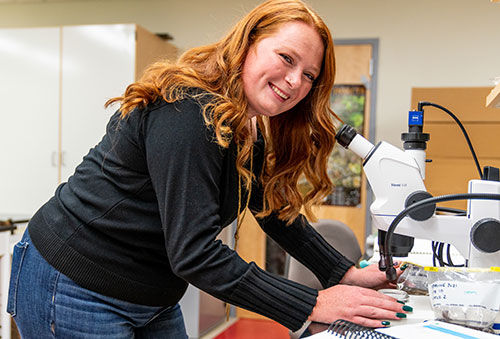 Chad Osborne
Radford University
Gabi Richards '22 has a passion for the outdoor environment, and it shows.
From getting her feet wet in research by walking local streams in search of microscopic bugs to traveling to North America's northernmost city to collect core ice samples in minus-20 degrees Fahrenheit temperatures, Richards has made the most of her brief time at Radford.
Since her first semester at the university, the senior from Bealeton, Virginia, has worked closely with faculty on research, specifically Assistant Professor of Biology Jamie Lau, Ph.D., and Professor of Physics Rhett Herman, Ph.D.
"They have been wonderful to work with," Richards said, "and Dr. Lau has been a mentor for all things from the beginning."
The beginning for Richards was two-and-a-half years ago. 
"I kind of fast-tracked my way through Radford, taking overload credits every semester," she said. Along the way, she became heavily involved on campus, serving as president of Tri Beta, the biology honor society, and working as advisor to the Summer Bridge program for young women in STEM.
In December, she graduated from Radford and will continue her studies there as well, working toward a master's degree.
She plans to earn a master's degree in teacher education and become an educator, like her mom, because, she said, "I've always been drawn to tutoring and working with kids."
When Richard first stepped foot on the Radford campus, she decided right then that "this was where I wanted my home to be for the next few years," she said. That's one reason she chose to work toward her graduate degree here.
"It still feels like home," she said.