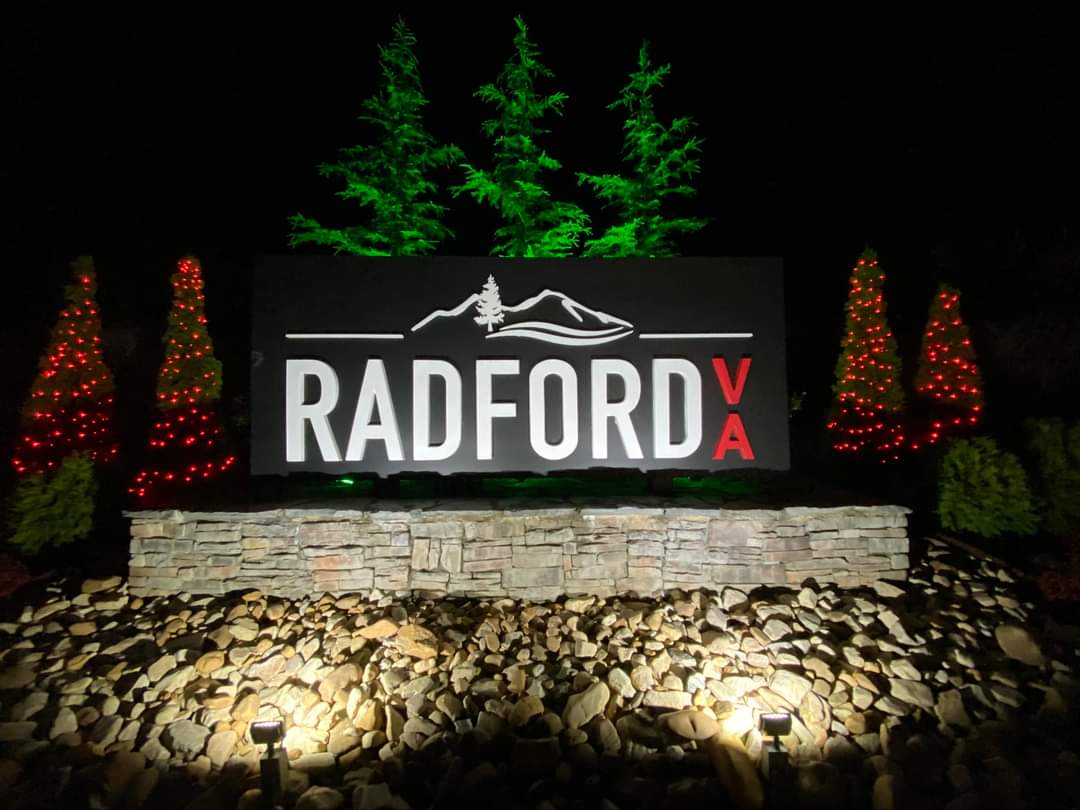 RADFORD – Radford's annual tree lighting and "Jingle All the Way" parade highlight a slate of holiday events this month.
The Holiday Farmers' Market will take place in the field adjacent to Glencoe Mansion from 11 a.m. to 3 p.m. today, Saturday, Dec. 3. The market will feature gift items from farmers, crafters, and artisans and will also have pictures with Santa available. A food truck from Bluegrass BBQ will be set up. The museum will be open from 10 a.m. to 4 p.m.
Also today is the Unity Christian Church's 17th annual Hollyberry Fair, from 9 a.m. to 1 p.m., at the church, located at 400 Tyler Ave. The fair includes handmade items. canned goods, Christmas gift items, gift baskets, and gently used items. Hot dogs with chili, slaw, chips and a drink will also be available for $4.
Radford's annual Tree Lighting Ceremony 2022 is set for Tuesday, Dec. 6, at the Radford Public Library starting at 5:30 p.m.
The event will include musical performances by the Grove United Methodist Handbell Choirs and the Radford University Chorus. Cookies and hot cocoa from the Radford Coffee Company will be available,  and Santa will make a special visit from the North Pole to light the tree around 6:30 p.m. 
Radford's Holiday Parade, themed "Jingle All the Way," will take place on Thursday, Dec. 8, at 7 p.m. The parade route will line up on East Main Street between Tyler Avenue and University Drive Bridge and proceed westward along Main Street to the Central Square Shopping Center.  
On Saturday, Dec. 10, the Handcrafted Holiday Pop-up Market, hosted by MountainTrotter Arts, will be held at Glencoe. The market will feature local artisans, crafters, and more, from 11 a.m. to 3:30 p.m. A food truck from Empanada Nirvana will be on site, and Santa will be available to take pictures on the porch of Glencoe Mansion. Visitors can also enjoy Glencoe Mansion's Holiday Open House from 10 a.m. to 4 p.m. 
On Saturday, Dec. 17, the Radford Public Library will host a family movie matinee with a showing of  the 2018 version of "The Grinch."
The library will also offer several crafting opportunities, all holiday-themed. The schedule is as follows:
Monday, Dec. 5 – Crafting for the Holiday: Holiday Cards
Participants can bring their projects to work on. Blank cards and envelopes will be available for decorating and addressing while supplies last. From 1 to 2 p.m.
Monday, Dec. 12 – Crafting for the Holiday: Felted Gingerbread
Participants can make a small, felted gingerbread man who's charming enough to be a wrapping topper. Supplies will be provided. From 1 to 2 p.m.
Tuesday, Dec. 13 – Kids Workshop: Spice Dough Ornaments
At this crafting workshop, the  kids will make spice dough ornaments to take home and decorate for the holidays. 4:30 p.m.
Monday, Dec. 19 –  Crafting for the Holiday: Flannel Trees
An assortment of holiday crafting ideas will be available to create. Supplies for a felted gnome, holiday cards, flannel holiday trees, and scrabble tile present toppers will all be available. Or participants can bring their own project to complete. 1 p.m.
Radford News Journal staff report