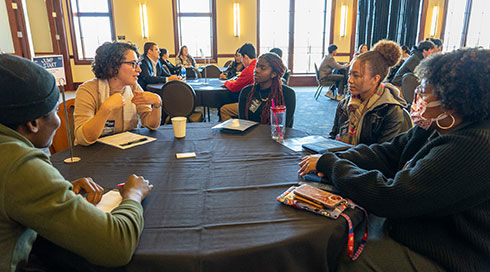 RADFORD – Aiden Smith is getting an early start on career preparation. A jump start, you might say.
The freshman management major from Richmond stood outside the doors of Kyle Hall's multipurpose room recently waiting for the opportunity to speak with working professionals to learn how they got their careers started. Many of those pros were Radford University alumni while others were friends of the university.
"This is going to be a great chance to meet people," said Smith, wearing a white button-up shirt with light blue pinstripes and a paisley tie he borrowed from his brother. "Even though I'm a freshman, I'm starting to build my network, so it will help meeting people I may see further down the road."
Smith was definitely at the right place to begin networking.
Each year, the Center for Career and Talent Development holds the interactive JumpStart event, which is designed to help students boost their skills and begin working on becoming the best professional version of themselves, the center says.
Over the course of two hours, students had the opportunity to meet young alumni, faculty, and working professionals who shared advice and insight about what led them to where they are now.
Snacks and refreshments were on hand, too.
"The objective of JumpStart is to create a friendly and safe environment for you, the students, and to have frank and genuine conversations with fellow Highlanders and friends of Radford University," said JumpStart Chair Teresa Dickens of Career and Talent Development. "You are here to learn from alumni and friends who are here to share their experiences and teach you what they have learned through their journeys."
Samantha Livesay '12 served as this year's JumpStart keynote speaker. She reflected on her time as a student at Radford and what helped her find success.
"It was events and experiences just like this," said Livesay, the director of business engagement at Onward New River Valley. "Just as you are doing, I had to push myself out of my comfort zone. I had to talk and network with people, who, at the time, were strangers, who later became mentors and folks I looked up to professionally.
"So, tonight feels like coming full circle for me," she said. "I may even have the honor of mentoring some of you who are sitting out here in the crowd this afternoon."
The event covered a variety of topics, including careers, internships and seasonal jobs; finding experiences related to the students' particular interests; the GIG economy; elevator pitches and students' telling their stories; negotiating job offers; creating a budget, and learning strategies for financial success.
McKinley Horton '17 was happy to be back on campus and share his insights from his time at Radford and his career journey thus far. 
"I'm proud to have been a student here at Radford and to be the first in my family to graduate from college," said Horton, a talent acquisition specialist with AEP. "To be able to hand that back and give advice to students who may be first-generation also is very important to me."
Dajia Barrett is three-and-a-half years into her college experience and among the 32% of Radford students who identify as first-generation college students. The senior criminal justice major from Richmond is on schedule to graduate in May 2023 and is applying to law schools. She appreciated the JumpStart experience of getting to know and learn from people who were already established in their careers.
"I've noticed that every couple of weeks, there is always something that makes me think, 'Wow, I didn't know I could improve on that,'" Barrett said between bites of a falafel. "So, when I think I have it all together, I find there is always something to sharpen. There are always some leadership skills to sharpen, and professionalism, time management and building your brand. You can always add skills."
To have the event on campus "is so amazing, and it's so refreshing to have all these opportunities here to jump-start my career – no pun intended," Barrett said, laughing. "I really love what Radford University does for us students."

Chad Osborne
Radford University