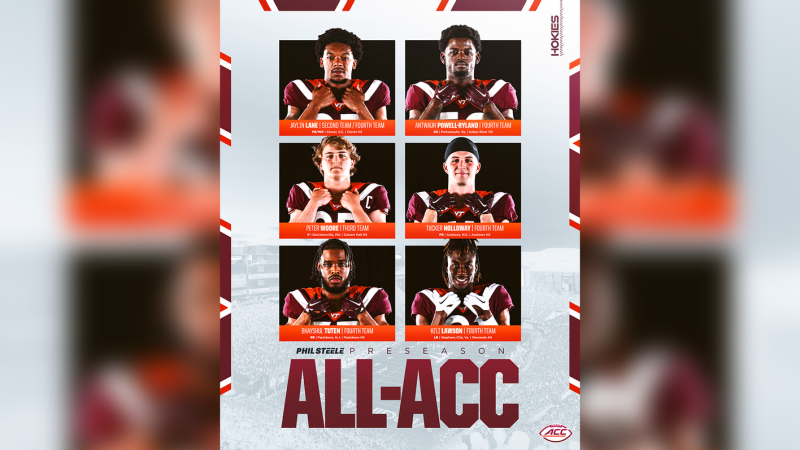 Phil Steele's College Football Preview released its preseason All-ACC teams, and the Hokies landed six players on the preseason squads. 
Wide receiver Jaylin Lane was named to the second team as a punt returner and fourth team as a wide receiver. Defensive end Antwaun Powell-Ryland was named to the third team defense while Peter Moore was named third team punter. The Hokies had three other elections to the fourth team, running back Bhayshul Tuten, linebacker Keli Lawson and punt returner Tucker Holloway.
Lane tallied 69 receptions for 940 yards and five touchdowns last season at Middle Tennessee State. He led the team with four 100-yard receiving games. In three years with the Blue Raiders, Lane registered 124 receptions for 1,528 yards. He also returned 38 career punts for 457 yards and a touchdown.
Powell-Ryland, a Portsmouth, Virginia native, appeared in 27 games at Florida, making five starts and totaling 34 tackles, 4.5 sacks, 7.5 tackles for loss, one pass breakup and three forced fumbles. He recorded 29 tackles including three sacks last season.
Moore attempted 73 punts totaling 3,042 yards (41.7-yard average). He placed 24 punts inside the 20 and delivered 17 beyond 50 yards, including his season long of 67 yards. Tuten was a third-team FCS All-American as a sophomore last year for North Carolina A&T, where he ran for 1,363 yards and 13 touchdowns and caught 31 passes for 342 yards and four more touchdowns. He topped the 100-yard rushing mark 10 times in 2022.
Lawson recorded 23 tackles (11 solo), one interception, one pass breakup and a fumble recovery last season. He returned his first career interception for a touchdown against Georgia Tech.
Holloway played in five games as a freshman, fielding nine punts totaling 191 return yards (21.2-yard average). He set the Virginia Tech program record for single-game punt return yardage on Nov. 5, 2022, against Georgia Tech (188 yards, 7 returns), scoring his first career touchdown on a 90-yard return and earning ACC Specialist of the Week honors. 
Virginia Tech Athletics