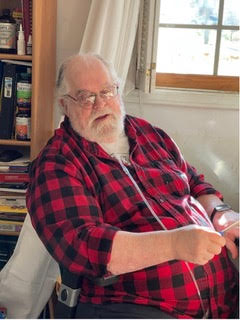 Ralph Williams Setzer, Jr., of Christiansburg, passed away peacefully in his home on Sept. 2, 2023 at the age of 78.
He was born in Elmira, N.Y. on April 11, 1945, He graduated from Thomas A. Edison High School in Elmira Heights and served in the United States Navy. He retired from SUNY Upstate Medical Hospital as a HVAC engineer. He moved to Christiansburg in 1998.
Ralph was proceeded in death by his parents, Ralph William Setzer, Sr. and Elizabeth Halkovich Setzer. He is survived by his wife of 25 years, Guylene Wood-Setzer; children Laurie Nelson (Steve) of Big Flats N.Y, Rick Setzer (Faith) of Brewerton, N.Y., and Bre Franklin of Christiansburg; Michael Nelson (Rebecca), Eric Setzer, Marcus Gallagher, and Demetrius Gallagher; Dominic Nelson, and Ava Setzer; sister Cheryl Gross (Doug); and a special brother friend Roger Haag. Ralph had a host of nephews, nieces, and other relatives.
One of Ralph's passions was cars. He loved trading cars, driving cars, going to car shows, long country drives and Jeeping. He was a proud member of the NRV Jeep Club before his health issues prevented his participation. He was an avid NASCAR fan and never missed a race on TV and attended many races in the past.
Another passion for Ralph was food. Ralph loved to eat. He was a "Foodie," he would follow "Foodie" friends on Facebook, copy many recipes off the internet, and experiment with various recipes. He loved to smoke pork and would share the deliciousness with others. Also, Ralph enjoyed surfing the net, playing Mahjong and reading articles about natural health. Ralph was a proud member of the American Legion.
He was a member of First Baptist Church. Although he couldn't attend church in person, he watched on the internet each Sunday. He loved his God and his family.
Special thanks to Good Samaritan Hospice team and all who have given care and helped Ralph and his family. Also, McCoy Funeral Home for your sensitivity, compassion, and professionalism during this time.
The funeral services will be held Saturday, Sept. 9, 2023, at 11 a.m. at First Baptist Church 555 Rock Rd., Radford.
 In lieu of flowers, please donate to one of the following: Good Samaritan Hospice Christiansburg or The Christiansburg Institute Alumnae Association, Inc.