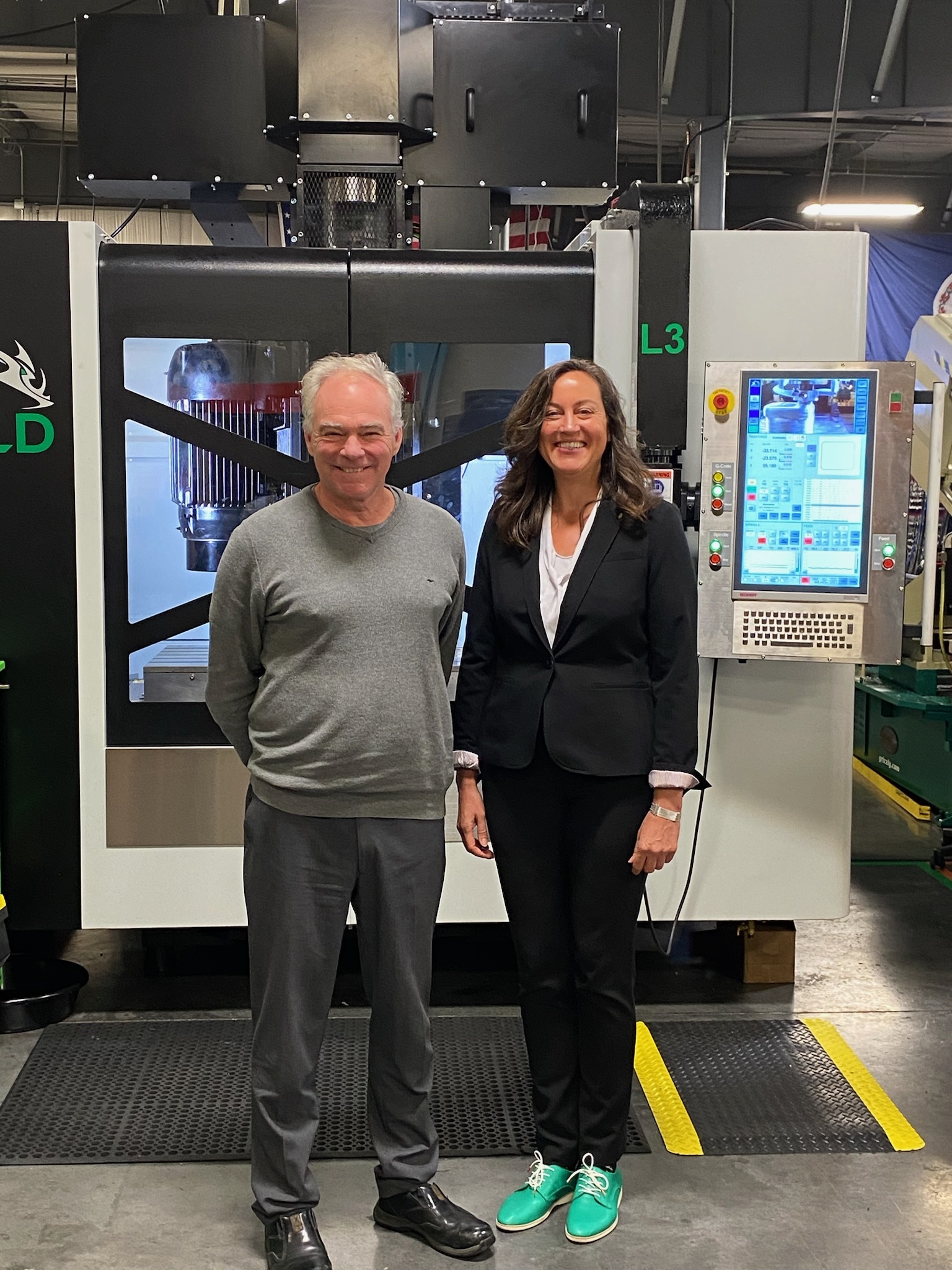 Lori Graham 
Contributing Writer
MONTGOMERY COUNTY – United States Senator Tim Kaine was met by Nanci Hardwick, CEO of MELD Manufacturing and Aeroprobe Corporation, and Robb Hudson, CEO and President of MELD Printworks for a tour of the facility on Friday, Sept. 15.
The MELD Corporation holds numerous patents of revolutionary technology in the metal processing business, which could provide necessary support to military branches currently experiencing backlogs in replacement parts.
In the fall of 2022, Hardwick met with U.S. Treasury Secretary Janet Yellen, along with Kaine, to discuss how MELD's manufacturing could support supply chain demands, according to an article in The Sun Chronicle. 
MELD Manufacturing uses revolutionary technology in 3D printing and machining to design and manufacture a variety of metal materials into custom parts. Metals that are typically heated to a melting point to make similar materials, are manufactured without this intense melting process at MELD. Not only does MELD have a reputation of quality design and production, but parts can sometimes even be ready within a few hours, making their company extremely vital to the military's defense. 
Senator Kaine serves on the Armed Services Committee and is Chairman of the Seapower Subcommittee, and a member of the Foreign Relations Committee. 
"We've got the largest Navy base in the world," Kaine said. "I think we have the best shipbuilding and ship repair in the world, in Hampton Roads." 
Kaine also serves on the Health, Education, Labor, and Pensions Committee. According to Kaine, low unemployment rates have made it difficult for employers to fill necessary job roles. For these reasons, building the defense's supplies and maintaining a defense system has met recent challenges. 
Kaine's defense work is the very reason that MELD brought him to southwest Virginia for a visit of the facility. 
"We are really facing, in the Navy but the other service branches too, a lot of backlogs on parts and supplies that are slowing down the pace of production whether its ships or subs, or the repair of refueling for ships and subs," Kaine said. "Then you have a big percentage of your ships and subs that are in the dock whether than performing the mission." 
The Senator said MELD brings to the table flexibility on providing parts, quickly, and with less use of energy. 
Kaine also has been working on a bipartisan bill with (R-IN) Senator Mike Braun called the Jump Starting Our Businesses by Supporting Students (JOBS) Act that would provide grant money to individuals who wish to pursue technical education, versus a two-year or four-year degree. 
"PELL grants can't be used for high-quality career and technical education; they can only be used for college," Kaine said. "A lot of our community colleges like New River, what they would really like to do is deliver some technical training in like 6-8 weeks, super intense courses, eight hours a day/five days a week, and you get more classroom hours in that then you would get in a 15-week long college course…but you can't have PELL grants."
The JOBS Act is pending but Kaine is hopeful that the time is right for the bill to be passed. 
More information about MELD manufacturing can be found at their website (www.meldmanufacturing.com). 
During his visit to the NRV, Kaine also visited SWVA Biochar in Floyd to "learn more about their process to manufacture biochar, a specially produced charcoal used to enhance soil fertility, improve agricultural yields, and reduce carbon emissions, and that has the potential to remove dangerous 'forever chemicals' like PFAS from water supplies," according to information released by Kaine's office. "The visit comes as the Senate prepares to consider a Farm Bill, and it follows multiple visits by Kaine with farmers in Virginia to discuss how he can best shape that bill to benefit Virginia. Kaine has also long supported efforts to strengthen sustainability and helped pass the Inflation Reduction Act, which made significant investments in clean energy to tackle climate change."
On Saturday, Sept. 16, Kaine met with ROTC cadets at Virginia Tech in Blacksburg "to share his national security priorities and discuss VT's Defense Civilian Training Corps (DCTC), a new pilot program for students to build civilian careers related to acquisition, digital and critical technologies, science, engineering, and finance within the Department of Defense (DOD)" according to his office.