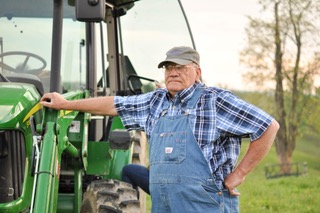 Dad's tractor stopped running August 10, 2023. John Roger Saville passed through the green pastures to join his late father Robert Roy Saville, mother Elva Robinson Saville, brothers Robert, WC, Harry Bryd Saville, and sister Clara Mullins. Son-in-law Charles Jerry Moye.
Dad had a passion for farming and deep love for his family. He combined these two things into his best life.  
Carrying on Dad's legacy are his son, John Mitchell Saville and spouse, Pam Albert Saville; his daughter, Lisa Saville Moye; brother, Don Saville and spouse, Louise; sister-in-law, Claudine Saville; grandchildren, Elizabeth Hope Bradbury and spouse, Brian, Jerred Saville Moye and spouse, Tayler, John Ryan Saville and spouse, Hannah, Paige Saville Nicolau and spouse, Bryce, Charles David Moye and spouse, Katie; great-grandchildren, cousins, nieces, nephews, and so many heartfelt wonderful friends, and especially close personal friend Matt "Billy" Blankenship. 
In lieu of flowers memorial contributions may be made to the New Mt. Zion Church Cemetery Fund, 2350 Poverty Creek Rd., Blacksburg, VA 24060.
A Celebration of Life will be held in remembrance of dad at the fellowship hall at New Mt. Zion Lutheran Church August 26, 2023, 4 – 6 p.m.