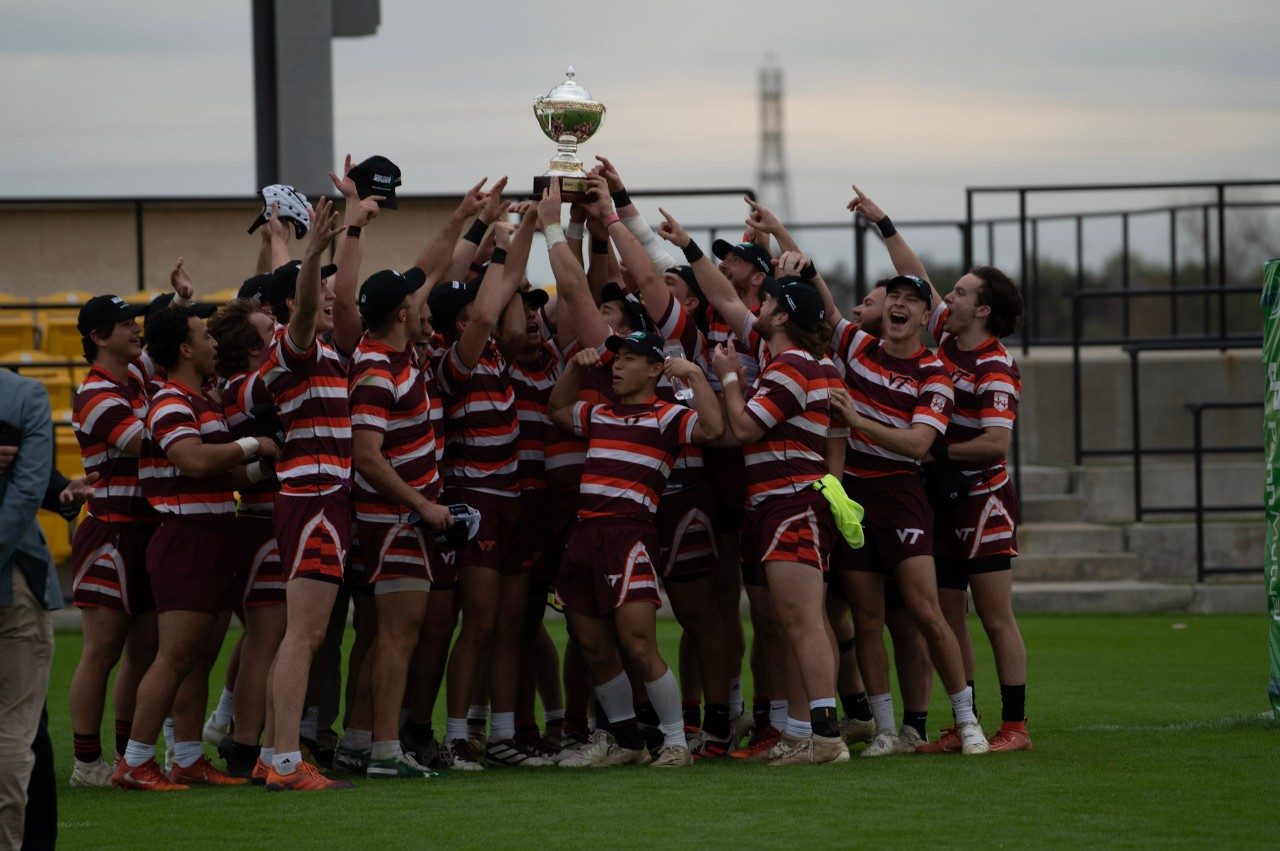 The Virginia Tech men's club rugby team traveled to Houston, Texas, in December and brought back first place in the Division I-AA Men's Collegiate Rugby Championship — all in less than 24 hours.
"We're only a club team. We have player coaches, don't have a lot of funds and have to manage all the logistics ourselves," said Danny McKillop, former club president. "It was in the middle of finals week, so we had to figure out how to get everyone — I think it was 23 of our players — down to Houston and back pretty quick."
The team arrived in Texas at 8 p.m. on Dec. 10, and competed in the championship the next day, Dec. 11, at 3 p.m. That evening they flew back to Blacksburg.
That left little time for the Hokies, who were considered the underdogs in the game against West Chester University to celebrate their hard-earned victory.
"We were all happy and taking pictures in the locker room after the game," said Brandon Eng, who was MVP of the championship game and plays the scrum-half position, which links the forwards and the backs on the field. "It was Danny McKillop's last game, so we gave him the trophy, and we were excited to celebrate with him. After that, we had to head straight to the airport for a flight back to Blacksburg."
Creativity didn't end there. According to Julie Rhoads, assistant director for sport clubs at Virginia Tech, the trip cost between $10,000-$15,000 — all of which had to be raised by the players. They took to social media to ask alumni and fans for financial support and received more than $12,000 in donations.
"We have a great, great alumni network," McKillop said. "We wouldn't have been able to go to Houston without all of their donations."
The support from alumni didn't stop with the game. Most recently, two alumni — John Gluck and Adam Kaufman — have pledged to match any donations made by March 31, which will go toward hiring a professional coach for the rugby team. Fernando Anduaga, a senior majoring in business information technology, is the team's student coach.
On top of winning the championship, the team hopes that a professional coach will carry their momentum and bring continued success in the future.
"We would like to become [Division I] eventually," said Collin Weigert, club president. "Right now, we're trying to build up a good foundation of money and resources."    
The rugby club team has come far since its founding in 1968. There were originally 18 players, and the sport club has grown to include 68 members as of January.
"This is a brotherhood," Anduaga said. "These are friends and relationships you'll have for years. If you're looking for an open space where you can be yourself and form a brotherhood, this is the place to be."
Students can get involved in the club through GobblerConnect or stay updated on games and other events via Instagram.
There are a total of 1,263 students involved in the 29 sport clubs that Virginia Tech offers.
The Virginia Tech Recreational Sports Department plans to host a celebration to honor the national champion rugby club team during one of its spring home games.
–Savannah Webb, VT University Relations