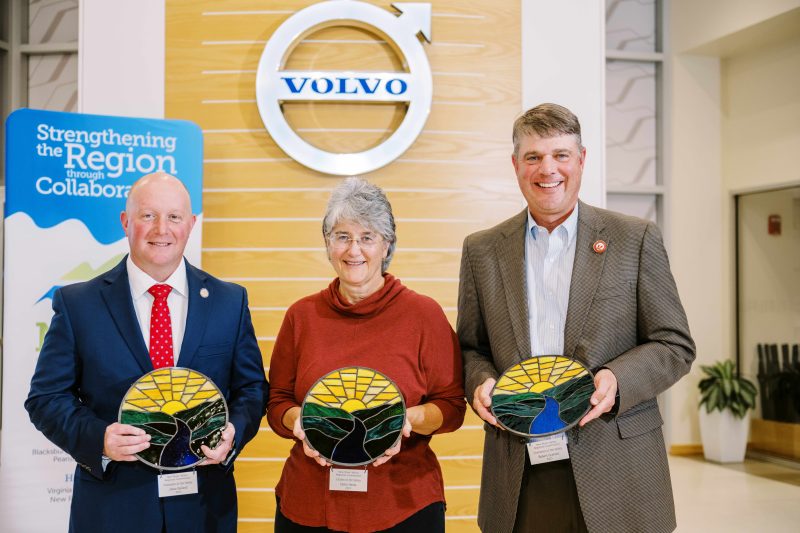 RADFORD – The New River Valley Regional Commission has presented three awards to people who have impacted the New River Valley in a positive way.
On Oct. 19, 2023, the NRVRC'S board of directors, comprised of elected officials and citizen appointees across the region, hosted a dinner event at the Volvo Customer Center in Dublin, VA to honor their annual award recipients. Approximately 100 local government elected officials, state and federal representatives, and local government planning commission chairs were in attendance.  
Cathy Hanks, with Friends of Peak Creek and the New River Conservancy, received the Citizen of the Valley award. This award is given to a citizen within the New River Valley who has made significant contributions to the betterment of the region. Hanks was selected based on her leadership in environmental stewardship having served as President of Friends of Peak Creek since 2015. She has led the organization to accomplish numerous watershed improvement projects all the while focusing on engaging the community to increase their stewardship of Peak Creek.  
Delegate Jason Ballard, Virginia House of Delegates, and Robert Graham, Pulaski County Schools Superintendent, were recipients of the Champion of the Valley award. This award is given to an appointed or elected official within, or representing, the New River Valley who has greatly assisted communities and residents during their service to the public.  
Ballard's selection is in recognition of his accomplishments during his service in the Virginia General Assembly to include passing Noah's Law, an increase in the severity of abduction of a minor from a class five felony to class two; along with his leadership serving on the Virginia Opioid Abatement Authority. He is a former member of the Pearisburg Town Council and served as the town's representative to the New River Valley Regional Commission during which he was an active participant that brought a local voice to regional issues.
Graham was recognized for his passion in serving as a leader in education throughout his career to date having served Radford City Public Schools in numerous capacities to include teacher, coach, principal, and superintendent and currently serving as superintendent of Pulaski County Public Schools.  His charismatic leadership coupled with countless acts of extreme caring have had life-long impacts on the children and families he serves daily.  
Each award recipient was provided a custom stained-glass piece of art by the local artist Sandy Davenport, a member of 'Round the Mountain, Southwest Virginia's Artisan Network.  
The New River Valley Regional Commission is one of 21 regions in Virginia whose commissions are chartered under Virginia law. The organization encompasses the counties of Floyd, Giles, Montgomery, and Pulaski, and the City of Radford. The purpose of the Regional Commission is to promote regional cooperation, to coordinate the activities and policies of member local governments, and to provide assistance to local governments.
Submitted by the NRVRC