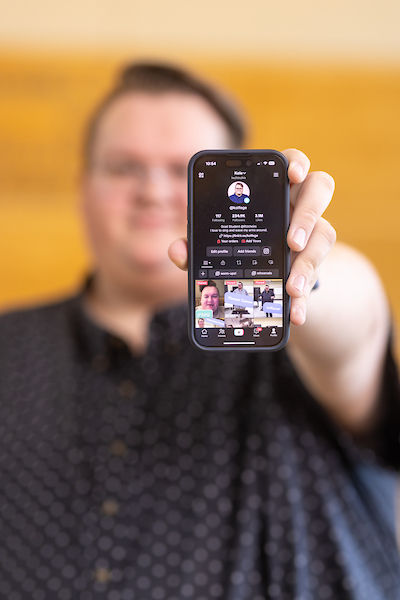 Photos courtesy of Radford University
RADFORD – Back in February, Kole Butler was more than satisfied that his TikTok account – @kolfege – had gained upwards of 2,000 followers since he started posting clips in earnest last year.
Butler is a graduate student in Radford's music department, studying core conducting and music education; he's also a teaching assistant and longtime choral conductor. Many of his TikTok videos have been recorded in his classroom in the Douglas and Beatrice Covington Center for Visual and Performing Arts and they show him warming up with his students by performing vocal exercises or offering snatches of music or encouragement. 
Over the winter, through his early four-figure audience, his clips started to draw feedback in real life, too. While attending a choir directors' conference in Cincinnati, Ohio, Butler was approached by strangers who recognized him and wanted to grab selfies with him.
"I was just sitting there alone, waiting on some friends, and some people came over to me, and they're like, 'Oh, my gosh, are you Kole from TikTok?'" he recently recalled. "And that was just from having 2,000 followers."
So it's not hard to imagine Butler's growing surprise and elation as his follower count rose dramatically across the spring and summer, quickly climbing to six figures over the past several months.
As of mid-October, his audience totaled about 234,700 fans. Or, basically, 2,000 multiplied by 117.35.
At that rate, Butler is well on track to crack a cool quarter of a million followers before the end of the year.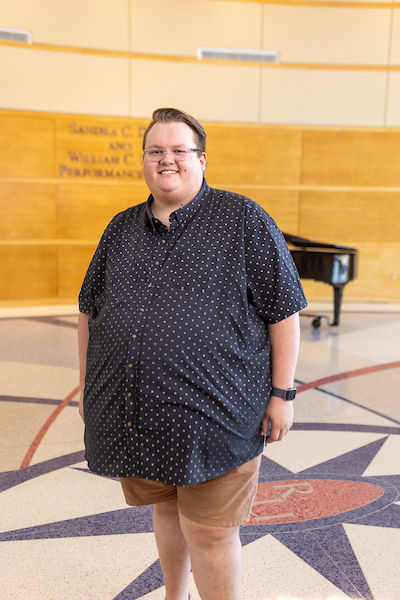 Many of his clips have been watched thousands upon thousands of times, and some have risen staggeringly higher: A snippet of Butler and his students sampling The Chordettes' golden-oldie earworm "Lollipop" has reached 4.2 million views, and his "Flower Canon" marks his current "high score" with 10.5 million.
"This has kind of taken me by storm and sometimes I feel a little overwhelmed by it," he recently said. "I am not a social media influencer and that is not a goal for me. I just kind of wanted to share how amazing the students I get to work with are."
Butler, a native of Parkersburg, West Virginia, said there was no "big bang" that caused his clips to take off, no seismic boost from a larger social media account, just a unified love of music.
"TikTok is very interesting; it's all algorithm-related," he explained. "I think my videos started blowing up more because it was a choir video, and people who like choir started watching, and I think that spun it down a rabbit hole.
"I also think most people interact with them just because they want to, like, be a part of a music-making process again," Butler added. "At least, that's what the majority of people say in the comments. I think most of the people that watch the videos want to sing again and maybe haven't in a while, so I'm glad we're able to help foster that kind of experience."
That's an enthusiasm he's witnessed as a teaching assistant, as he makes his videos with members of the core ensembles and his core music education classes: "The students that I get to work with, especially, it's been really great to see their confidence blossom and to be part of that process. Because, I mean, if it weren't for them, I would just be this random person moving his arms around."
As a means of paying his success forward, he also threw out a plug for Radford University Choir's TikTok account, @RUchoirs.
"I have loved my time at Radford," Butler concluded. "Coming from a really big school like West Virginia University, it's been extremely different, but because of my teacher – Associate Professor of Music and Director of Choral Activities Meredith Bowen – and the students that I get to work with every single day, my time has been amazing here.
"I really appreciate being a Highlander, and I'm excited to see where everything I've learned takes me."
Neal Harvey for Radford University