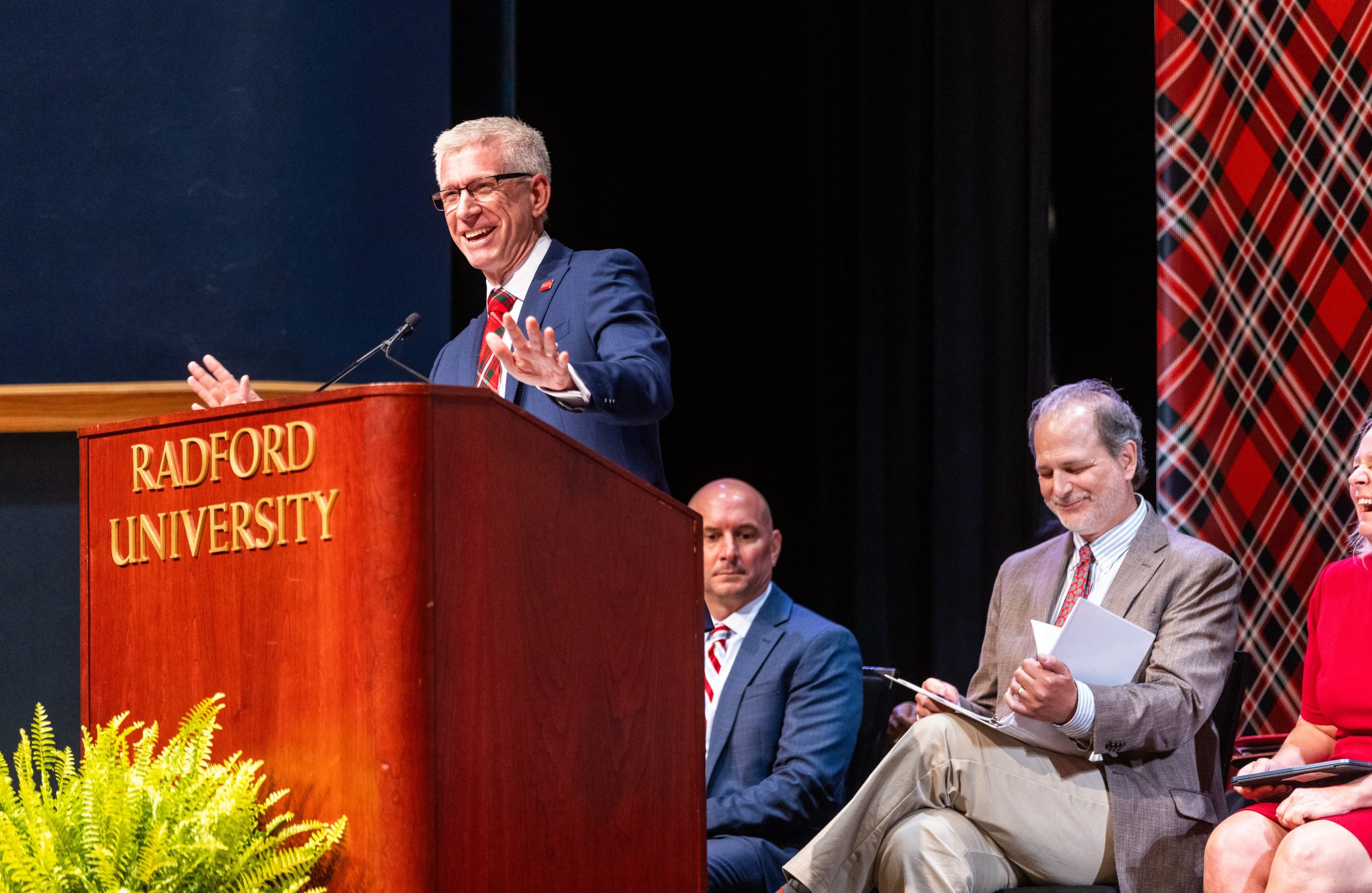 RADFORD – A common thread wove through the fabric of the annual Faculty Convocation on Aug. 18, with many speakers at the event focusing on efforts to stabilize enrollment and further solidify Radford University's position as one of the premier institutions of higher education in Virginia.
President Bret Danilowicz presented "four overarching goals" at the early afternoon gathering that, he said, will define Radford University's distinct nature, stabilize enrollment, drive economic development in the region and help Radford become a streamlined and focused institution.
"Ultimately, the reason for these changes will allow us to even more efficiently recruit students who will be successful Highlanders," Danilowicz said, "so that they can achieve their educational goals and can establish rewarding career tracks."
In addition, the president explained, Radford must stabilize enrollment in order to best serve the state and region.
"Our commitment to the success of our students will increase retention and graduation rates, which alone would result in enrollment stabilization," he said while also noting the university must remain "committed to maintaining or improving upon our status as one of the most affordable institutions in the Commonwealth of Virginia."
Expanding upon his goals to drive regional economic development, Danilowicz explained that Radford students are taking advantage of workplace and career-based experiential learning opportunities. These opportunities, he explained, help better prepare students for the workforce and also provide businesses with skilled employees.
"This helps businesses in our area that are trying to recruit their own future workforces," the president said. "We will continue to create work-based learning opportunities for students with a focus on internships and apprenticeships and post-graduation employment."
As an example of recent success in this area, the president said Radford has produced the second-largest number of Bachelor of Science in Nursing (BSN) graduates in the commonwealth. "So, we are clearly poised," he said, "to capture this recognition across the region for our healthcare programs."
Danilowicz said the university is nearing the end of its current five-year strategic plan, "so in the coming months, we will be celebrating the successes of that plan and re-enforcing the accomplishments from it," he said. Afterward, the president said, the university will embark on a future plan "to maximize our operations and stabilize enrollment in just two years. So, we will be focusing on a two-year plan, which will then set us up for a subsequent five-year plan."
A long-standing tradition at the convocation is announcing winners of the Radford University Faculty Awards, which celebrate outstanding achievement among faculty members. Nominations are made by members of the Radford University community, and the award recipients are recommended to the president by the Faculty Awards Committee.
The most prestigious award, bestowed to a deserving faculty member, is the Donald N. Dedmon Distinguished Teaching Professor Award. It is named in honor of the university's fourth president. Nominees must have an outstanding record of teaching at Radford University, be professionally active in their discipline and be recognized by colleagues and students as thoroughly knowledgeable in the subject matter and current scholarship of their teaching discipline.
This year's winner is Professor of Criminal Justice Stephen Owen.
"It was such a wonderful surprise to learn that I'd received the Donald N. Dedmon Distinguished Teaching Professor Award.  I'm honored and humbled," Owen said. "What drew me to Radford University, and what I've admired in my 20-plus years here, is how strongly it values teaching. I've been amazed by my students and also by how many innovative teaching practices I've seen across the institution because, for me, it has to be all about teaching and helping students find success. It's not about me but about what we can do to reach our students, and I'm glad to be a part of that. This award means a lot, and I'm honored to be this year's recipient."
Additional award winners included:
Distinguished Faculty Advising Award: Assistant Professor of Biology Sarah Foltz.
Distinguished Service Award: School of Teacher Education and Leadership Professor Katherine Hilden Clouse.
Distinguished Creative Scholar Award: Professor of Political Science and Director of International Studies Minor Tay Keong Tan.
Award for Administrative and Professional Excellence: Director of Environmental Health and Safety Avraham Boruchowitz.
Anna Lee Stewart Award for Contributions to Faculty Development: Executive Director, Faculty Development, Center for Innovative Teaching and Learning Heather Keith.
In addition, Provost and Senior Vice President for Academic Affairs Bethany Usher announced that 26 new faculty members have joined the university to begin the fall 2023 semester.
Following the awards, a group of university leaders presented two-year plans from each of their departments. Speakers included Usher; Vice President for Economic Development and Corporate Education Angela Joyner; Vice President for Enrollment Management and Strategic Communications Dannette Gomez Beane; Vice President for Finance and Administration Robert Hoover; Vice President for Student Affairs Susan Trageser; and interim Vice President of University Advancement Penny White.
"One of the best ways the university can move toward its goals is to have talented and stable leadership, "Danilowicz said, "and I can see that in the members of the presidential cabinet that surround me."
The overall message for the convocation gathering, the president noted, "is we have to keep our current and future Highlanders at the forefront of what we do and deliver on our promise, which is to empower students from diverse backgrounds by providing transformational educational experiences.
"We are a great university and, over the next few years, will become even a stronger institution," Danilowicz continued. "I look forward to seeing your collective efforts and helping our students succeed at Radford University. Let's all have an outstanding and meaningful academic year, and go Highlanders!"
Chad Osborne for Radford University