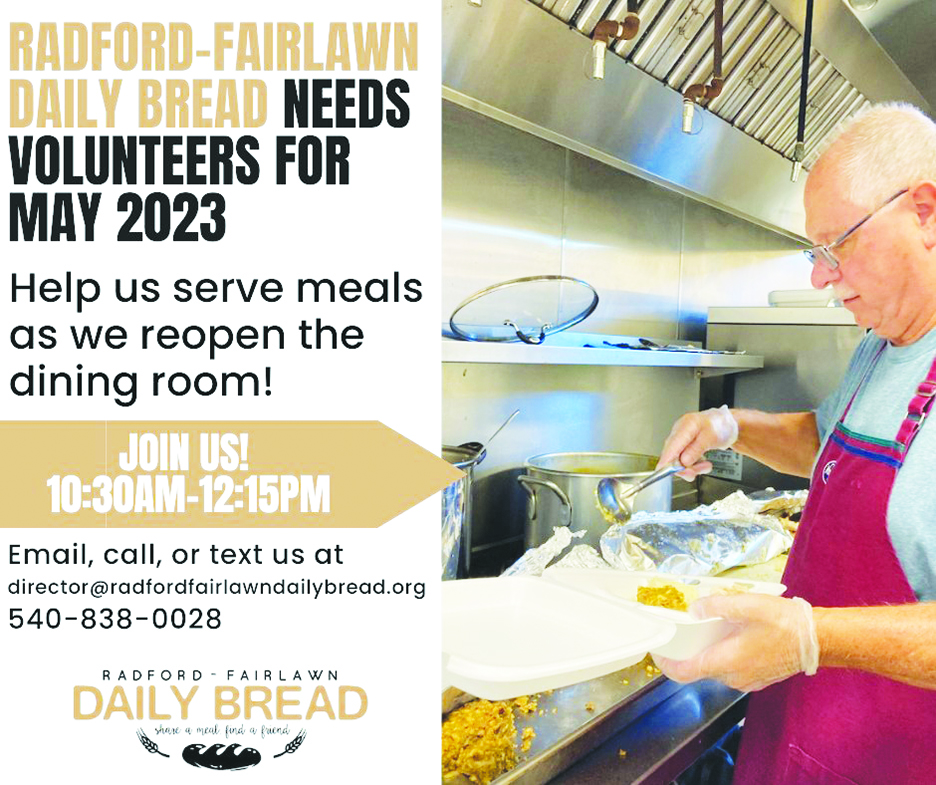 RADFORD – For the first time since COVID-19 shuttered public spaces, Radford-Fairlawn Daily Bread (RFDB) is once again serving meals in its dining room
In Radford.
"We just opened our dining room today," the organization announced on Monday, May 1. "We now offer both dine-in and takeout services here at Daily Bread, at 501 Second St., at the lower level. Come on in and enjoy our hospitality or continue to take meals to-go if you're on the move."
RFDB serves a hot, homemade meal Monday through Friday at lunchtime to anyone who needs one. The organization switched to serving takeout meals when COVID-19 restrictions came about. The re-opening of the dining room also means an increased need for volunteers.
"This means we are going to need double the number of volunteers we have now to help serve meals, wait tables, clean dishes, and help keep our dining room nice and tidy," RFDB announced. "If you've ever been interested in volunteering with us, shoot us an email at director@radfordfairlawndailybread.org or call/text 540-838-0028. We are so excited to add to our amazing volunteer team and see where this transition takes us!"
Radford News Journal Staff report