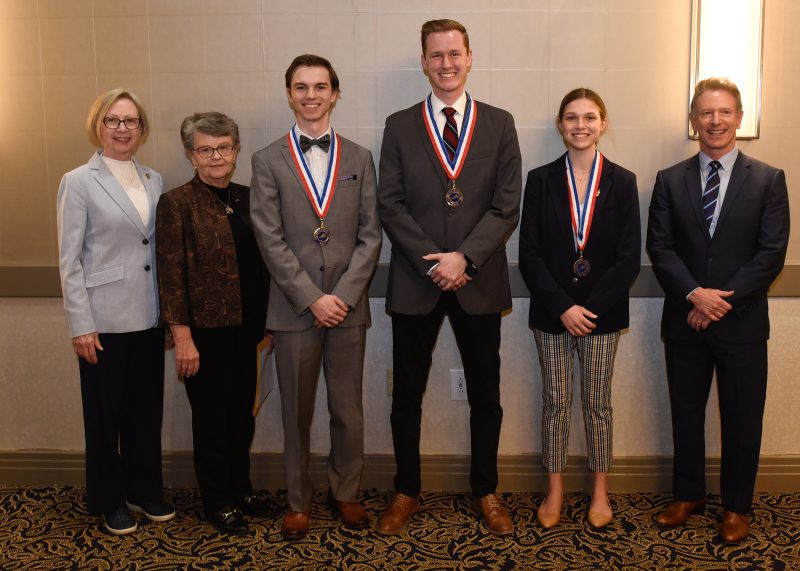 New River Community College (NRCC) students Grace Anderson, Daniel Cravey, Gabrielle Schack, and Adam Toler were recently recognized for their nominations to Phi Theta Kappa's (PTK) All-Virginia Academic Team. 
Students from across the state were recognized by Virginia's Community Colleges at an awards luncheon in Richmond.
Toler was named to the PTK Top Ten 2023 All-Virginia Academic Team. The Top Ten All-Virginia Academic Team consists of those members of the All-Virginia Academic Team achieving the highest rating in the international program sponsored by PTK, USA Today, and the American Association of Community Colleges.
Toler, an Eagle Scout, is from Richmond and currently lives in Radford while attending NRCC. He is currently studying instrumentation and control automation technology.  He plans to complete his studies at NRCC in 2024 and go on to work in the instrumentation field.  Toler is also the president of NRCC's chapter of the Phi Theta Kappa Honor Society. Toler was also named New Century Workforce Scholar at this event. 
Anderson, Cravey and Schack were nominated for PTK 2023 All-Virginia Academic Team.
Anderson, from Blacksburg, is a second-year science student and PTK Vice President of Service. She currently holds a 4.0 GPA and will complete her studies at NRCC this May with the intention of transferring to Virginia Tech in the fall. Grace will major in biology with a minor in human nutrition. After completing her bachelor's degree in biological sciences at Virginia Tech, Grace plans to continue her education and pursue a career as a physical therapist or physician's assistant.
Cravey, from Chesterfield, is an instrumentation and control automation technology student at NRCC. He serves as PTK Vice President of Leadership. After graduation, he plans to work as an E&I intern for the WestRock paper mill in Hopewell, Va. He will be returning to NRCC in the fall to complete two additional degrees in electrical engineering technology and electronics technology.  
Schack is from Christiansburg and is PTK Vice President of Scholarship. She is the second person in her family to pursue a college degree. She plans to eventually earn a master's degree in counseling and work in a career where she can help others. 
PTK is an international honor society of two-year colleges and academic programs, particularly state colleges and community colleges, and the organization's mission is to recognize academic achievement of college students and to provide opportunities for them to grow as scholars and leaders. To become a member of the Omega Eta chapter of PTK at NRCC, students must currently be enrolled at NRCC, have a minimum 3.5 cumulative grade point average, completed at least 12 non-developmental credits at NRCC.  For more information on PTK at NRCC, contact faculty sponsor Brian Clark at bclark@nr.edu.
Submitted by NRCC