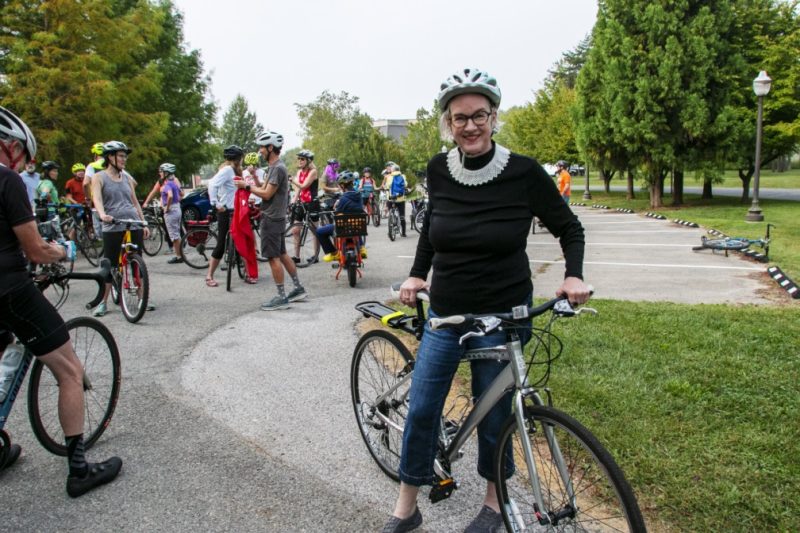 Bikesburg brings a host of biking events to downtown Blacksburg now through May 26
Lori Graham
Contributing Writer
BLACKSBURG – Community partnerships of downtown Blacksburg are bringing a weeklong celebration of biking, with events through May 26, 2023 that the whole family can enjoy.  
Blacksburg's Sustainability Manager, Carol Davis, spoke on the upcoming biking celebration week and their goal in putting on this annual event. 
"Biking is a sustainable means of transportation for a lot of people" Davis said. "The feel of the town becomes a slower pace when the students leave for the summer, and we are inviting the residents to come out and have fun. If you are typically nervous riding your bike in town during the spring and fall semesters when the town sees more traffic, now is the time to get out, and the weather is beautiful. Getting to know people and getting around town is what we are about and that is what we are hoping to accomplish with this."
The bike parade, happening Saturday May 20, is led by Mayor Leslie Hager-Smith. All ages and abilities are encouraged to join the parade, which concludes with a ride down Blacksburg's Main Street. The bike bus starts at 9 a.m. and includes one of five routes taking riders to the bike parade departure location at VT Electric parking lot, 601 Energy Drive. The bike parade will depart from Energy Drive at 10 a.m. and head north on the Huckleberry Trail, taking participants around campus, and concluding on Main Street. Interested riders should check out the map routes on the website at https://downtownblacksburg.com/events/bikesburg. 
Everyone is also invited to come to the Bikesburg Festival, also on May 20, with events going on from 10 a.m. to 2 p.m. on College Avenue. Additional day's activities are available on the events page as well, which is hosted by Downtown Blacksburg Inc.
Along with the festival and bike parade, the week's events include many other opportunities for family-oriented activities and topics that bike enthusiasts will love. Just some of the activities found on the event's webpage include a garden tour, book discussions, social rides, a bike yoga event, a trail-building service opportunity, and a bike commuting class at the library on Wednesday 23. Davis says Jen Millions, the President of the New River Valley Bicycle Association who will be leading the class, is a certified trainer that teaches safe cycling. Building confidence and making everyone safer on the roads and trails are important, so taking a safety course in bicycling can help all riders in achieving and maintaining these skills. 
According to the event's news release, some events do require registration, so participants should check the website for details and additional event descriptions. During the week of Bikesburg 2023, participating businesses will be offering a passport and stamps for cyclists who visit their stores by bike (no purchase required). Completed passports can be entered for several prize drawings.
The Bikesburg 2023 partnership includes Downtown Blacksburg, Inc. (DBI), New River Valley Bicycle Association (NRVBA), Town of Blacksburg, VT Sustainable Transportation, Sustainable Blacksburg, Lyric Theatre, Blacksburg Farmers Market, Regional Commission/Ride Solutions, Poverty Creek Trails Coalition, and Friends of the Huckleberry.