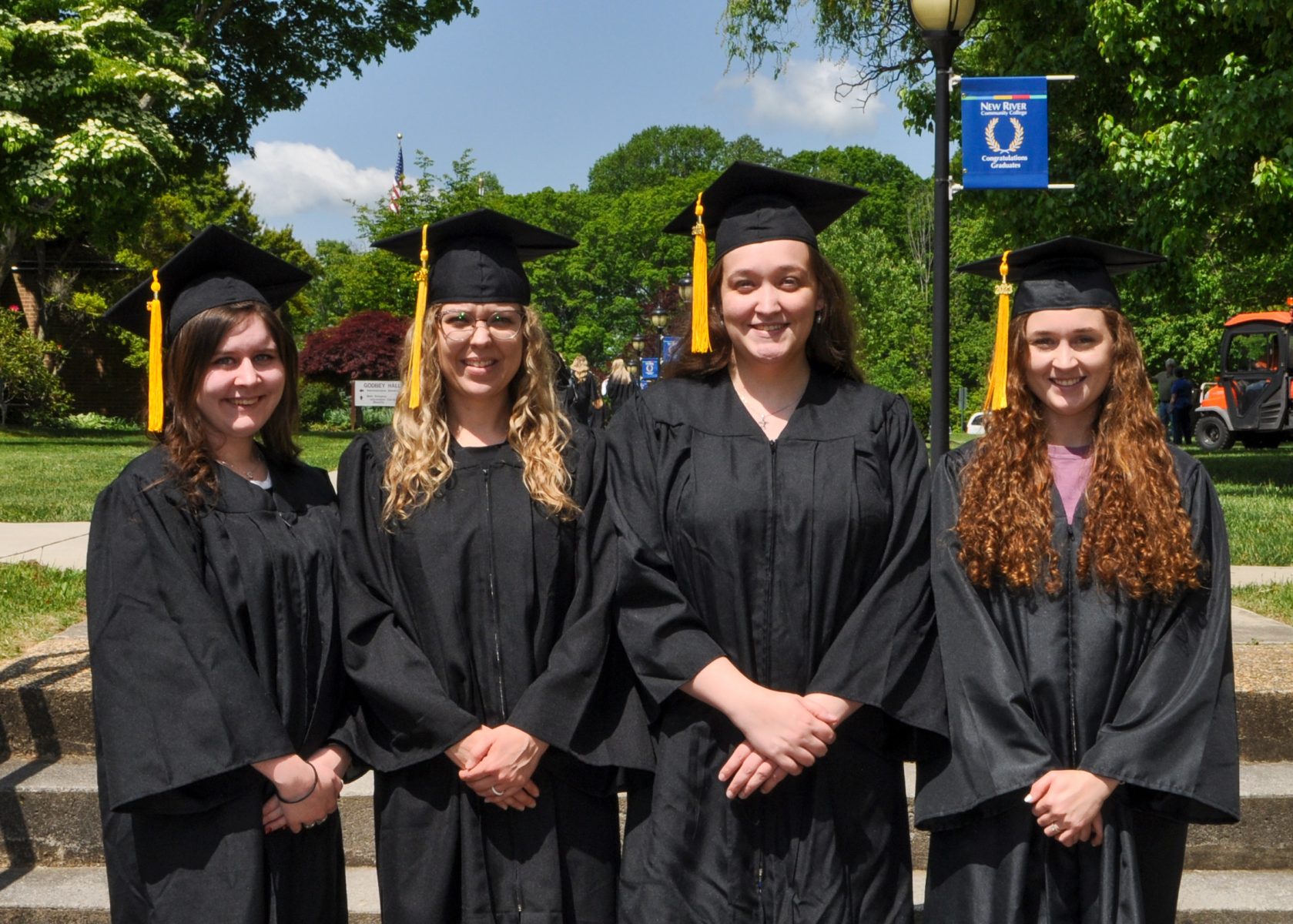 DUBLIN – Four Radford residents were among the 46 students in the 2023 associate degree nursing (ADN) class at New River Community College who recently received their NRCC nursing pins and associate degrees at a ceremony at the college.
This is the 20th graduating class of associate degree nurses at NRCC. The graduates are now eligible to take the registered nurse licensing exam.
Helen Wolfe, interim coordinator of nursing programs at NRCC, presided at the event. Nursing students Cassie Craven, Larissa Gilbert, and Jordan McGrady presented remarks via video message on behalf of the 2023 nursing class.
Other nursing faculty participating in the ceremony included Michelle Goodman, Wendy Hay, Lisa Helmick, Caitlin Reed, and Heather Umberger.
Ending the program, Dr. Graham Mitchell, professor of psychology and religion, led a "Blessing of the Hands" ceremony with nursing faculty and students to bring "healing and wholeness" to the nurse's touch.
The 2023 graduating class of associate degree nurses at NRCC includes Kristy Dawn Albert, Lynette Nicole Carroll, Kalayna Marie Cassady, Taylor Nicole Conley, Ashley Nichole Cox, Cassie Muncy Craven, Sylvia Jeannette Cupp, Amanda Nicole Davis, Rachael Wray Durham, Hannah Elaine Evans, Kendra Brea Franklin, Kayla Megan Gardunio, Morgan Tylor Gee, Larissa Shyanne Gilbert, Madison Hope Hinton, Allison Rose Hosey, Angela Marie Hubler, Rachel Elisabeth Huffman, Valery Anne Jacobson, Nathan Isaiah Jenkins, Abigail Elizabeth Grace Lafon, Jennifer Kaitlyn Lawrence, Kayla Lynn Mabe, Ruth Jean-Maria Martin, Samantha Jane Mathews, Jordan Danielle McGrady, Kendra Camille Morris, Jenna Rene O'Neill, Caitlyn Deziree Ousley, Adelee Morgan Palmer, Jenna Marie Quesenberry, Alyssa Faith Saunders, Ashlee Nichole Slusher, Ally Kathleen Smith, Madison Autumn Smith, Kealee Nichole Stanford, Ashley Nicole Stewart, Emma Nicole Sutphin, Cohen Gage Taylor, Christopher Lee Thompson-Hudson, Amy Nicole Thornton, Kenna Nicole Tienvieri, Jessica Jake Wheeler, Brittany Nichole Williams, Carlin Paige Williams, and Faith Hazel Williams.
Submitted by NRCC