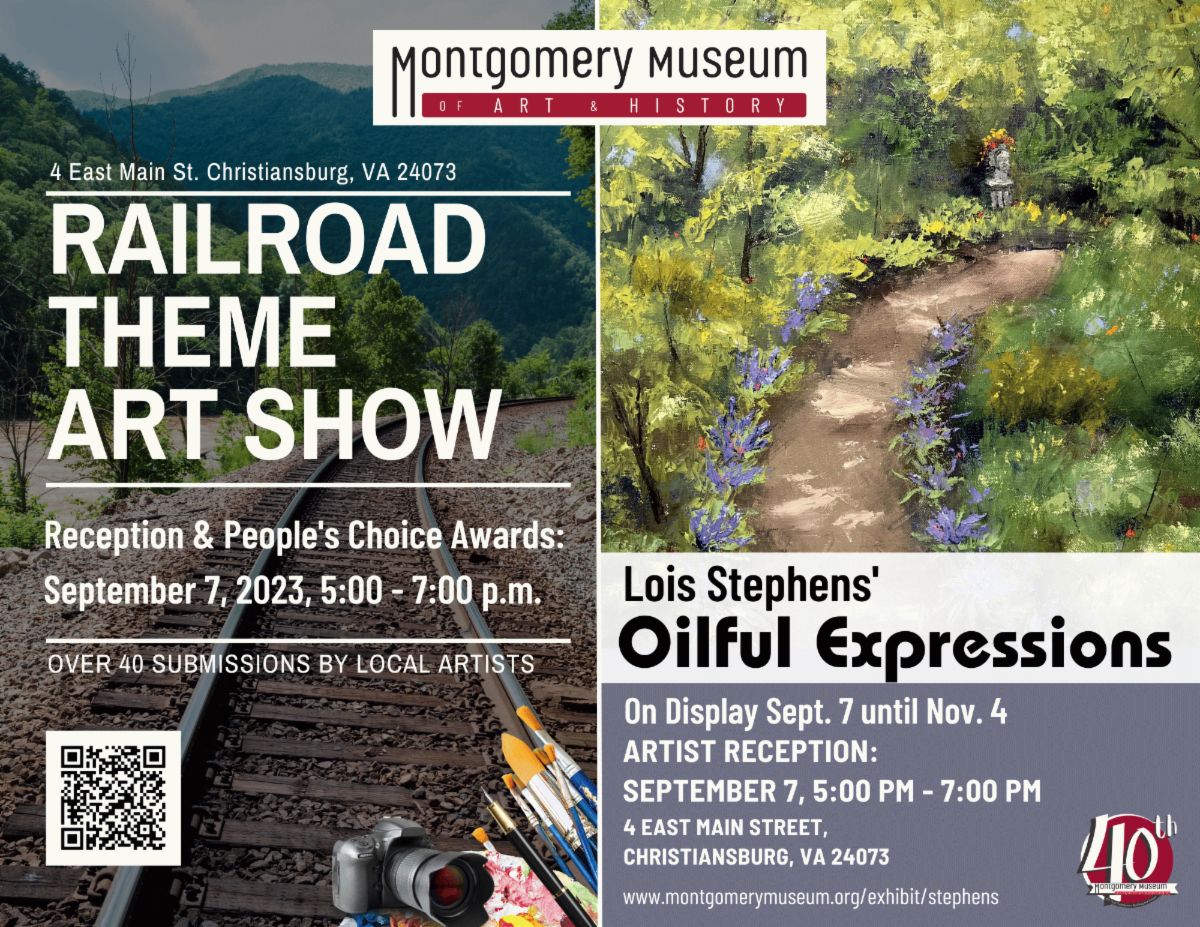 CHRISTIANSBURG – Join the Montgomery Museum of Art & History Thursday, Sept. 7, 2023, 5 -7 p.m. for the opening reception of local artist Lois Stephens and the awards ceremony for the multi-artist Railroad Theme Art Show. 
The reception will take place in the museum at 4 East Main St., Christiansburg.
So many talented and well-trained artists say they wish they could loosen up and let go of the comfort of realism.  Lois Stephens is one of the few who accomplished that goal.  Her new exhibition entitled, "Oilful Expressions," shows how Stephens prefers to work in oil with a palette knife, a device that replaces the brush and lends itself to free rein.  She says the more you do it, the more confident you become.  Also, don't be afraid to change something that doesn't work.  "It's just paint."  Oil paint is especially easy to remove or paint over.  "Simplify."  Painting in an impressionist style comes from simplifying what you have been doing. Many of the paintings in the show are landscapes depicting local scenes that often include water.  "Flow" shows a stream in springtime, "Hibernal" a cold winter scene, and "Garden Path" a walk bordered with flowers.  Compared to her earlier works, these paintings are more impressionistic in style.
Along with opening Stephens' show on Sept. 7, the museum is acknowledging the closing of the Railroad Theme Art Show. Twenty local artists have submitted over forty works in numerous media including paint, pen and ink, photography, and wood scrollwork that depicts railroad heritage. The People's Choice voting for the awards ceremony is taking place now, and voting will close at 6 p.m. at the reception with awards presented at 6:30 p.m. Vote now at: https://montgomerymuseum.org/exhibits/railroad-theme-show. A cash bar will be available and food will be catered by Zeppoli's.
Submitted by the Montgomery Museum of Art & History