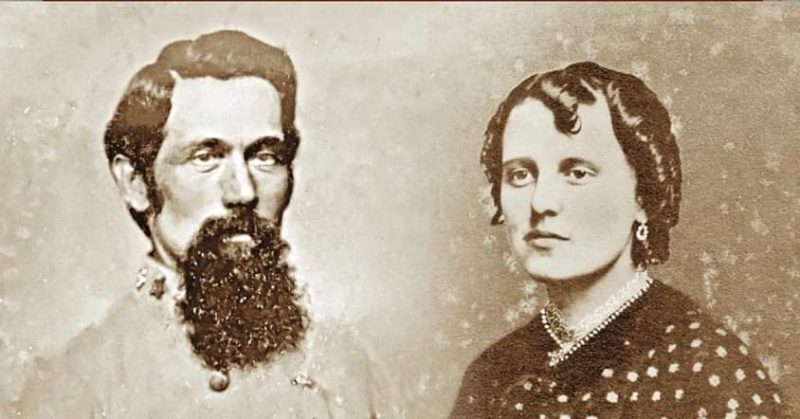 RADFORD – Each Tuesday, Glencoe Mansion highlights the history of the Wharton family, who built and lived in Glencoe in the 1800s, through excerpts from the book "That Wharton Letters" on its social media pages. General Gabriel Wharton was married to Nannie Radford Wharton, whose father was Dr. John Blair Radford, the namesake of the City of Radford.
The most recent historical tidbits include:
"We know from her letters and the stories we tell at Glencoe that Nannie Wharton was a strong woman. But [this] letter from Gabe (General Gabriel Wharton) shows a glimpse into this part of her character.
On Nov. 1, 1863, Gabe writes to Nannie, expressing that he hopes she had a good trip back to Arnheim from visiting him.  He goes on to say: "Darling dearest I cannot tell you how it distressed me to part with you.  I know you were unwell.  I feared and still fear you are ill.  I know you are too heroic to complain, but I could frequently see pain written on your face."  According to "The Whartons' War," this may refer to Nannie experiencing her first spells of morning sickness, unaware she was pregnant with William.  Regardless, it shows how proud she was, and how she tried to hide her feelings and pains, even from her husband."
Also,
"One interesting aspect of reading Civil War letters, especially those of Gabe and Nannie, is the way that soldiers on the front lines would write home to comfort those left behind.  On Nov. 7, 1863, Gabe wrote to Nannie: "Be hopeful, and look at the bright side of the picture.  Don't look at the dark side all the time.  Bear patiently and be reconciled for my sake. … Now darling dearest please resume your usual cheerfulness.  Smile once again. … Wont you darling dearest?  Say yes!" 
It is interesting to read this passage just after Gabe describes the battle they had fought the previous day.  Even when facing the horrors of war, he was still trying to comfort Nannie."
To read the rest of this letter and see how else Gabe comforts Nannie, visit Glencoe Mansion to get a copy of "The Whartons' War." The gift shop is open during regular museum hours, Wednesday to Saturday 10 a.m. – 4 p.m. and Sunday 1-4 p.m. And to keep up with the weekly history postings, follow Glencoe Mansion on Facebook and/ or Instagram.
Staff report