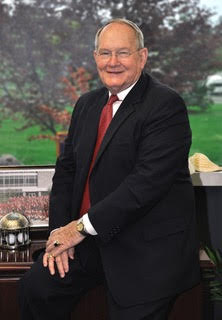 James F. (Jim) Wolfe, Founding President and President Emeritus of the Edward Via College of Osteopathic Medicine (VCOM), passed away peacefully in his sleep at age 86 on Thursday, October 20, 2022. 
Jim is survived by his loving wife, Nancy; his son John; his daughter Carolyn; and five grandchildren, Sawyer, Thomas, Niklas, Hayden and Carson.
He was the ultimate storyteller, embodying kindness, a keen intellect and a love for his work. He was always ready to talk in detail about his amazing family, his passion for golf and, of course, Virginia Tech sports.
His life was the embodiment of the old saying, "He never met a stranger."
Jim received his B.S. in chemistry at Lebanon Valley College and his Ph.D. in chemistry from Indiana University. What followed was an extraordinary career. He served as the founding president of the Edward Via College of Osteopathic Medicine until his retirement in 2015.
He assumed this position in January 2001 and led the college through its initial stages of development and growth, including the opening of the Carolina campus of VCOM in Spartanburg, S.C., in 2011, and the opening of the Alabama campus in conjunction with Auburn University in 2015.
He continued to serve VCOM as an active board member and held President Emeritus status. Dr. Wolfe was once asked if he had a particular favorite experience from his time at VCOM, and he answered, "It's been an almost daily collection of favorite experiences, so I can't say it's been just one. I'm just thankful to have been a part of it."
Prior to his leadership role at VCOM, Dr. Wolfe's career spanned 32 years at Virginia Tech. While at Virginia Tech, he served as the chair of the Chemistry Department Chair for nine years and Vice Provost of the University for more than five years. As Vice Provost, Dr. Wolfe directed the offices of Admissions, Financial Aid and University Registrar. He oversaw academic program resource assignments and faculty appointments for 1,500 faculty and administrators in the nine colleges of the university.
He acted as chief deputy for the provost and, when appropriate, for the president. He was a Professor Emeritus of Chemistry and had acted as Co-Director of the Harvey W. Peters Research Center for the Study of Parkinson's Disease and Disorders of the Central Nervous System.
Dr. Wolfe has over 65 peer-reviewed publications related to his research and scholarly work in chemistry and has published three books. He served as principal investigator on several federally sponsored research projects, including projects funded by the National Institutes of Health (NIH), the National Sanitation Foundation (NSF), and NASA. He served on several committees for the American Chemical Society and was Virginia Tech's delegate to the National Council for Chemical Research. He served on the NSF-Nuclear Regulatory Commission (NRC) Postdoctoral Fellowship Selection Committee and received an NIH fellowship at Indiana University.
His life was remembered at a memorial reception hosted by VCOM on Tuesday, Oct. 25, from 3 to 5 p.m.,VCOM Building II at the address below.
Contributions in Jim's memory can be made to VCOM James Wolfe Memorial Scholarship, 2265 Kraft Dr., Blacksburg, Va. 24060.