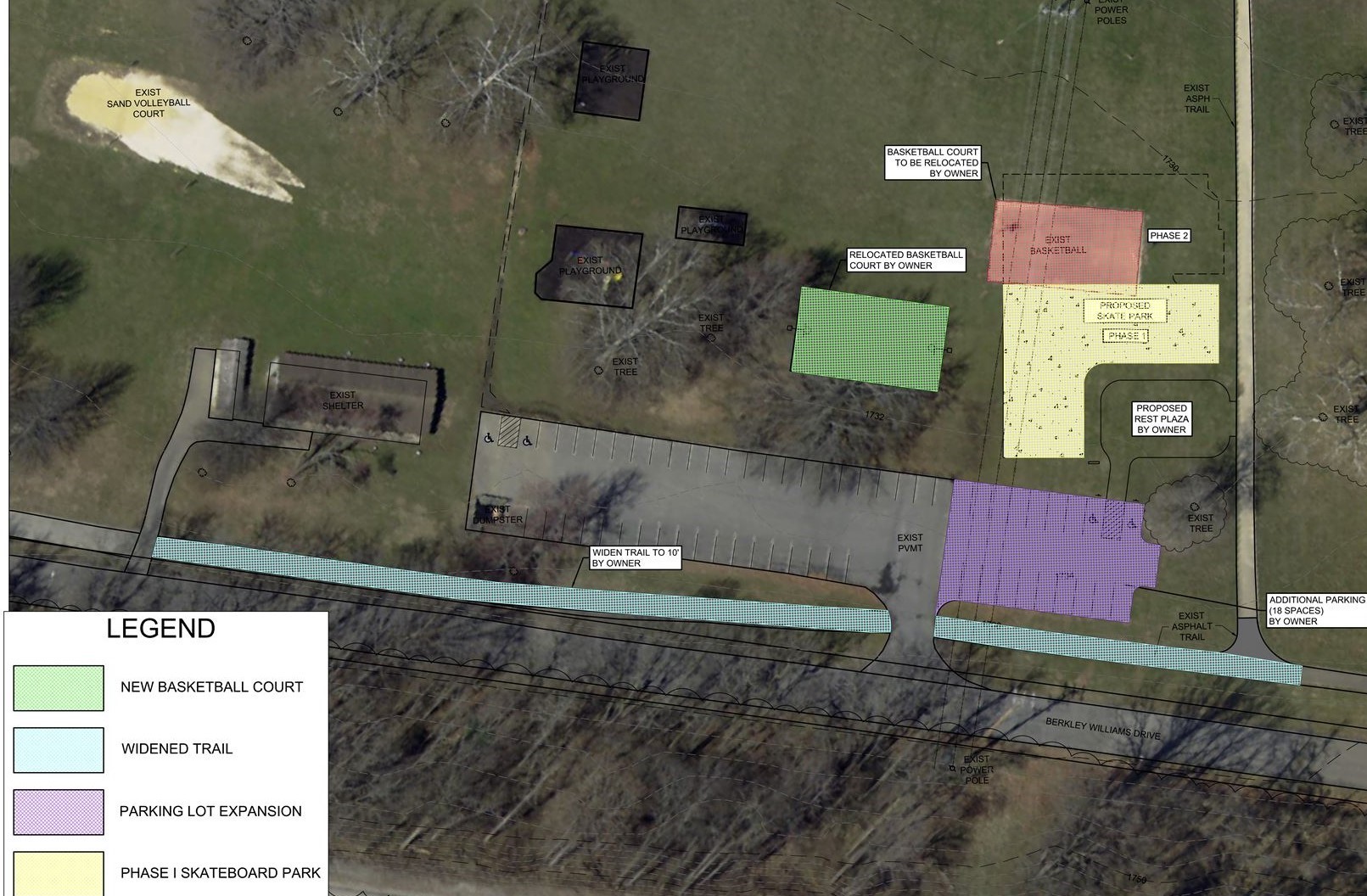 By Heather Bell
RADFORD – Improvements to Bisset Park, including Phase One of a skatepark, a new basketball court and additional parking, are set to begin in the coming days.
A combination of federal Community Block Grant (CDBG) Funds and American Rescue Plan Act funds are funding the skatepark, and the work on the park's tennis courts. Local funds from the Recreation Department's construction budget are also being used for the park improvements, including a widening of 680 feet of the riverside trail, which will be expanded to 10-feet-wide from just West of Memorial Bridge to Shelter Two. A new junior high sized basketball court will also be constructed, and 18 additional parking spaces will be added in the area of Shelter Two.
Outdoor work at the Radford Municipal Building and courthouse on Second Street is underway, with interior improvements slated for October. Radford City Council approved a bid by SWVA Asphalt Paving LLC for the paving work in the amount of $85,370 at its Sept. 12 meeting. The large gravel lot across the street from the building will now be paved, and the existing lot on the eastern side of the building will be milled and re-paved.
"The remaining areas will be surface sealed, the entire parking areas restriped, and a crosswalk installed across Second Street to enhance pedestrian safety," according to the City of Radford. "The work is being coordinated with the departments in the building and all services will remain open during the project elements. Interior upgrades are the second phase of the project and will begin in October."
The Radford City Council approved the 2022-23 CDBG allocation at its Sept. 12 meeting. The $183,174, which comes from the U.S. Department of Housing and Urban Development, will be allocated as follows:
Emergency Home Repair- $25,000
Infrastructure Improvement- $99,000
Beautification- $16,174
Women's Resource Center of the New River Valley- $6,500
New River Community Action- $6,500
Bobcat Backpacks- $3,500
Façade Renovation- $6,000
Radford Clothing Bank $2,000
RADical Change Commission- $2,000