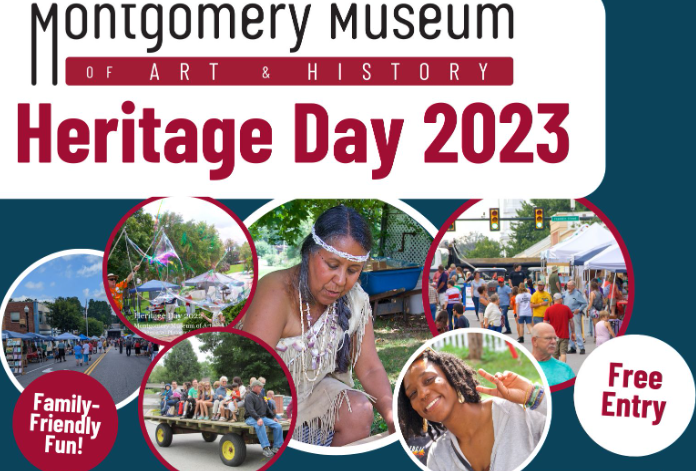 CHRISTIANSBURG – The Montgomery Museum of Art & History proudly presents its highly anticipated annual Heritage Day Festival on Saturday, August 19, 2023, 10 a.m. – 4 p.m. in downtown Christiansburg. 
This free, family-friendly event takes place at the museum, on East Main St. and at the Museum Gardens, located at 300 South Pepper St. 
This year, the museum will showcase an eclectic mix of vendors including craft, art, antique cars, native plants, baked goods, and many children's activities. More than 40 vendors will display their finest creations, offering plenty of artistic goods to explore. Additionally, the street festival will feature a hay wagon ride, historical reenactors, and a beer/wine garden managed by Christiansburg Kiwanis Club. Live performances will be held at the Downtown Christiansburg stage featuring performances by Amelia Empson, Virginia Hollow, Pathway, The Panjammers, and Appalachian Space Train. 
Additionally, food trucks, including Scoops Arcade Food Truck and Community Pizza will be serving ice cream and pizza next to the beer garden. Inside the museum, a silent auction will take place during the event and offer a myriad of gifts including unique experiences and local artwork. Attendees can take the hay wagon ride to the Museum Garden and visit with Master Gardeners and Naturalists, who will be conducting a plant sale. Additionally, a petting zoo and animal adoption event will take place at the Museum Gardens.
This event is made possible by the generous support from many local businesses including American National Bank and Trust, Gates Flowers, CMG Leasing, Carter Bank and Trust, McCoy Funeral Home, Balzer and Associates, Foresight Design Services, Town and Country Veterinary Clinic, Servpro of Montgomery and Pulaski Counties, Summit Community Bank, Rice Realty and Landsales, Glenn Cochran – State Farm Insurance Agent, Corning Inc, The Tenacious Communicator, and the Quilting Party.  
For more information on the event, please visit https://montgomerymuseum.org/events/heritage-day.
Submitted by Montgomery Museum of Art & History