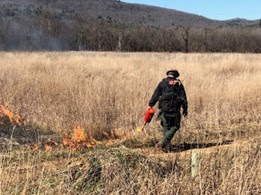 This spring, firefighters across the George Washington and Jefferson National Forest plan to conduct prescribed burning to reduce hazardous fuels, restore wildlife habitat, and improve overall forest health.
Fire managers plan to burn up to 32,310 acres across the forest. Some of these prescribed burns are conducted through partnerships with the Virginia Department of Forestry, Nature Conservancy, and others.
Each prescribed burn is designed to accomplish specific objectives related to increasing forest health. Prescribed burns will be conducted only under appropriate conditions to ensure safety. Those appropriate conditions include correct temperature and wind, fuel moisture, and ventilation for smoke. When these criteria are met, firefighters implement, monitor, and patrol each burn to ensure it meets forest health and public safety goals, including air quality.
"Historically, fire has played a vital role in shaping the forest and its ecosystems," said Forest Supervisor Joby Timm. "Today, forest managers utilize prescribed burns to imitate the periodic fire that many plants and animals rely on.  Prescribed fire is utilized to better protect communities by removing the amount of downed fuel and reducing the potential of large, high-intensity wildfires."
Prescribed burns yield multiple forest health benefits. They help remove competing vegetation, which allows remaining trees to grow faster and be more resistant to pests and disease. Prescribed burns also create areas where a diverse mix of grasses, plants, and wildflowers grow, which provides valuable food and cover for wildlife such as bears, deer, turkeys, and migratory birds.