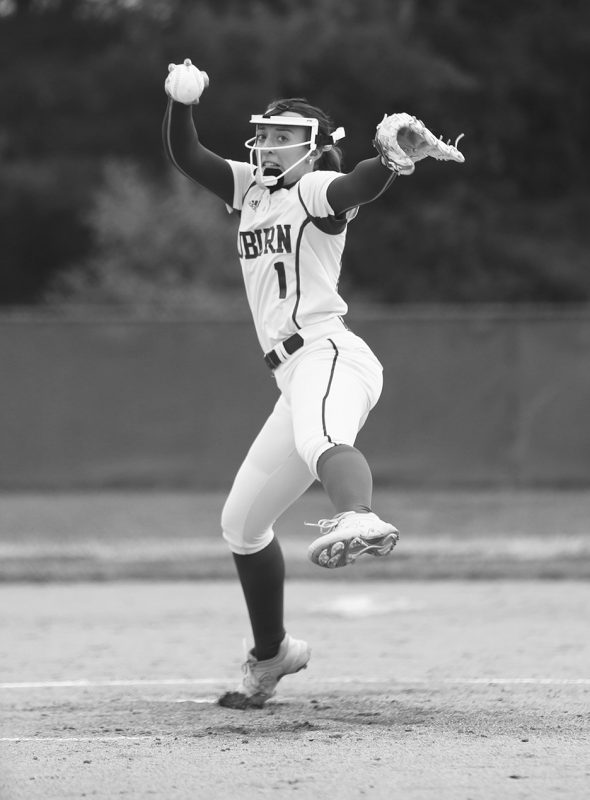 The Virginia High School League announces its 2023 Class 1 all-state softball team. Auburn senior pitcher Kirsten Fleet is the Class 1 Player of the Year, and Auburn head coach Tim Smoot is the Class 1 Coach of the Year.
The right-handed Fleet started and completed 27 games this season with a 26-1 record pitching 175 innings, striking out 389 batters with an ERA of 0.48, allowing 17 runs (12 earned runs), 20 shoutouts, nine no-hitters, and five perfect games. Additionally, she limited opposing batters to 51 hits and 18 walks. Offensively in 2023, she batted .388 with 26 hits in 68 at-bats, five home runs, and 26 RBI. Fleet has a career pitching line of 378 innings pitched, 97 hits, 37 runs (24 earned runs), 852 strikeouts, 44 walks, 0.44 ERA and 39 shutouts. This season, the power-hitting slugger hit for an average of .456, with 36 hits, 29 RBI, seven doubles, one triple, and 11 home runs while walking 15 times.
Smoot, the Class 1 coach of the year, guided the Eagles to a 26-1 record and a third-straight state title with a 1-0 victory over Rye Cove in the state finals. Auburn reached the state finals with a 4-1 win against Eastside in the quarterfinals and a 1-0 win over the Buffalo Gap in the semifinals. Smoot has been with the Eagles program for seven seasons, the first five as an assistant coach and the last two as head coach. He has guided Auburn to back-to-back state titles.
The all-state softball team consists of three pitchers, one catcher, four infielders by position, three outfielders, one DP-flex, and two at-large players from any position Only those players selected first-team all-region are eligible for selection to the all-state team. The all-state selection committee comprises eight coaches, with two from each region.
Fleet was joined on the first team by teammate Rachel Brotherton (second base). Auburn's Avery Zuckerwar (shortstop) was named to the second team.
Staff reports