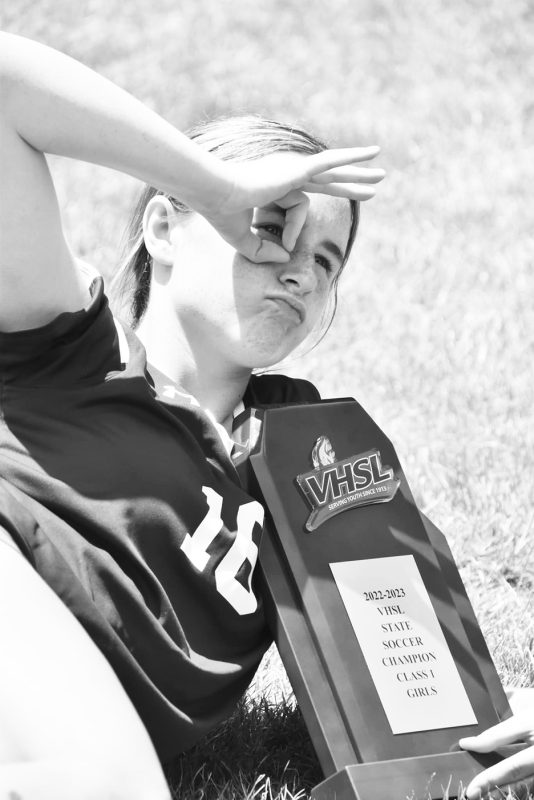 The Virginia High School League announces its 2023 Class 1 all-state girls' soccer team. Eastern Montgomery's senior midfielder Maddie Bruce is the Class 1 Player of the Year, and Eastern Montgomery's head coach Whitney Shaver is the Class 1 Coach of the Year.
Bruce, last year's Class 1 2021 girls' player of the year, totaled 52 goals and 32 assists for the Mustangs this season. Her 32 assists and 136 points this season place her in the top 10 single-season totals in VHSL girls soccer history. The Shenandoah University signee's career totals of 113 goals and 91 assists (missing the 2020 season because of COVID) place Bruce among the all-time top players in goals and assists in VHSL history.
Shaver led Eastern Montgomery (22-0) to its third-straight Class 1 state title with a 2-1 win over Auburn, with the decisive goal coming in the third overtime period. The Mustangs have now won 54 straight games. Shaver has a four-record of 68-3 since taking over the Mustangs program in 2019, not including the 2020 COVID missed season. East Mont defeated Auburn in last year's final, 5-0, and West Point, 5-1, in 2021.  
The all-state soccer team consists of four forwards, four midfielders, four defenders, one goalkeeper, and three at-large positions. Only those players selected first-team all-region are eligible for selection to the all-state team. The all-state selection committee comprises eight coaches, with two from each region.
Eastern Montgomery and Auburn placed 16 players on the all-state list. First teamers were: Ajilia McHone, Madeline Mirolli, Hannah Blankenship, Lilly Underwood, Nadya Hubbard and Logan Boone. Eastern Montgomery's Olivia Boone was a second teamer. 
Auburn's Stacy Lewis was also named to the first team along with Kelsie Groseclose, Grace Harris and Logan Munday. While their teammate, Kenliegh Smith was second team. 
Staff reports