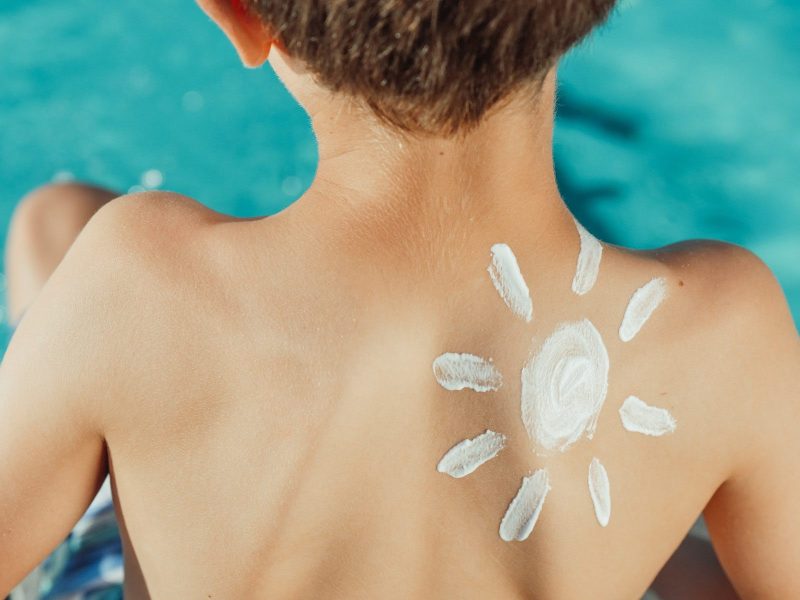 Summer is a time for beach trips and swimwear, park hikes and playgrounds, outdoor gardening and neighborhood barbecues, state fairs and food festivals. 
It's also a time of increased sun exposure, with potential negative long term health consequences that require proper precautions to avoid.
Dr. Mariana Phillips, a dermatologist on the faculty of the Virginia Tech Carilion School of Medicine, and Carlin Rafe, an extension specialist with the Virginia Cooperative Extension, share sun safety tips to help you maximize your summer fun while minimizing sunburn.
Q&A with Dr. Mariana Phillips  
Q: What are the hazards of being out in the sun too long without proper protection?
"Prolonged exposure to ultraviolet light (UV) is associated with photoaging and increased risk of all types of skin cancer including melanoma, basal cell carcinoma, and squamous cell carcinoma. Ultraviolet light can be divided into two components, UVA and UVB. Both UVA and UVB increase skin cancer risk, however, UVB is more carcinogenic than UVA. Sunlight contains 10-20 times more UVA than UVB, so protection against both is important."
Q: What's the best kind of sunscreen to use?  
"Broad spectrum, water resistance sunscreens with a Sun Protection Factor (SPF) 30 should be applied daily. The Food and Drug Administration (FDA) considers sunscreens as over the counter drugs and regulates their labeling.  Sunscreens labeled 'broad spectrum' protect against both UVB and UVA.  The SPF relates to the sunscreen's potency in protecting against UVB. A sunscreen with a SPF 30 will block 97% of the sun's harmful UVB rays. Sunscreens can be labeled as 'Water Resistant 40 or 80' meaning that they will maintain their desired SPF for 40 or 80 minutes after water immersion."      
Q: How do we pick the right one?
"There are various formulations of sunscreens available including gels, sprays, and lotions. These are considered safe and effective, so choosing a product should be made on personal preference. Tinted sunscreens may be a good choice for those individuals who do not like the 'white' appearance of the skin that may result after sunscreen application."   
Q: What might someone need beyond sunscreen?
"Avoiding sun exposure during peak UVB hours (10 a.m. to 4 p.m.), seeking shade, and photoprotective clothing, such as wide brimmed hats and long sleeves, are equally as important as wearing sunscreen."  
Q: What's the precaution that most forget to take, or don't do correctly?
"Sunscreens should be applied 15 minutes before sun exposure.  Most individuals do not apply enough sunscreen to achieve the labeled SPF. One ounce, or a shot glass full, should be used to cover the exposed sites of the adult body. Most studies have shown that individuals only apply half of the recommended amount, so applying sunscreen twice should be considered. Also, sunscreens should be applied every two hours of sun exposure or following water immersion."
Pointers from Carlin Rafie
Who is most at risk for skin cancer?
Everyone is susceptible to sun damage to the skin and skin cancer, however, there are certain factors associated with greater risk, including:
 Lighter natural skin color
 Skin that burns easily in the sun
 People with blue or green eyes, blond or red hair
 A family or personal history of skin cancer
 Older age
Regardless of risk, protecting the skin from overexposure to ultraviolet rays from the sun and sunlamps can keep skin healthy and lower the risk for getting skin cancer. Everyone should avoid getting a sun burn, and using sun protection is a big part in assuring that.
Sun safety recommendations:
UV rays are strongest between 10:00 a.m and 4:00 p.m. in general in the U.S. Between these hours protect your skin in the following ways:
Wear clothing that covers the arms and legs
Wear a wide brim hat the shades the face, ears, and neck
Wear wrap around sunglasses with UVA and UVB protection
Use a broad spectrum sunscreen with a sun protection factor (SPF) of 15 or higher.
How to apply sunscreen:
Use sunscreen with a SPF of 15 or greater
Apply 15 minutes before going outside
Apply enough to cover exposed skin. Many people do not apply sunscreen thickly enough.
Reapply sunscreen every two hours; more often if sweating or in and out of water.
More information can be found at the Centers for Disease Control and Prevention and U.S. Food and Drug Administration websites.
Mike Allen for Virginia Tech