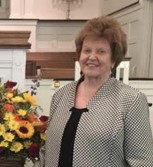 Lucille Cruise passed away peacefully at HPH Hospice Care Center in New Port Richey, Fla. surrounded by her children on June 23, 2023.
Lucille was born on April 6, 1934, in Fancy Gap, Va. to Troy and Kate Branscomb Allen. Lucille attended the Brookmore School in Fancy Gap. The family moved from the Allen farm first to Hillsville and then to Radford just before Lucille entered Radford High School. She graduated in 1952 and attended Radford College where she earned her bachelor's degree in Business Education.
While she was in college, she met her future husband Bob, who was enrolled in the Corps of Cadets at Virginia Tech. They married in 1954 at First Baptist Church in Radford and together they raised their four children in Radford, and later in Roxbury Township, N.J. Following Bob's retirement from Hercules in 1992, Lucille and Bob moved back to Virginia and enjoyed traveling, meeting with friends, hosting many tailgate parties before Virginia Tech football games and attending many Hokie men's and women's basketball games. Most of all, Lucille and Bob reveled in spending time with their children, grandchildren and great grandchildren. Fond memories include family trips to Myrtle Beach, and an epic cross-country journey from New Jersey to California in the summer of 1973 – just in time to hit the country's mandatory gas rationing program which necessitated some creative driving to get back home.
Lucille is survived by her sister, Elizabeth Howlett of Tyler, Texas; daughter, Jill Carolan (Paul) of Fort Worth, Texas; son, Mark Cruise (Kelly) of Jonesborough, Tenn.; son, Scott Cruise (Martine) of Fairfax, Va.; and daughter, Jan McKee (Gene) of New Port Richey, Fla.; 12 grandchildren and nine great grandchildren. She was predeceased by her husband of 66 years, Bob Cruise, and her sister, Annita Havemann.
A memorial service will be held on Saturday, September 2, 2023, at First Baptist Church in Radford, Va. In lieu of flowers, the family welcomes donations to First Baptist Church of Radford (www.fbcradford.org/give) or to HPH Hospice Care Center of New Port Richey, Florida (www.chaptershealth.org/foundation/hph-hospice-donation/).
The Cruise family is in the care of Mullins Funeral Home & Crematory in Radford.