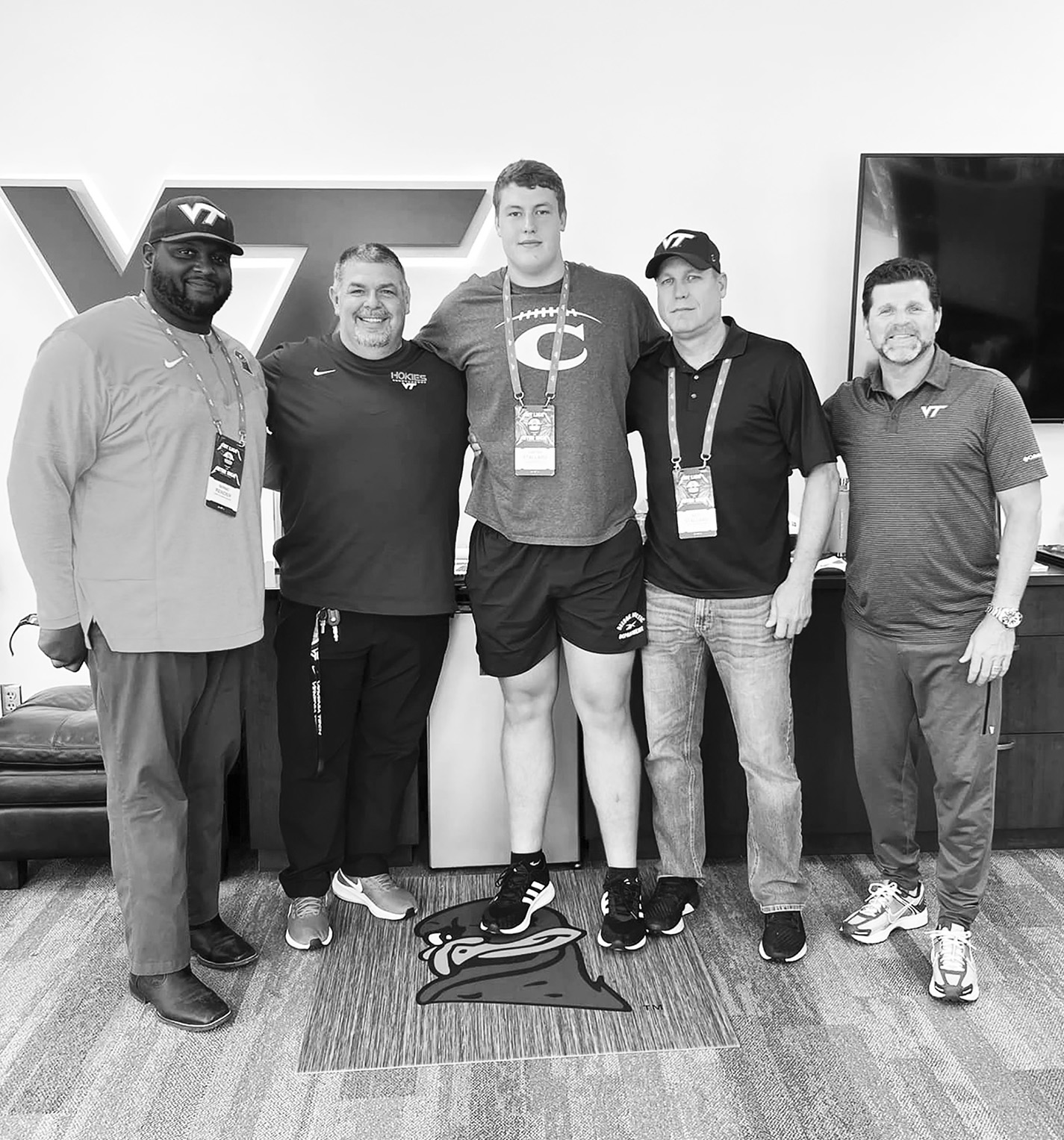 Marty Gordon
The recruitment of Christiansburg High School offensive lineman Carter Stallard is starting to heat up. The rising junior is listed at 6-7, 305, meaning his size has caught the attention of lots of college coaches. 
So far, he has collected 10 offers including Virginia Tech, West Virginia, Maryland, UVA, Marshall, Buffalo, Charlotte, Florida International and Duke. 
He and his family just returned from a visit to the University of Alabama with several other Southeastern Conference schools expressing interest. Other visits have included South Carolina with Shane Beamer.
Stallard's father, James, said the visits and recruitments have been interesting for the family as a whole.
"We have visited places like Syracuse where we got to see the campus and all the sites around it," he said during a sit down this past weekend.
At least one major recruiting outlet lists Stallard as three-star recruit. 247 Sports places him as the number 11 overall recruit and the number 18 offensive lineman in the country for the 2025 class. He played multiple O-line spots as a sophomore, including both tackle positions for a Christiansburg team that fell in the state Class 3 semi-finals. 
Stallard started playing in the Christiansburg Recreation Department football program at a very young age, and almost every year, he has much larger than the other kids. In eighth grade, he was already listed at 6-6. 
Of course, playing at Christiansburg in the shadow of the Virginia Tech campus, Stallard might be leaning toward familiarity. "Yes, I like Virginia Tech and the coaching staff, but others have made an impression too," he said this past weekend.  The Hokies were one of the first ones to make Stallard an offer. 
He recently came back from a visit with Kirby Puckett in Georgia, and Stallard admitted sometimes it can be a little overwhelming on these visits, but he is trying to stay humble. 
A scouting report by the University of Georgia had this to say about the rising junior:
"Stallard's natural size and power make him a bully at the line, and he's able to move defensive players off the ball by sheer virtue of his strength. He's more comfortable than the average big guy moving his feet laterally (though he'll want to improve the quickness and the repeated patterns of the footwork to make it smoother), and he can be a factor in zone blocking or pulling through the hole. His hands could use some technique refinement, as well. Given his height, he has to work hard to maintain leverage at the point of attack, and he'll want to keep improving flexibility in the lower body as he shapes his body for the next level, but the tools are in place to be a dominating lineman."
Stallard also shines in the classroom with a 3.89 grade point average. He hopes to major in business with a future career in coaching. 
"Georgia talked about the opportunities I could have there to mentor under the coaches for my future endeavor," Stallard said.
But for, his recruitment is wide open, and he is centered about his hometown. Several prep schools have contacted him about attending their facilities. "I'm not interested. I want to be in Christiansburg," he said.
Stallard says the way the Blue Demons finished last season, losing to Heritage in the state semis, was a little disappointing. "Now, we have something to prove (this year)," he said.
Already he is working on his foot work and adding lots of muscle mass. He is squatting 400 pounds and has deadlifted 525. 
"I was just want to keep improving and then I will decide where to go to school," Stallard concluded.
When it's all said it done, he could be the highest recruited player ever from Christiansburg.