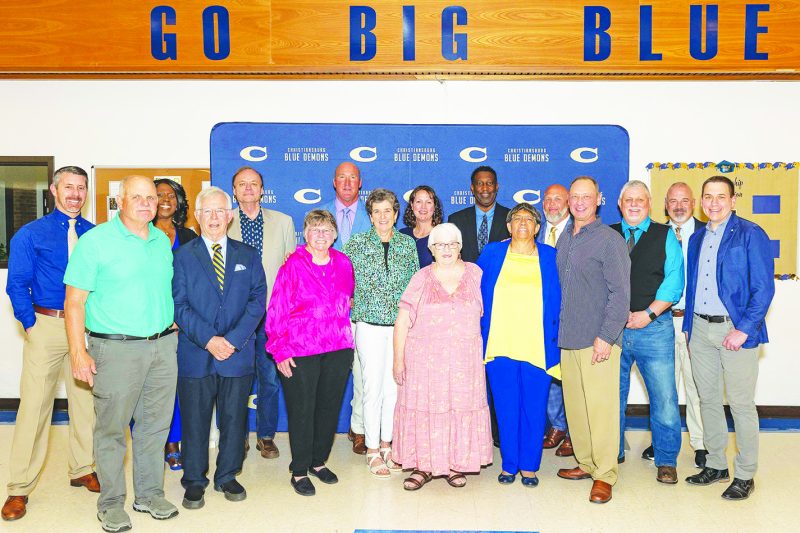 By Marty Gordon
Christiansburg High School's inaugural sports hall of fame class was introduced Sunday afternoon in the school auditorium with 24 former athletes, coaches and supporters. 
The group spans six decades ranging from the 1950s to the early 2000s. 
The coaches included as inductees include Buddy Earp, Norma Cox, Tim Cromer, Kevin Dresser, Wally Flinchum, Dean Underwood, Mutt Byrd, Steve Wright, Randy Bailey, Jeff Custer, Debbie Sherman-Lee and Shane Guynn. Athletes included Tommy Barber, Joe Board, Clifford Dillard, Gloria Dillard, Brian Eigel, Mark Franklin, Darren Graham, Randy Lawrence, Rebecca McNeil, Billy Parker, Jeff Stanley and Betty-Jo Lester Willard. 
Some of the inductee highlights include: 
Earp was a lifelong educator and a Colonel in the United States Marine Corps Reserves. He attended Emory & Henry College where he played football and was a team captain, four-year starter, and Little All American Honorable Mention. He is a charter member of the Emory & Henry Sports Hall of Fame.   Upon graduating from Emory & Henry College in 1951 with a Bachelor of Arts degree, Buddy enlisted in the United States Marine Corps and served in the Korean War where he was wounded and awarded a Purple Heart. 
In 1954, Buddy and his wife, Jane, moved to Christiansburg where Coach Earp began his career as a physical education, health, Spanish, and English teacher at Christiansburg High School. He is most often remembered as the CHS football coach from 1954 – 1960. 
Cox graduated from Radford College in 1968 and later received her master's degree from Radford University.  She was hired in 1968 by Buddy Earp to be a student teacher at CHS and began a teaching and coaching career that would last 32-years from 1968-2000.  Coach Cox had the privilege of teaching grades 8-12 in Health, Physical Education, and Drivers Education.
During her tenure, Cox earned several awards.  In basketball, she was named as the 1975 New River District Coach of the Year.  Later in 1995 Coach Cox was named as the New River District/VHSL/and Mid Atlantic Regional Coach of the Year.
Cromer, who is the current CHS athletic director, has coached athletics for 35 years in both Florida and Virginia.  He coached four years as a baseball assistant coach, six years as an assistant and one year as a track and field coach, three years as a head weightlifting coach (in Florida it is a sport), and two years as a Head girls basketball coach. He spent his entire 35 years coaching football, spending 15 years as an assistant coach (four years at CMS and three years at CHS) and 20 years as a Head Football coach, the last 15 years of that time coaching the CHS Blue Demons.  
In 15 years as Head Football Coach at Christiansburg High School, Coach Cromer led the Blue Demons to an overall record of 98-75.  During his tenure, the Blue Demons carried a 13-10 record over 23 playoff games.  From 2002-2017, the Blue Demons won 3 District and Conference Championships, three Region Runner-ups, three Region Championships and competed in the 2011 Division 4 State Football Championship game, losing 28-26 to Briar Woods High School.
Dresser was a two-time wrestling state champion at Humbolt High School in Iowa.  He attended the University of Iowa to wrestle where he was an NCAA National Champion at 142 pounds and was a two-time NCAA All-American.
After graduation, he was an assistant wrestling coach for several years at Iowa under legendary coach Dan Gable.
Later Kevin accepted a position as head wrestling coach at the Virginia powerhouse Grundy High School where he won eight state titles in eight years.  In 1996, Coach Dresser moved to Christiansburg to take over the wrestling program at CHS.  Coach Dresser led the wrestling program from 1996-2006, and during the 10-year span he led the Demons to three VHSL state runners-up before winning 5 consecutive State championships.  This started the streak of 17 straight state championships for the CHS wrestling program.  During his tenure at CHS, the wrestling program was nationally ranked at one time being as high as number 4 in the country.
Coach Dresser left Christiansburg to take over the wrestling program at Virginia Tech where he won two ACC Tournament Championships and three ACC Dual Championships and was named NWCA Coach of the Year.  In 2017, Coach Dresser accepted an offer to be the new Head wrestling coach at Iowa State University. 
Underwood began teaching at Christiansburg High School in 1975 and continued teaching Auto Mechanics until 1992.  
He began coaching at Christiansburg and during his tenure was a coach for the football and track teams, however wrestling is where Coach Underwood would put his fingerprint on Christiansburg.  He was the co-founder of the Christiansburg High School wrestling program.  He also started the middle school wrestling program as well as founded the Christiansburg Recreation Youth Wrestling program.
Custer was a member of the CHS graduating class of 1983.  During his time at CHS he was a member of the boys' cross-country, indoor and outdoor track teams from 1980-1983. team captain cross country, indoor and outdoor track 1982, 1983. most valuable runner- cross country, indoor and outdoor track 1982,1983.
After attending and running cross country at Radford University, he would return to coach at Christiansburg High School. He then continued his teaching and coaching career at several other schools where he had similar success in cross-country and track including time at Woodbridge, Gar-Field, Lake Braddock, and Forrest Park High schools. 
Overall, as a coach of the cross -country and track teams for all of his schools, Coach Custer led teams to a combined: 15 STATE CHAMPIONSHIPS, 11 STATE RUNNER-UPS, 41 REGION CHAMPIONSHIPS, 73 DISTRICT CHAMPIONSHIPS from 1988-2017.
Sherman- Lee graduated from CHS in the Class of 1970!! While in school she was on the CHS volleyball team and the track team.  She excelled in sports and won first place in the 220 at the state meet in 1970.
She went on to attend Radford College, which was a women's college at the time. The name changed to Radford University in 1979 where she played Field Hockey and Volleyball and played on the first volleyball team at Radford College.  
Board graduated from Christiansburg High School in the Class of 1958. He played on Coach Buddy Earp's first football teams at CHS, from 1953 through 1957, lettering each year and scoring 40 touchdowns in his career.  Board was reputedly the fastest player in the region, and it was said that he was never caught from behind once he got in the open field.  He played halfback and quarterback during his years at CHS and was on teams that went 8–2 and 6–4 during his junior and senior years, playing with other Blue Demon stalwarts like Red Griffith, Jack Sayers, and Ford Wirt among others.
Board's speed carried over to an unparalleled track career at CHS, where he almost single-handedly won the Group 2 State Track Meet in the spring of his senior year, taking first place in the 100-yard dash, the 220, the long jump (then called the broad jump), and anchoring the first-place half-mile relay team.  
This first class will also be recognized at a CHS football game in September, and from this date forward, the new HOF class will be announced at a fall halftime. Blair Allen, HOF committee member, said the plan calls for five additional athletes every year to follow. 
Local residents can nominate new HOF members by going to the committee's Facebook page.