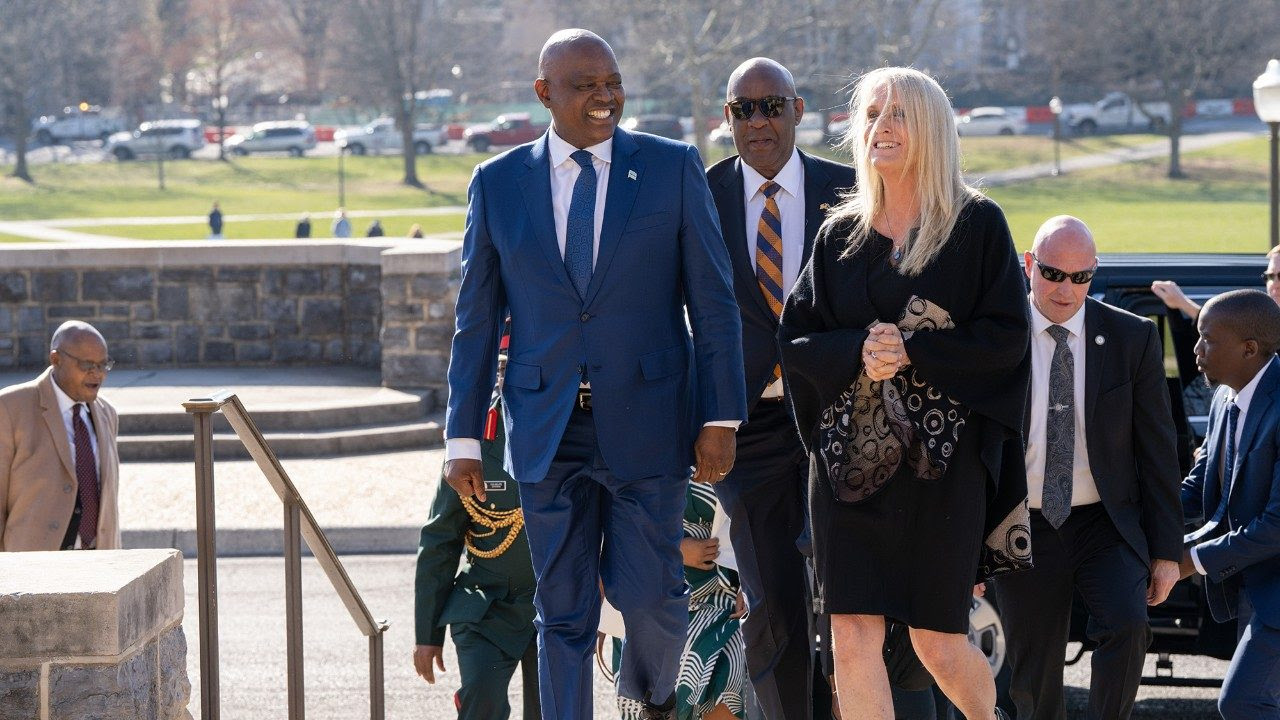 BLACKSBURG – When Naya Hughes found out that the president of Botswana was visiting the Virginia Tech campus, she carved some time out of her morning schedule and took a bold step, standing among the dignitaries at Burruss Hall awaiting the president's arrival. 
Her courage was rewarded.
Hughes — the lone student from Botswana at Virginia Tech and a member of the Virginia Tech swimming and diving team — introduced herself to His Excellency Mokgweetsi Eric Keabetswe Masisi and spoke with him for several minutes before he went inside for a meeting with Virginia Tech President Tim Sands.
"I was told of his arrival, and of course, I was very eager to meet him," Hughes said. "I got calls from the ambassador to Botswana, and we talked about his arrival.
"The president was very nice, and it felt very natural to talk to him. It was quite scary at first because he's a very important person and all the media there was overwhelming, but it was nice to get to talk to him. He's well-spoken and confident, and that eased me a lot."
Masisi, believed to be the first international head of state to visit Virginia Tech's Blacksburg campus, spent nearly four hours on campus Tuesday morning, meeting with Sands and later giving a speech to more than 600 people in a standing-room-only Commonwealth Ballroom at Squires Student Center that centered on conservation, democracy, and sustainable development in his country.
A first-year student, Hughes said she liked what she heard from Masisi, whose conservation efforts are well noted in that country. Botswana sponsors students to study abroad, and Hughes received funding to come to Virginia Tech, where she plans to get a degree in veterinary medicine. In return, she will return to Botswana and work for the government as a veterinarian for at least two years. She hopes to work with the exotic wildlife prevalent in her home country.
"I'm going to go back for those two years and hopefully work in the wildlife industry because Botswana has one of the biggest wildlife industries," Hughes said. "Botswana lacks vets and lacks the education system to teach people about animals and how to properly take care of animals. … I'd like to work with exotic animals. The different animals seem way more complicated to work with and how complicated interests me the most."
Virginia Tech is helping Botswana with its conservation and sustainability efforts. Kathleen Alexander, a professor of wildlife conservation in the College of Natural Resources and Environment, has been conducting research in Botswana for nearly 30 years. In 2001, she co-founded the Centre for African Resources, Animals, Communities, and Land Use (CARACAL), which is a nonprofit organization on the edge of Chobe National Park that promotes conservation efforts while also improving the lives of the people through outreach and educational efforts.
Alexander spoke highly of Botswana's conservation and sustainability efforts.
"Under His Excellency's leadership, Botswana is one of the fastest-growing economies in the world and undoubtedly a leader in conservation," she said. "I can truly say without any hesitation that his passion for wildlife is only surpassed by his commitment to the well-being of the citizens of Botswana. His government has prioritized infrastructure development and wealth-creation programs for communities, including the most vulnerable across the landscape. These programs are embedded and advanced and a unique embracement and culture of conservation and democracy."
In 2019, Masisi and first lady Neo Masisi visited CARACAL and met with Alexander and her research team, and he expressed support for Alexander's efforts. Alexander approaches research through a holistic lens, one that balances positive conservation outcomes with betterment of the people within various communities.
"The government of Botswana and the people of Botswana have a keen interest in studying the epidemiology of diseases of both domestic and wild animals, which can destroy people's herds of livestock," Masisi said. "It's in our national interest to forestall the dire consequences of animal diseases on our communities' livelihoods. Thus, we believe that Virginia Tech can reasonably share their experiences, research insights and advances in veterinary sciences to help us improve efforts in managing and containing contagious diseases of wildlife. The ground is fertile for entering a mutually beneficial partnership."
Masisi received applause during his speech when he noted that more than 40 percent of Botswana's land had been dedicated to conservation. He said he wants to use Botswana's natural resources to transform its economy and uplift people's livelihoods, and that means assisting communities while ensuring that wildlife and ecosystems are managed sustainably.
That also means embracing the challenge of listening to all the different opinions on conservation strategies from various groups of people – local governments, businesses, institutes of higher learning, citizens, and students. Masisi wants every voice to be heard.
"Botswana has an urgent need to develop its economy and improve the lives of its people," Masisi said. "Our conservation ideals are people-centered, with a view to getting benefits for local communities, who are the custodians of our natural assets. … There must be open and transparent consultation with all involved across sectors of society. It is against this backdrop that, as a country, we lead the continent on merging conservation, democracy, and sustainable development."

Rich Mathieson for Virginia Tech