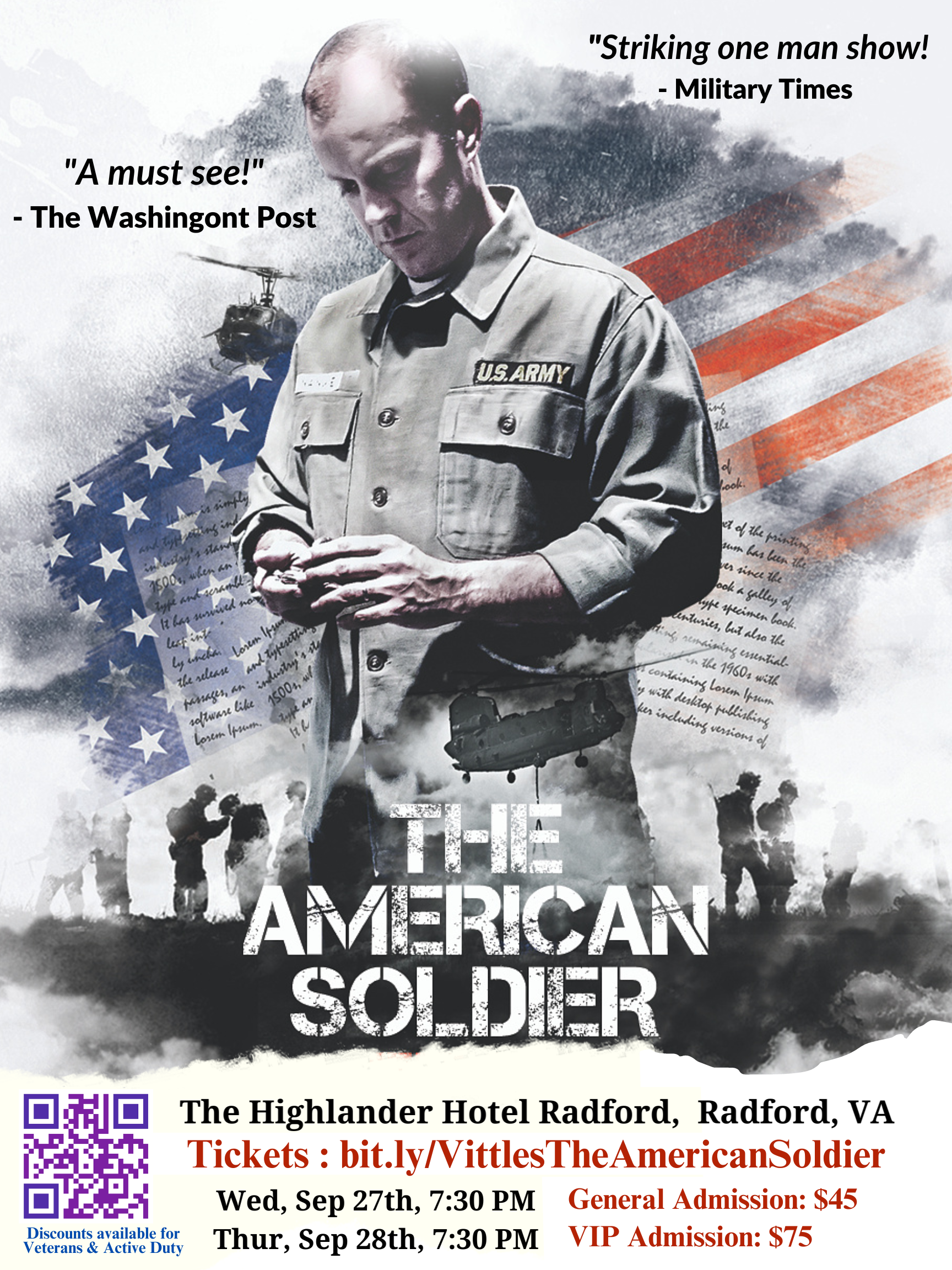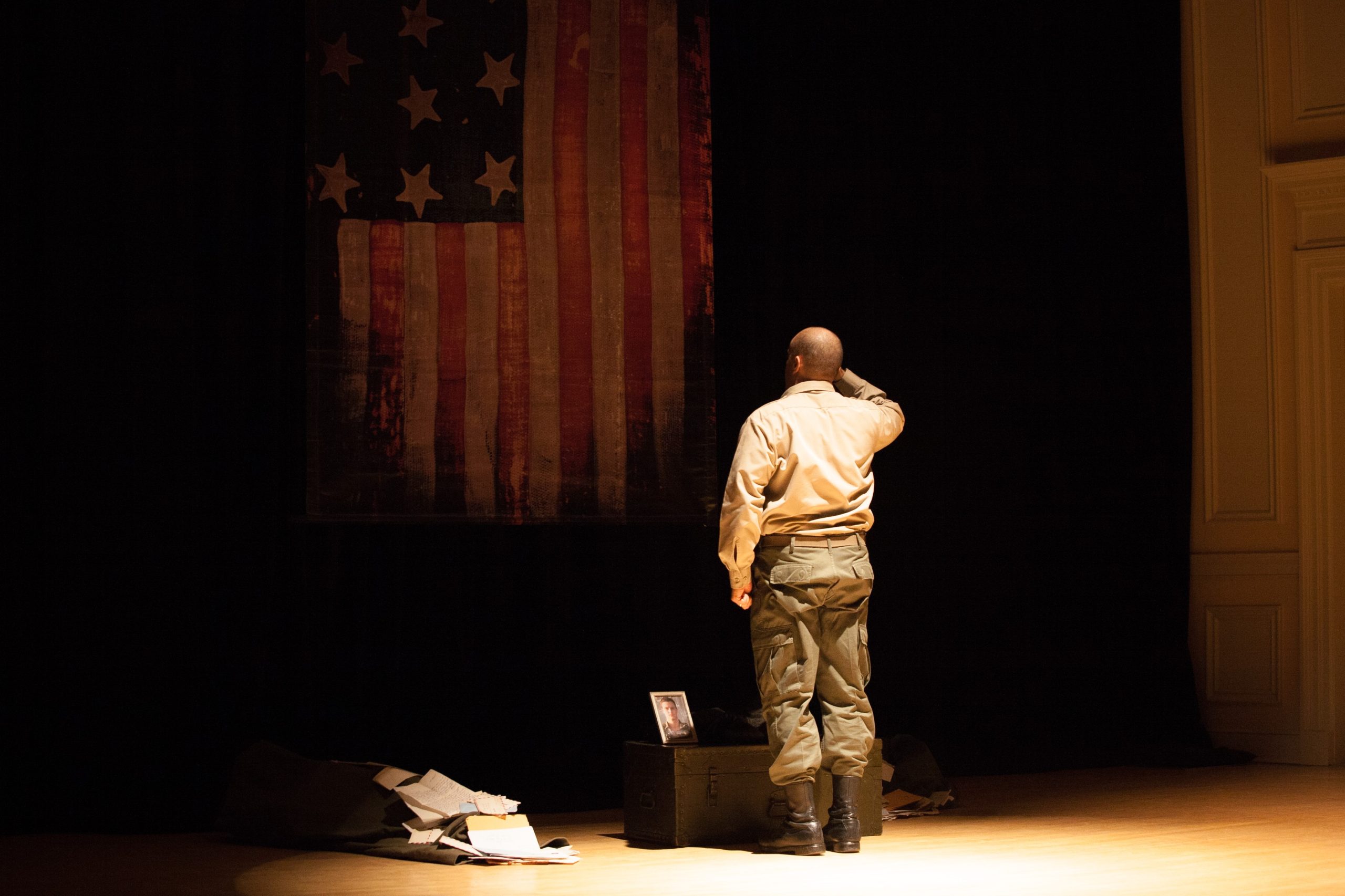 Lori Graham 
Contributing Writer
Douglas Taurel had an idea to tell the story of the American Soldier based on letters and stories sharing soldiers' experiences dating from the American Revolution to the most recent Iraq and Afghanistan conflicts. 
His one-man show has received international awards and more importantly, touched many people all around the world who have shared similar experiences. 
Taurel lived in Hoboken, N.J. at the time of 9/11 and remembers vividly, as many Americans do, the day of the 9/11 attack. He recalls that the patriotism following that day was incredible. 
"I'm from Texas and I know people who quit their jobs to go fight," Taurel said. "I started to come up with an idea." 
As a person who enjoyed reading about history already, he began looking for the story he wanted to tell that would honor veterans for their sacrifices.   
"It wasn't until about 2012, and I worked with Alec Baldwin, and he connected me with other people. It became a rabbit hole, and as a history buff I became fascinated. In the New York Public Library there are literally books that are just letters from the military," Taurel said.
Over time, his idea for the theater production became to take shape. The brotherhood and togetherness that bonds soldiers in adverse situations.
"I started noticing very similar messages from all the wars and the soldiers," Taurel said. "Even during the revolution, that they stopped fighting for the conflict and started fighting for each other." 
When a last-minute cancellation gave him a chance to perform his show at the Mano-e-Mano Festival in New York on Memorial weekend, Taurel took it, although he was extremely nervous. The performance had to be 20 minutes and completely memorized. The audience was small and made up partly of people he knew, but he knew he was on to something. 
By late summer of 2015, Taurel had continued working on his one-man show, stretching out his performance to 40 minutes. This is when the opportunity came for him to perform at the Edinburgh Festival Fringe, which is a three-week theater festival in Edinburg, Scotland. The festival brings highly skilled performers from Broadway and West End and is a wonderful experience for performers and audience members to attend. 
"This is where the play really started to get known," Taurel said. 
The Edinburgh Festival: Freedom of Expression Award 2015 is reviewed by Amnesty Ambassadors and theater critics for excellence, making recognition at the event extremely special. When Taurel's theater act made it to the top 100 list out of 3500 participants, he was blown away. 
In 2018, Taurel begin to see how he lacked a very important character in his show, a female soldier. Female veterans and audience members approached Taurel, deeply and emotionally impacted by his story, but wishing to hear their voices come to life.
"It would be really great if you could tell our story," Taurel said of the female soldiers he spoke with. "I am very proud I've added her into the play. Her name is Nancy and I love when I can hear the women in the audience clapping." 
The play includes 14 characters, men, women, and children, who reveal the trauma and experiences felt by those soldiers who have fought as an American soldier, and the families that have surrounded them. 
Now he has performed in over 40 cities and 40 states, including twice at both the Library of Congress and the Kennedy Center. On Wednesday, Sept. 27 and Thursday, Sept. 28, Taurel's performance will be coming to the newly constructed Highlander Hotel Ballroom at 600 Tyler Ave. in Radford.
Vittles for Vets will be sponsoring the performances and tickets may be purchased at www.eventbrite.com. Meet and Greet VIP opportunities will also be available.